When Angee Lee began a Phase I clinical trial for a new lung cancer drug, a team of people supported her. She had Edward Kim, MD, whom she calls "the most caring doctor in the world." She had Donna Acampora, her trial manager who treated her like a friend and was quick to answer questions. And she had her personal trainer, Marcus McGruder.
That's right – personal trainer.
Angee's clinical trial was so effective that she returned to the gym right away. Her cough subsided almost completely. She felt better than she had in months, both physically and emotionally.
So she did what she had longed to do in the nine months following her diagnosis. She hit the treadmill, pushed a weighted sled, and did squats, push-ups and sprints. People in the gym slowly learned that among them was a woman with stage-four lung cancer who had already been through four rounds of chemotherapy and now was among the first people in the world to take a new cancer drug.
"When they found I was treated for stage-four cancer they were surprised because I gave them a run for their money," Angee says. "I'm very competitive in any situation. Quitting is not in my vocabulary."
Angee says that her 'go big or go home' mentality is what led her into the Phase I clinical trial. Dr. Kim, chair of the department of solid tumor oncology at Levine Cancer Institute, presented the option to her. After they discussed the potential risks and benefits, Angee was enthusiastic to join the clinical trial. Shorty after she began, Angee's tumor began shrinking, she began feeling better, and soon, she was hitting the gym for the first time in months.
Cutting-Edge Cancer Therapies
Levine Cancer Institute (LCI) is home to nearly 300 clinical trials, ranking among the top 25 percent of hospitals in the country. A few of those trials have been Phase I trials like Angee's, bringing some of the newest, most cutting-edge treatments to patients.
"We always have standard therapies that are FDA approved and those are sometimes very good options. And sometimes, depending on which tumor type it is, they are not-so-great options," says Dr. Kim. "We want to bring in some of the newest and earliest compounds that are being tested. I view it as another option and opportunity for our patients."
Dr. Kim says that an open dialogue between patient and provider is the best way to determine if a clinical trial is a good fit. The two should discuss standard therapies and available trials to review the potential benefits and risks of each. Although some patients have concerns about safety, Dr. Kim counsels them that LCI clinical trials have an emphasis on minimizing patient risk. And each patient gets paired with a trial manager who carefully tracks and documents all aspects of treatment, keeping track of appointments, medications and changes on behalf of the patient.
About 20 percent of Levine Cancer Institute patients have the opportunity to enter a clinical trial. While that number is about three times greater than the national average, Dr. Kim's goal is to increase that number so that as many patients as possible have clinical trials as a convenient treatment option.
"It's part of our mission to have clinical trials available and accessible," says Dr. Kim. "We have many, many clinical trials that are accessible at a majority of our regional locations. There are options for patients to have access to these trials closer to where they live."
A Personal Benefit and a Greater Good
Although Angee's clinical trial was effective in shrinking her tumor for eight months, she experienced a side effect that meant she had to leave the trial earlier than she hoped. Dr. Kim recently gave her encouraging news, however: this month, she'll begin a new clinical trial. This trial is for a drug that is already approved to treat breast cancer, and Angie will be among the first to test its use for lung cancer patients as well.
To Dr. Kim, these trials are the key to fighting the battle against cancer. By bringing new, world-class therapies to our hospitals, we're able to offer patients more options for their treatment now while advancing cancer research for the future.
To Angee, clinical trials are a positive experience – not only for her benefit, but for the benefit of cancer patients everywhere.
"I thought about the research and what it would mean for those with stage-four lung cancer coming behind me," says Angee. "All of the new breakthroughs were because of trials. One life saved or treated for a longer-term survival is a good reason to be a part of any trial."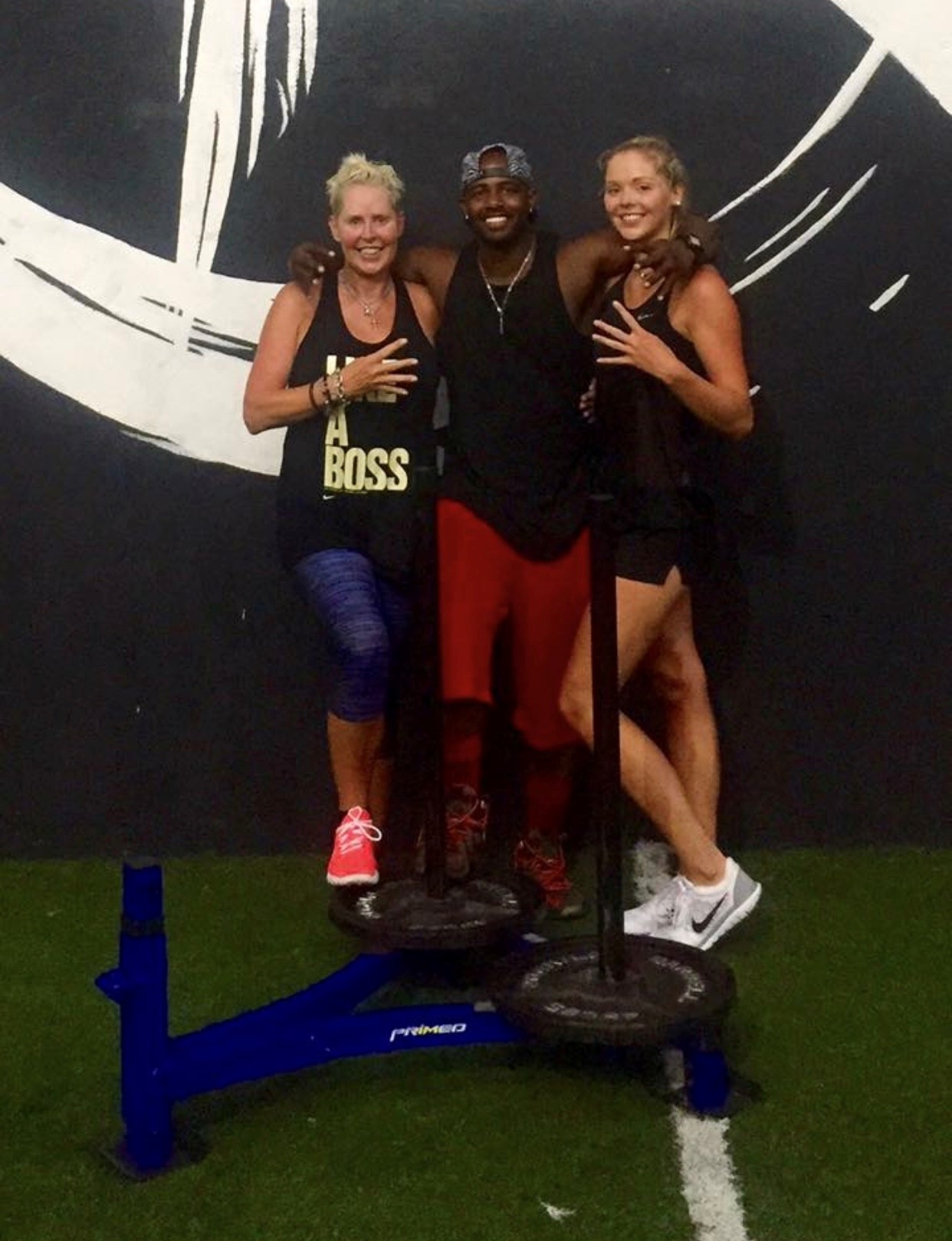 Angee Lee, her trainer Marcus McGruder, and her daughter Hamlin Lee celebrate
after a workout at the Art of Fitness gym at Lake Norman.