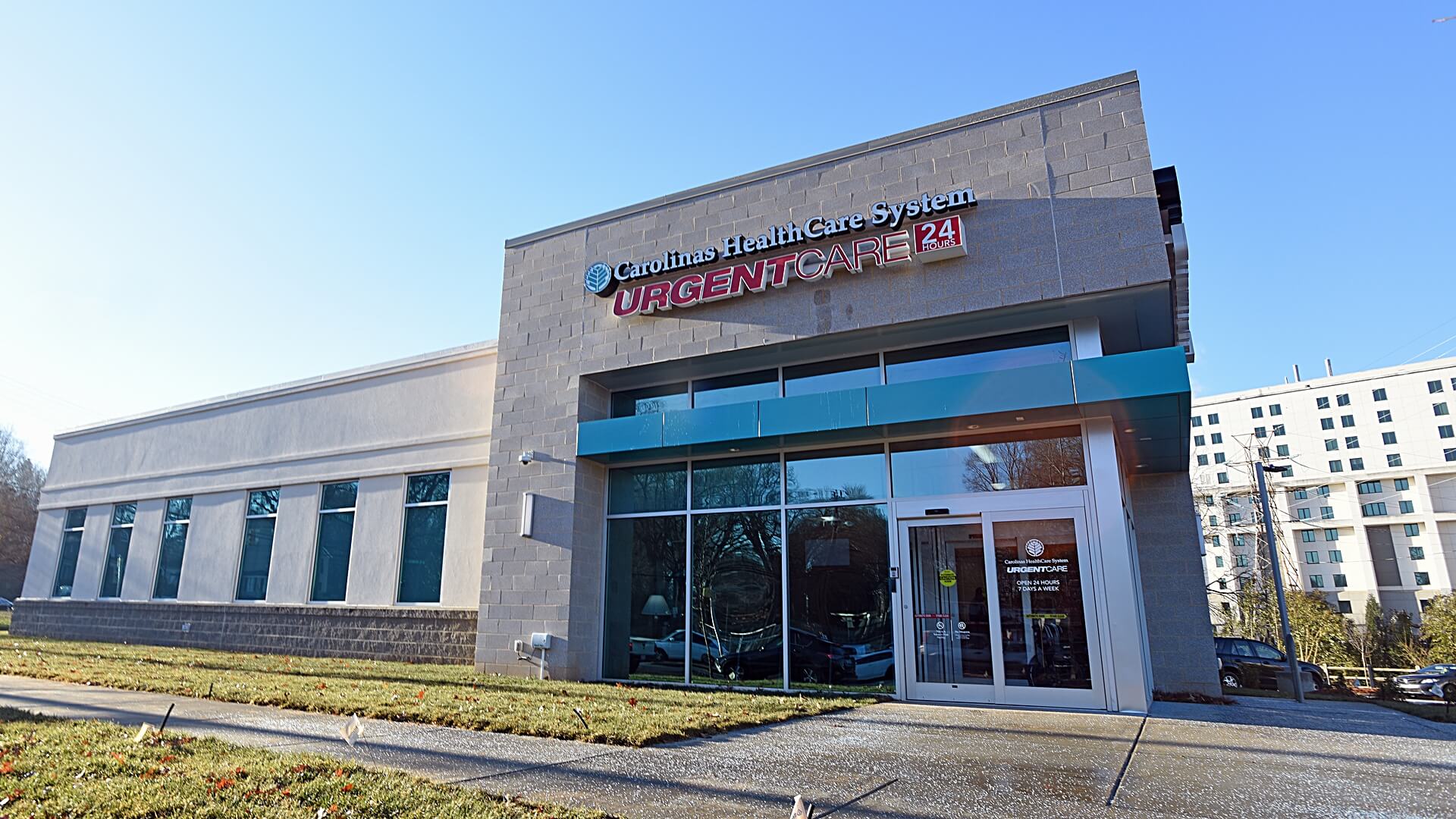 The Carolinas HealthCare Urgent Care -- Center City, located at 1426 E. Morehead St. in Charlotte, opened in early 2018. The facility, open 24 hours a day, and seven days a week, allows patients another, more convenient option when choosing care.
---
It's 3 a.m. and your child's cough still won't go away.
You sprain an ankle playing flag football with friends.
You have yet another sinus infection – and a big presentation at noon.
Illness and injury can get in the way of our daily lives, thrown like wrenches into our plans and routines. We don't want to be sick, and let's face it: We don't have time for it, either. Whether it's the middle of the workday or the middle of the night, you want to get care the moment you need it. And now you can.
At the start of the year, we opened Charlotte's first 24/7 urgent care near Uptown Charlotte. "We listened to the community, and we know they want and deserve convenience when it comes to their healthcare," says Alfred Kendrick, MD, medical director of urgent care at Atrium Health (formerly Carolinas HealthCare System).
Where We Came From
So much has changed since we opened our first urgent care in 1989 in Charlotte's Arboretum neighborhood. Since then, we've opened 28 more centers across the Carolinas, and each time we go the extra step so you don't have to.
As times changed, technology improved and needs evolved, we knew we needed to do something to better fit into our patients' busy lives. And in 2014, our existing urgent care in Indian Trail made a change to its hours, becoming our first 24-hour urgent care.
"Opening the doors to our first 24/7 urgent care brought next-level care to our patients," says Dr. Kendrick. "Our goal was – and continues to be – about offering care at the right time, right place and right location."
For Charlotte's newest urgent care, the 24/7 hours aren't its only perk. Nestled just outside of Uptown, the location couldn't be more convenient. If you're working, visiting or going home, you can have peace of mind that care is there, when and where you need it.
"We wanted to do more than bring convenient care close to home," adds Dr. Kendrick. "We wanted to give our patients the care they need where they work, live and spend their free time. And Center City Charlotte meets all of these needs."
Where We Are Now
Atrium Health's Carolinas HealthCare Urgent Care - Center City opened its doors on Tuesday, January 9 at 8 a.m. And with 24/7 hours of operation, their doors will stay open – all day and all night.
"There are times when feeling better just can't wait until tomorrow," says Dr. Kendrick. "With this new 24-hour urgent care, we're giving our community the care they need to feel better, the moment they need it."
This 5,000-square-foot facility is fully staffed and includes five exam rooms and two treatment rooms for conditions needing immediate care. Open at all hours, this new urgent care does more than give consumers access to convenient care – it also gives them access to the latest in on-demand services, including online reservations.
"We're all used to making online reservations at restaurants and hotels. Making time to take care of your health should be just as simple," says Dr. Kendrick. As a patient, you can reserve your spot online before leaving home and wait from the comfort of your couch. Reserving your spot is easy – get started here.
In addition to treating non-life-threatening conditions, offering in-house lab services and providing occupational healthcare, this new urgent care is also equipped with the latest technologies, including a digital X-ray machine and an audio booth for hearing tests.
What's Next?
According to the Urgent Care Association of America, the average urgent care visit takes an hour or less and costs about one-tenth that of an emergency room visit – which averages four hours. It's no wonder urgent cares are quickly becoming a popular care option for minor conditions.
Shorter wait times and lower prices are certainly welcome benefits for consumers as well as emergency department staff. When patients go to the urgent care for minor illnesses and injuries, emergency departments are better equipped to treat patients with more severe conditions.
As we continue listening to our community and harnessing technology, we'll continue providing care options that better fit into busy lives, including Virtual Visit and eVisit.
Learn more about Atrium Health's Carolinas HealthCare Urgent Care - Center City and the commonly treated conditions here. And stay tuned: We're opening a new urgent care in Gastonia this spring.