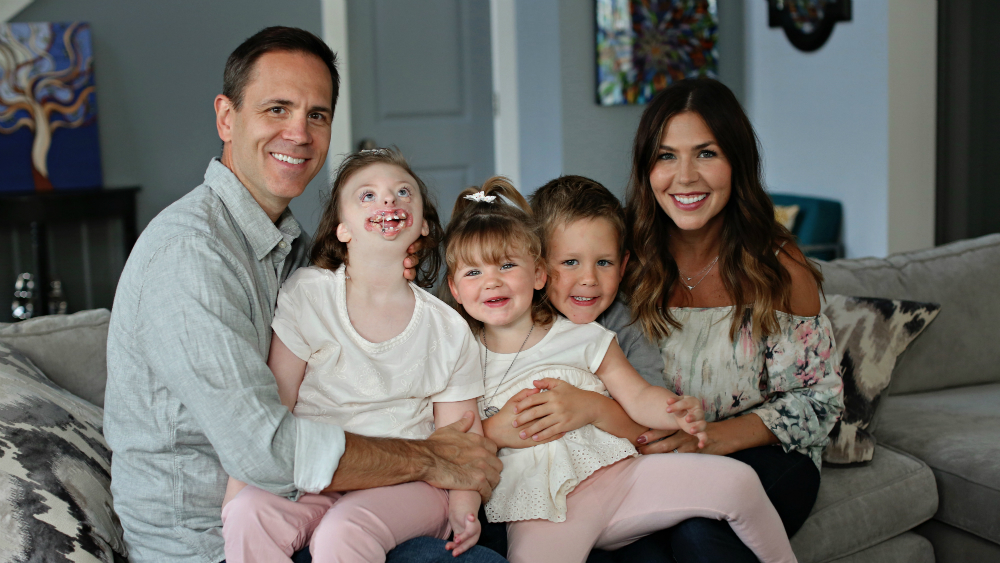 UPDATE: In May of 2019, Sweet Sophia passed away surrounded by her loving family. We're so grateful to have had the opportunity to care for such a special girl.
---
If you'd seen Natalie Weaver standing behind that podium in Washington, DC, speaking up for kids with disabilities, you'd think she does this all the time. You'd never guess that just moments before, she was crouched under an umbrella, practicing her speech in the rain, fighting waves of fear and breathtaking anxiety.
To say that delivering your first speech ever on Capitol Hill, in front of senators and cameras, is remarkable would be an understatement – but remarkable is easy when you have the right purpose. And for Natalie, that purpose is a very special person: her 9-year-old daughter, Sophia.
Before Natalie found herself at that podium in Washington, DC – before she found her voice and became a public advocate – she was a mom, who just wanted the very best for her little girl.
All caring for Sophia
Niraj Patel, MD, a pediatric immunologist and infectious disease doctor at Levine Children's, first met Sophia when she was 3 years old. Born with deformities to her face, hands and feet, Sophia also had a multitude of health complications. From infections to hospitalizations to countless antibiotics, the little girl was in a cycle of suffering when she first met Dr. Patel.
He knew right away she was a medically complex patient, and at 3 years of age, Sophia was diagnosed with immunodeficiency at Levine Children's Hospital. Almost every year since has brought with it a new diagnosis, from Type 1 diabetes to Rett Syndrome, an extremely rare condition that took away her ability to walk, talk and have purposeful hand movements.
"Sophia's condition is so unique, I'd call it the rarest of the rare diseases," says Dr. Patel. In fact, her situation is so uncommon that there are only two other known families in the entire world who can relate, and there's still much to learn about her condition.
Diagnoses aside, Sophia is still just like any 9-year-old in many ways. She's sassy and sweet. Her favorite color is green. And she loves music, crafts and spending time with her family. "Despite our differences, we're still a typical family," says Natalie. "We love our children just as everyone else loves their children. We'd do anything for Sophia – she just happens to need a lot more."
Caring for Sophia is as unique as her combined conditions – and can be just as challenging. "It's not just treating the underlying immune system and trying to stave off infections, but treating limb and craniofacial abnormalities," says Dr. Patel.
Because Sophia's conditions are so complex, affecting many parts of her body, she requires extra care from a specialized team at Levine Children's Hospital that includes Dr. Patel, as well as specialists for her digestive tract, kidneys, nervous system, hormones and eyes.
Sophia's treatment requires medications and life-saving infusions, and she's already undergone about 25 surgeries. Most of these procedures were performed at LCH, which Natalie calls their second home. "Having a place where you feel familiar and people welcome you – and they know Sophia – it's really important," says Natalie. "There's a special comfort in that I know this place, and these people know my child."
Levine Children's Hospital might be a second home for Sophia, but there truly is no place like home. In addition to the world-class care she's receiving at the hospital, Sophia gets a similar level of care at home – all thanks to her committed family and supportive Levine Children's care team. "Natalie has had to learn a lot of things that most moms don't ever have to deal with in their lifetime," says Dr. Patel. "She's taken on the role of asking, investigating and really trying to do the best for Sophia."
Sophia needs 24-hour care, from performing basic daily tasks to administering infusions to keeping a close eye on her as she sleeps. At home, she's watched and cared for by a team that includes her parents – Natalie and Mark – as well as in-home nurses aides. Even her siblings, Lyla, 4, and Alex, 8, help care for their sister – most days, Lyla turns off the feeding pump and Alex gets the suction ready.
"Natalie has really gone above and beyond to improve the quality of life for Sophia in so many ways," says Dr. Patel. "The number one thing that sticks out is her drive to advocate and improve the life of her daughter."
The transformative power of love
Though the Weaver family has experienced struggles and fears when it comes to caring for their daughter, there are two emotions that surpass the rest: love – and joy. "When I'm with her, no matter what stress I'm carrying, or if I'm feeling sad about something, everything just melts away," says Natalie.
For years, the Weavers kept their life with Sophia private, limiting even the time she spent in the waiting room for doctor's appointments – her conditions make her more susceptible to germs and viruses.
They did everything to protect Sophia, who at a young age had already experienced cruelty, discrimination and hate beyond her years. But when people and policies threatened to put her daughter's life at risk, Natalie knew she needed to speak up – not just for Sophia, but for kids like her. "I had to share our story publicly – otherwise, people weren't going to listen," says Natalie.
Facing her biggest fear, Natalie took an even bigger step – all the way to that rainy day on Capitol Hill. If she had any doubts standing beneath the umbrella, practicing her speech one last time, they dissolved the moment she stepped up to the podium.
"There's been a transformation for Natalie," says Dr. Patel. "She's now an advocate for her child and for other children she doesn't even know. It shows the power of transformation of a parent willing to do anything for her child."
Though Natalie says she was once quiet, her current message has been powerful and emphatic. To date, she's shared Sophia's story in dozens of interviews and speeches, flown cross-country to speak on panels and attended activist retreats. More recently, Sophia and her family were even filmed for a television series featuring patients with rare diseases.
Together with her partners, Natalie is spearheading the fight for medically complex kids and helping normalize disabilities and facial abnormalities. She's a cofounder of Advocates for Medically Fragile Kids NC, as well as of Sophia's Voice.
"I don't view disability as a bad word," Natalie says. "Obviously, it can come with joys and struggles, but we can adapt our lives and our children's lives to make them as amazing as they possibly can be."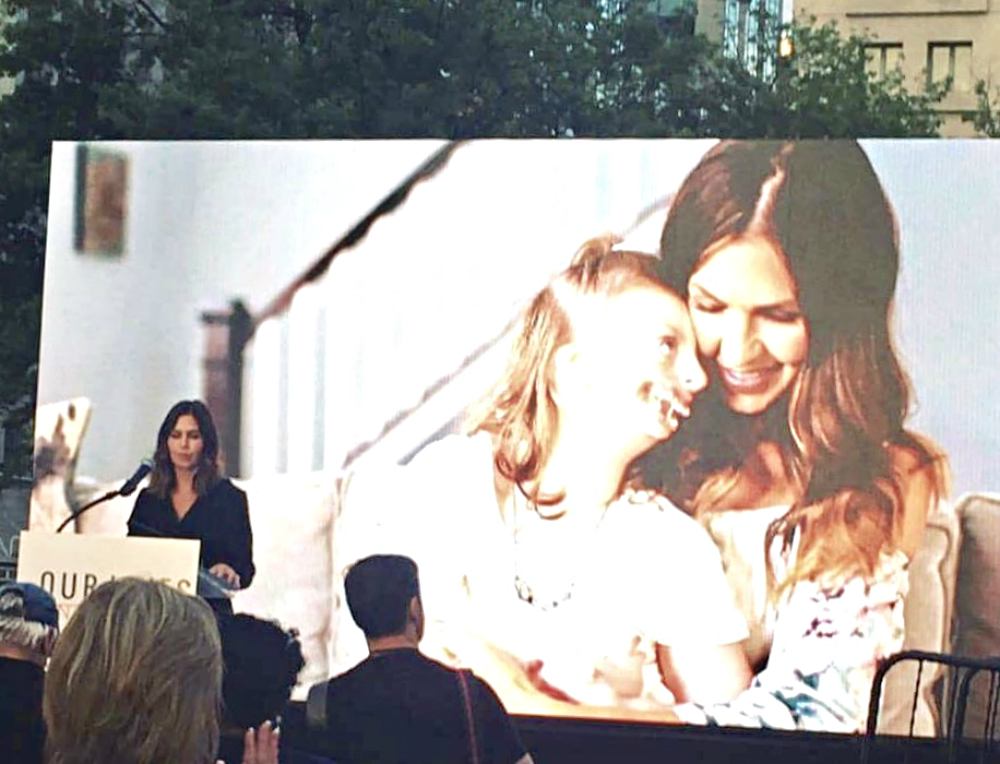 Living in the moment
For parents who might be in similar situations, Natalie has a special piece of advice: "Just because life is going to be different does not mean it's going to be bad," she says. "Your child will show you pure joy and love. You'll experience pain and struggles, but it makes the happy moments even sweeter and happier."
Life with Sophia can be unpredictable. Her abilities change in an instant. But the Weavers are learning to live moment to moment – a lesson from their daughter, no doubt – and they're cherishing all the joys that come from life with Sophia.
"Sophia is a unique individual, and I think the world is better because we learn from things that we don't know," says Dr. Patel. "I'd say we're learning more from Sophia than she's learning from us."
---
At Atrium Health, all the best care for kids has one trusted name. Learn more about Levine Children's.