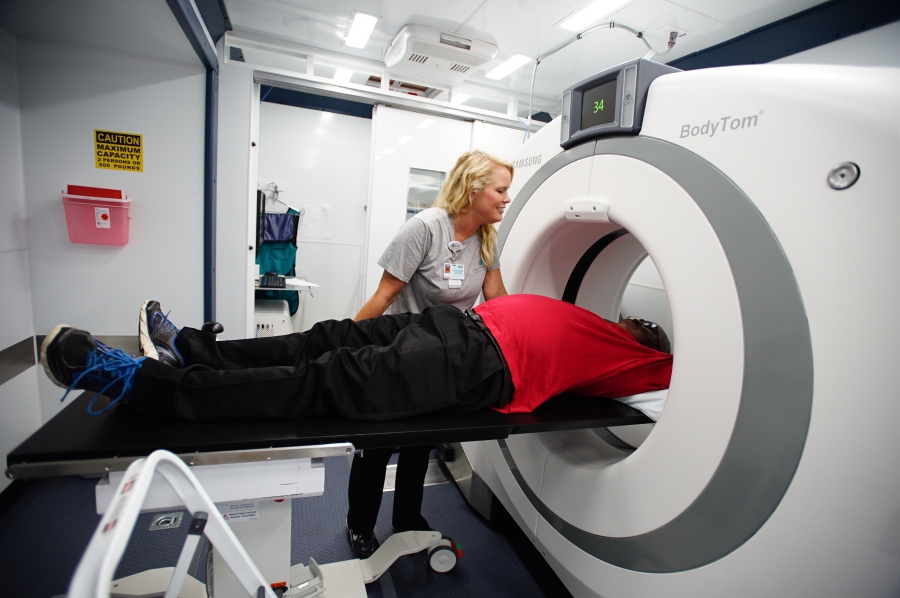 Twenty minutes on a bus just might save your life.
This was the case for 55-year-old Herbert Buff. It was spring of 2018, and Herbert went to Good Samaritan Clinic in Morganton, North Carolina for what started as a routine visit to see his doctor and pick up his medicine. But this time was different.
Herbert was having trouble breathing, a symptom that raised a red flag for his care team at the clinic. During his exam, the doctor asked Herbert if he'd be interested in a free lung cancer screening. He could be screened on Atrium Health's "lung bus" – a bus outfitted as a mobile medical unit – that was set to stop in town. Herbert, a smoker for more than 20 years, wasn't aware that lung cancer had a screening. He readily agreed.
The screening was quick and easy, he says. He chatted with the bus staff, completed the non-invasive exam and then carried on with his day. He was in and out in less than 20 minutes.
Simple as it seemed, the screening was lifesaving: Herbert had a nickel-sized growth on his left lung. His pulmonologist at Carolinas HealthCare System Blue Ridge, David Clark, MD, confirmed that it was Stage 1 lung cancer. In a few weeks, he'd have surgery to remove the tumor.
Support, surgery and a second chance
With Herbert the whole way was Darcy Doege, BSN, RN, program coordinator for Levine Cancer Institute's mobile lung unit. She was there the day he got screened, and as she does with everyone who's screened on the bus, she gave him her personal cell phone number in case he had follow-up questions.
"I always tell them, if something's come up or they need anything, they can call me," she says. "We make sure people feel like they can trust us."
When Herbert found out he needed surgery, he called Doege to help him cut back on smoking. She sent him nicotine patches, and he'd call her when he ran out. They worked together to prepare him for the operation as much as they could.
The morning of his surgery, Herbert was nervous. But the outcome was worth it: Less than two months after his free screening aboard the bus, his lung cancer was cured. Six months later, Herbert's follow-up exams continue to come back clear.
Health, hope and healing – for all
Levine Cancer Institute created the mobile lung unit – the first of its kind in the nation – in partnership with Bristol-Myers Squibb Foundation, Samsung and Frazer. It currently serves rural communities across 9 counties in the region, with plans to expand soon. Since it launched in March 2017, more than 300 people have been screened on the bus.
The 35-foot custom vehicle features a built in portable, low-dose CT scanner, the standard for lung cancer screenings. It has wireless connection for fast and easy image transfers. It's fully handicapped-accessible. There's free on-site counseling and nicotine replacement, and two tablets that offer tips for quitting smoking and making healthy lifestyle choices. As of October, the bus also offers head and neck cancer screenings at no cost.
Providing high-quality healthcare close to home is fundamental to Atrium Health's mission. The mobile lung unit was created to help break down barriers and bring lung cancer education and treatment to communities in need. Ultimately, its goal is to save lives.
The fact remains that lung cancer is the deadliest cancer by far. Each year, lung cancer kills more Americans than breast, colorectal and prostate cancers combined. And nationwide, people living in rural areas have higher rates of tobacco use and lung cancer diagnoses.
When lung cancer is found early, like Herbert's was, it's easier to treat and has a greater chance for survival. Typically, by the time someone feels symptoms, their cancer has already spread beyond the lungs. Screenings can find the disease before symptoms appear.
"I learned that you can have lung cancer and not even know it," Herbert says. "The early screening might've saved my life. It might've given me quite a few years."
Advanced care, made approachable
Just like the day Herbert was screened, the mobile lung unit makes regular stops in underserved, rural communities that may not otherwise have access to (or choose to participate in) this type of care. The staff of the bus knows not everyone is comfortable with going to a hospital or doctor's office, and they stress the importance of offering care without judgment.
"Patients come, and they love seeing the truck," says Doege. "Our team makes people feel welcome. We sit outside of the truck and make everything feel laid-back and approachable. People have been so appreciative."
And while the technology aboard the mobile lung unit is breakthrough, it's this sense of genuine compassion and care that makes it truly outstanding. Since his surgery, Herbert has stayed in touch with the staff regarding his smoking habits and follow-up care. With their support, he's cut down his smoking significantly, and he's working to do more.
"They've been there for me," he says.
Find out more about lung cancer care at Atrium Health's Levine Cancer Institute.