Jenn Bales calls them "my people." No, they're not her children, her boyfriend or her mother. They're the people who were able to help restore hope in her life. The people who laughed with her, cried with her, and helped fight for her when she was at her lowest point.
Her people are her doctors, nurses, advanced clinical practitioners and her entire care team at Atrium Health's Levine Cancer Institute. And they're the ones who helped Jenn find hope when it looked like there wasn't any to be had.
Her journey starts like many others who have made the move from Western New York to the Carolinas. It was the winter of 2014 and Jenn and her boyfriend, Mark Tornstrom, were digging out after another winter storm had dumped inches of snow on their home near Rochester. Mark received a job offer for a medical sales position near Charlotte, NC. They looked up the weather for Charlotte at that time – sunny and mild, she recalls.
"It took me all of about 27 seconds to make the decision to join him," Bales jokes.
So, in June of 2015 she and her son, Brian, made the move to Charlotte. Life was good, and they were enjoying their adopted home.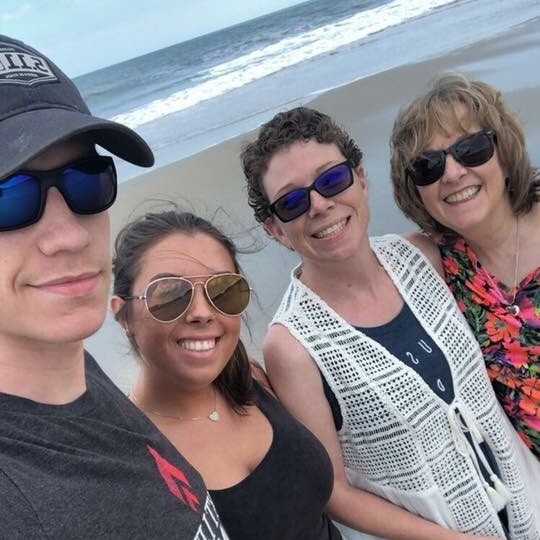 Then came June 2017 -- a month that Jenn will never forget. Jenn, 40 years old at the time, was a smoker and knew that left her more susceptible to catching a cold or other illnesses. But this time was different. She had bouts of bronchitis in the past and they usually went away. She took antibiotics and steroids and started to feel a little better but not all the way back, so she had a chest X-ray taken later.
About a week later, she was driving to work – at the time she worked as an ophthalmic technician for a local eye doctor– when she got a call from the clinical manager at the Urgent Care she had visited. After an initial diagnosis reporting no significant findings, a radiologist reviewed her information. There was "something there" and Jenn needed to call back the doctor as soon as she could. Jenn, who had been an emergency medical technician for nearly 20 years, knew what this meant – she likely had a cancerous tumor in her chest.
A few days later she had a CT scan which confirmed the mass in her chest and her care team scheduled her for a bronchoscopy a few days later. Although the disease in her body was concerning, Jenn was anxious for this procedure and knew it meant being put under anesthesia. She relayed these concerns to the clinical team and together they were able to determine a method of sedation that would work for both her and the care team – choosing an approach she was comfortable with.
At this point, Jenn had only shared the little bit of information she had with her boyfriend. She knew it was time to bring her family into the loop – but she just wanted to be prepared for all the hard questions they would have (and wanted to have as many answers for them as possible). Jenn and Mark broke the news to her mother, Ellen, stepdad, Doug, and then daughter, Ashleigh. These were some of the hardest conversations Jenn had ever had to have with her family.
"When I had to tell my family … that was the hardest part for me. Parents aren't supposed to lose their children, and young children shouldn't have to lose a parent, and this was now what was potentially happening. How do you even begin a conversation like this? That's when it got really, really, real. I had an overwhelming sense of guilt about it all, like look what I've done." Jenn says. "And that's when I really got into – I need to have a plan."
'Really, Really Real'
The results from her bronchoscopy were in and they were sobering. Adenocarcinoma of the right lung and mediastinum. Jenn was referred to Greg Brouse, MD , a medical oncologist based at Atrium Health's Levine Cancer Institute-Monroe, just a short drive from Jenn's home. She underwent a PET scan and brain MRI to assess her cancer staging as well as determine if it had spread. The results showed that her cancer was at stage 3 (in her lung, chest cavity and a nearby lymph node).
Anyone who knows Jenn will tell you that she is a planner. And as difficult as it was, Jenn spent much of the next several weeks making sure she had her affairs in order – including all future healthcare decisions. Mark and Jenn's family – including her son Brian, her daughter Ashleigh, and her mother, Ellen – found it difficult to discuss these types of issues but Jenn says she didn't want to leave any loose ends.
"My boyfriend said 'Jenn, you don't have to hurry.' But I needed the peace of mind knowing it was done," Jenn says. She has seen families torn apart trying to decide their loved one's wishes – and if anything happened to her in the immediate future, first and foremost, she didn't want to be a burden to them.
"I wanted all of the hard decisions to already be made, and I wanted those choices to be mine," Jenn says.
Starting Treatment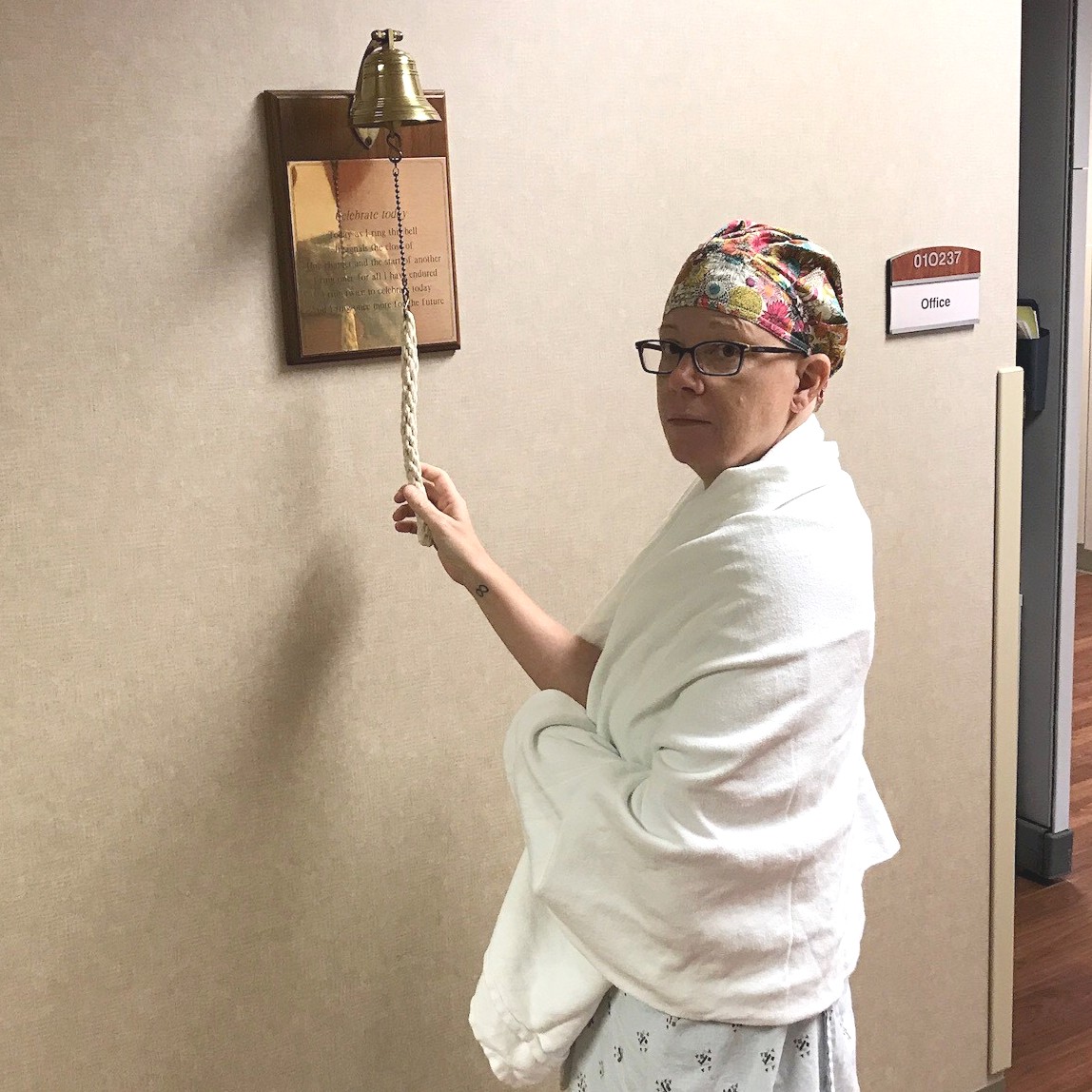 Soon after her staging was complete, Dr. Brouse and Jenn discussed the plan for her treatment. They talked about goals, expectations and quality of life. Jenn was not interested in a treatment plan that may give her a small extension of life but would be hard on her. She wanted to know what to really expect.
"I remember saying to him – 'I'm not in this for quantity. I just want the best possible quality of whatever time I have left, even if that means at some point choosing to stop treatments and do nothing," Jenn recalls. "I'd rather be on this Earth mostly good for six months, than struggling and suffering in order to get a year. I don't want that, and my loved ones don't deserve to live through that."
It was an honest moment for Jenn, something difficult to come by for many cancer patients and Dr. Brouse was very honest with her in return. If Jenn had no treatment, there was a good chance that she wouldn't make it another six months. And although Jenn was feeling pretty discouraged about her situation, she knew that for the sake of her children, she needed to do everything she could to fight it.
Since Jenn was otherwise very healthy, Dr. Brouse and team started her on an aggressive treatment plan – concurrent chemotherapy and radiation (surgery was never an option due to the location of the tumor). Jenn agreed this would be the best option to give her more time with her family.
'My Deepest, Darkest Point'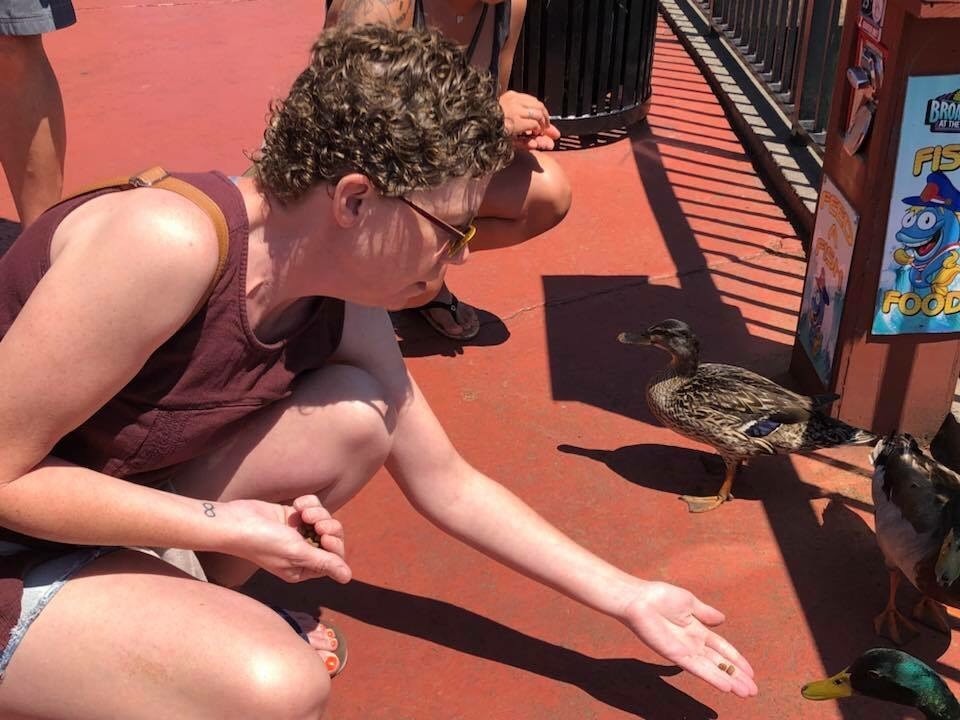 After a quick trip home to New York to visit family in the summer of 2017, Jenn started what would be the most challenging months of her life. She started her treatment as soon as she returned.
Jenn began to experience many of the symptoms and side effects of her treatment – including extreme fatigue and hair loss.
"That was the one and only time where I really lost my s---," Jenn says. "That's what made it so real. I was at my lowest, deepest, darkest point. It's real now."
Jenn had already cut her hair short before treatment began in order to try and take some control of her situation, but she often wouldn't leave her house for fear of getting strange and pitiful looks from strangers. She didn't want any attention on herself at this time, she simply wanted to get through it as best she could.
She had a PICC (peripherally inserted central catheter) line inserted into her arm – which prevented her from being able to take a bath or sleep on her side – making rest often difficult for the lifetime side sleeper.
For 32 straight days, Jenn traveled to Levine Cancer Institute-Monroe to have her treatment. About two-thirds of the way through her radiation course, she began experiencing severe pain. It started in her throat and like a ripple of water, reverberated throughout her body. She had difficulty swallowing anything, including her medication. Even water hurt. And she began to lose weight rapidly.
A Ray of Hope
Mark recognized that something needed to be done soon and called her care team who immediately got her in to see Shenita Spencer Moore, MD, a palliative medicine and geriatrics specialist with Levine Cancer Institute.
Many cancer patients think a referral to palliative medicine signals a white flag or giving up. But on the contrary -- palliative medicine can do much to improve a patient's condition.
"Almost anything that we do for symptom management in cancer patients is going to be called palliation," Dr. Spencer Moore says. "I tell my patients that palliative medicine is the alleviation of symptoms – pain and suffering, nausea, anxiety, insomnia, or any other symptoms that may come about. We can be involved in any stage of a patient's cancer. It's a wonderful service not offered at all cancer centers around the country."
Dr. Moore says everyone has likely heard of the physical symptoms of cancer treatment but less likely to be addressed are those other things that can have a big impact on the quality of life of a cancer patient – things like anxiety, depression, weight loss and appetite and sleep disturbances.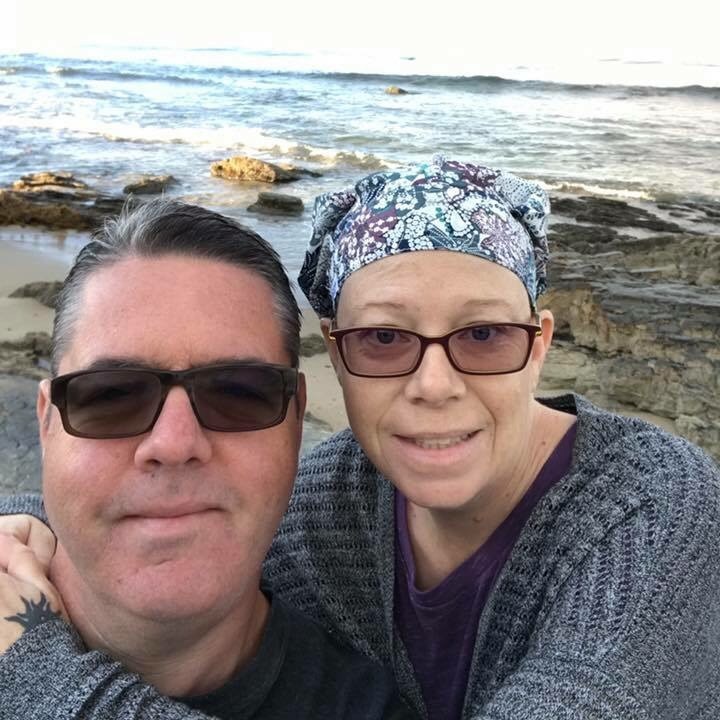 Jenn immediately connected with Dr. Spencer Moore – so much so that the two shared a good cry together as Jenn explained how the cancer and her treatment had been overwhelming her. Jenn opened up about how she couldn't take her medicine and that she was considering canceling a special trip that she and Mark had been planning to Southern California.
"She said 'I just want to get to California.' And I said, 'Let's see what we can do to get you feeling better,'" Dr. Spencer Moore says. "She was worried about opioids and had been reading all the information out there about abusing medications. But my area of expertise is monitoring adverse side effects, tolerance, dependence and appropriate medication dosing."
To make sure Jenn could still go on this trip, Dr. Spencer Moore immediately had all of Jenn's medications converted to liquid form and prescribed her a pain relief patch. The next day, she felt a little better and continued to progress over the next few days. By the end of the week, she had finished her radiation treatment and was on a plane – westward bound to dip her toes in the Pacific Ocean and bask in the California sunshine.
"There's a learning curve to it," Jenn says of how to fight cancer. "You feel like you need to tough it out, suck it up – 'this is how it is.' But that's not how it has to be."
Positive Progress
Jenn continued her treatment into the fall of 2017 and the results were good. The tumor was shrinking and there were no signs of cancer appearing in other parts of her body. The standard method of treatment was working.
But still, Dr. Brouse thought that there was more that could be done. He had recently read reports on the efficacy of an immunotherapy agent – durvalumab (Trade name: Imfinzi) – that was making its way through studies and trials in the United States. A preliminary report in the New England Journal of Medicine suggested that using this agent as a consolidation therapy following chemoradiation appeared to be dramatically reducing the risk of progression. Dr. Brouse says he wouldn't take any unnecessary risks with patients, but the data did seem to show that this study may ultimately become a standard approach in patients with stage 3 disease, like Jenn.
"This is something that we wouldn't even have considered three months earlier. It wasn't the standard approach, but the timing was fortunate for her," Dr. Brouse says.
Dr. Brouse discussed the possibility of another treatment with Jenn.
"He said they had just finished trials and consolidation immunotherapy could be a game-changer," Jenn recalls Dr. Brouse saying.
Jenn went home and – true to form – made a "pros-and-cons" list. She read up on the side effects and knew that this treatment would be longer – about a year.
After some time to think Jenn told Dr. Brouse: "I said as long as this doesn't make me sicker, I'm in."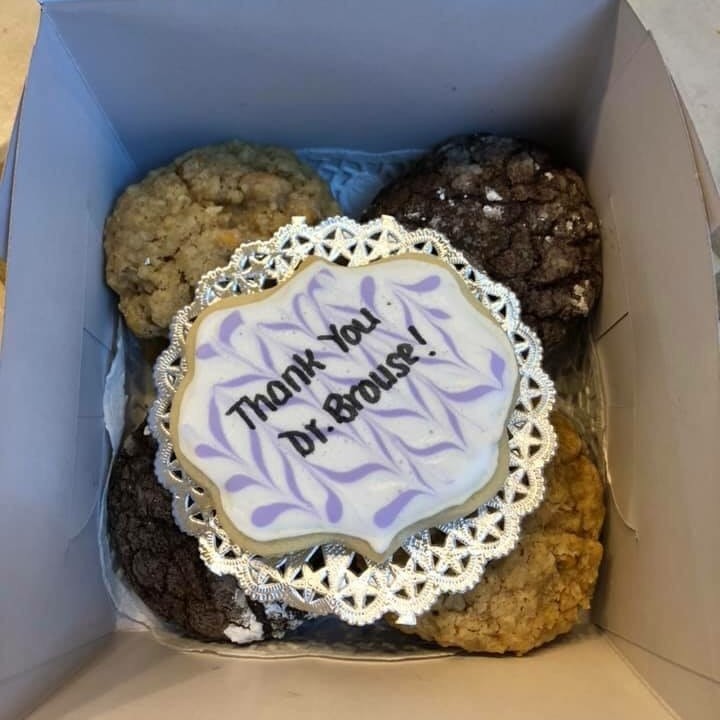 But there were a few barriers in the way. The drug was not FDA-approved at the time and its cost was very expensive. Whether it was through the insurance company or lobbying the drug maker, Dr. Brouse was going to find a way to secure this treatment for his patient.
"He said 'I'm going to fight for you,'" Jenn says.
About a week and a half later, Jenn was startled by an early morning phone call. It was Dr. Brouse on the other end.
"He was just giddy," Jenn says. "He said 'I just had to call you. It got approved!' I was like, OMG, he did it, we did it!"
Although this was a newer treatment for patients like Jenn, she says that Dr. Brouse had earned her trust to try something a little different that could make a big impact on her quality of life for a long time.
"He proved to me that he listened and that he cared what I thought," Jenn says. "We may not have necessarily agreed on everything, but he always respected what I thought."
'Every Day as a Good Day'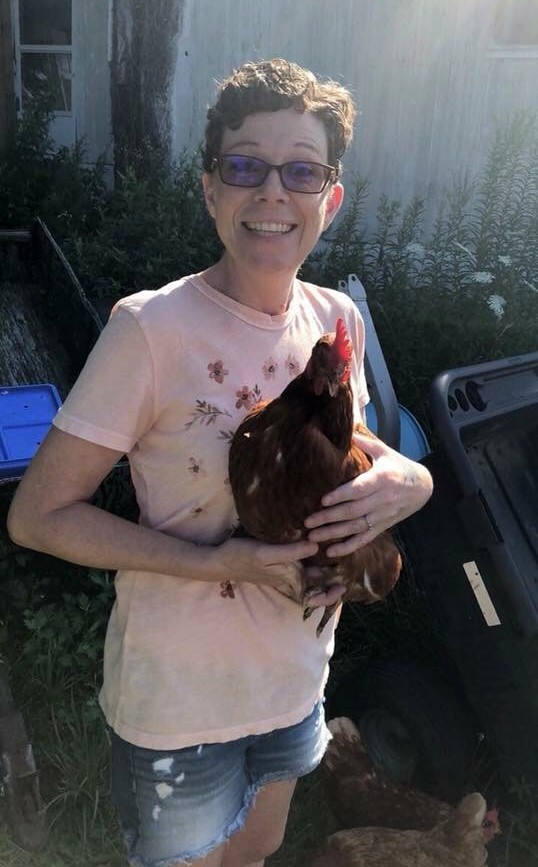 Jenn started treatment soon after her approval – an hourlong infusion every other week for a year. She experienced some of the side effects – gastritis and joint pain specifically – but recently received some incredible news: Her most recent scans showed no signs of cancer.
Not every day is roses and sunshine for Jenn. She leans on her support system on some days more than others. But she moves a little more slowly through life now, stopping to appreciate an old photograph or planning a mini beach vacation after hitting one of her milestones.
"I'm still faced with the reality that there might not be a happy outcome," Jenn says. "But I take every day as a good day now. I really try not to be consumed with all the what-ifs. I cherish every single moment along the way," Jenn says. "I have hope now where there was none before."
And Jenn heaps plenty of praise on "her people" for helping her find that hope.
"I think it all comes down finding that person or persons that are going to be your person," Jenn says "I couldn't ask to be matched up with a better set of people. Not everybody finds that."