For the 12th year in a row, Levine Children's Hospital is named a Best Children's Hospital by U.S. News & World Report. This year, we ranked in more specialties than ever – 7! Learn why this matters, or keep reading to see how our kidney care makes a difference.
---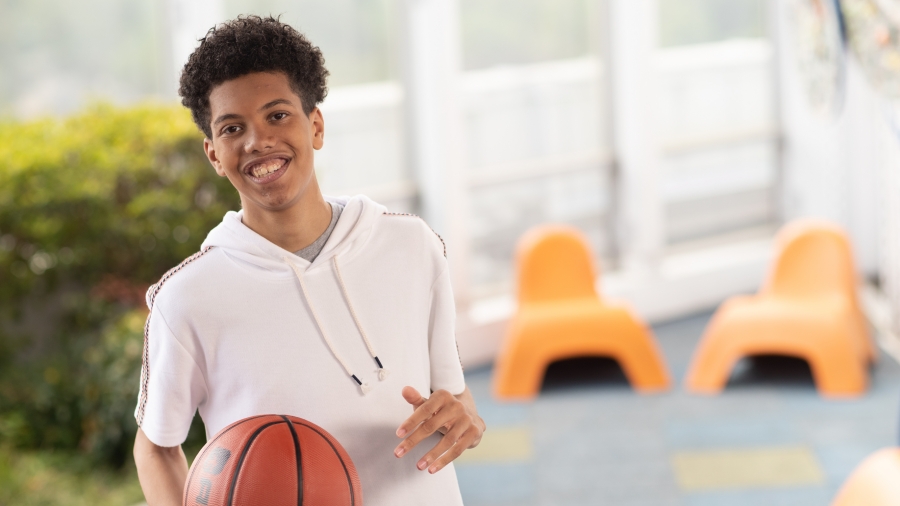 Kyle Hutty is 16 years old. He loves video games, being outdoors and hanging out with friends and family. He has unwavering faith and is well-spoken, cheerful and fun to be around. He's an advocate, a fighter and the kind of person who makes you better just for knowing him.
You see, for Kyle, chronic illness is only a part of him – but it's not who he is.
When he was 4 years old, Kyle was diagnosed with nephrotic syndrome at Levine Children's Hospital. At the core of his chronic kidney disease is something called focal segmental glomerulosclerosis, or FSGS. It's a rare disease that attacks the kidneys, causing serious scarring, permanent kidney damage and often kidney failure.
Through it all, he's made the best of it, says Susan Massengill, MD, who's been one of Kyle's kidney specialists from the start. "He's the epitome of what we tell people: Don't let this illness define who you are. And Kyle hasn't," she explains. "He's living life. On his worst days, he finds something good about it."
In the years since his diagnosis, Kyle has been on almost every treatment plan and medication possible. But in 2018, his kidneys became resistant to therapies that kept his disease manageable. He spent a third of the year in and out of the hospital, combatting every complication imaginable, from infections to blood clots to swelling to – ultimately – kidney failure.
Currently, Kyle is on a form of chronic dialysis called peritoneal dialysis, as he awaits the next step in his treatment journey: a kidney transplant.
A care team that's like family
For most of his life, Levine Children's Hospital has been like a second home to Kyle. "I love the people and the staff," he says.
In all the time he's been a patient – and all the visits – his care has gone far beyond medical. Kyle says his team has felt more like family, helping with everything from shopping for school clothes to getting his homework done.
For instance, there was the time one of his regular nurses brought him a bag bursting with crazy socks, knowing how much Kyle loved them. And another time, when all the whiteboards in Kyle's room were filled with math equations as he prepared for an algebra test. According to Dr. Massengill, this type of personalized experience is the norm at Levine Children's Hospital, where patients get what she calls "the full package" of care.
"I appreciate every single thing they've done for me," Kyle says. "They've taken me in as one of their own and made me a better person."
And for Levine Children's Hospital, the feeling is mutual.
A reason for everything
Peritoneal dialysis has made Kyle's life easier, but there's no cure for chronic kidney disease. Following his kidney transplant, Kyle will need medications and clinic visits for the rest of his life. His condition, FSGS, has a high rate of recurrence, which means it can come back. So even with a transplant, there are risks and no guarantees.
"Kyle is the strongest person I know," says Nicole, Kyle's mom. "There are so many days he struggles, but he still keeps going."
Just like Kyle doesn't let his condition define who he is, he doesn't let it define his future, either. Despite his challenges, he's maintained a 3.5 GPA in advanced courses at school and is looking forward to college, travel and freedom.
"When Kyle meets others, I want him to say, 'I'm Kyle. I like to do x, y and z. And, oh, by the way, I have chronic kidney disease,'" says Dr. Massengill. "Not the other way around."
Through his experience, Kyle has become an advocate for chronic kidney disease patients, speaking at Levine Children's Hospital events on the impact the disease has on kids, as well as on the parents who worry about them. For those families, he has advice: "Roll with the punches. Life is always difficult, but there's a reason for everything."
As always, Kyle is looking on the bright side – which, for the rest of us, means just looking at Kyle.
As he waits for this next step in his treatment, Kyle is redefining what it means to have a chronic illness, and most importantly, what it means to be Kyle. Whatever his future brings, Levine Children's Hospital will be there every step, helping him live his best life.