For the 12th year in a row, Levine Children's Hospital is named a Best Children's Hospital by U.S. News & World Report. This year, we ranked in more specialties than ever – 7! Learn why this matters, or keep reading to see how our gastroenterological care makes a difference.
---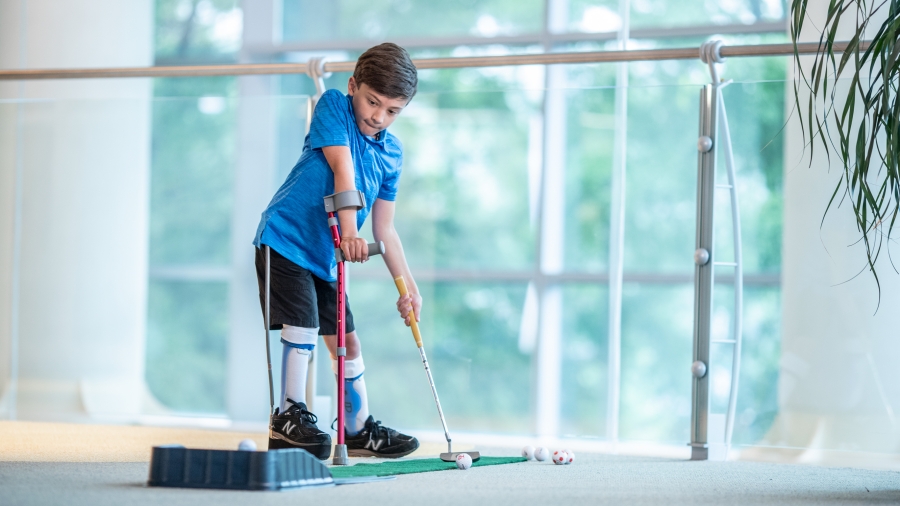 Nine-year-old Joshua Hexemer loves playing and watching sports and especially cheering on his beloved Georgia Bulldogs. "People can be around him in a social setting and not have any idea what a day in his life is like behind the scenes," says Dawn, Joshua's mom.
Joshua was born with spina bifida, a spinal cord defect that occurs when the lower part of the spine isn't fully formed. Starting the day he was born, he's undergone several procedures and hospitalizations at Levine Children's Hospital and faces daily challenges to mobility, learning and eating.
In addition to his support team at home and school, Joshua has a team of specialists who've cared for him all his life. This includes one of his favorite doctors: Jason Dranove, MD a pediatric gastroenterologist at Levine Children's.
Over the years, Dr. Dranove has helped Joshua overcome challenges with nutrition and digestion, but he's more than a gastroenterologist – he's also a Georgia Bulldog, which gives the two plenty to bond over (and bark about).
Unique care for unique challenges
Unlike his forearm crutches and wheelchair, not all of Joshua's struggles are visible. Spina bifida patients also face gastroenterological challenges unique to their condition, affecting everything from growth to digestion.
As Joshua has gotten older, he's also struggled with neurogenic bowel, a dysfunction that leads to bowel incontinence and constipation. It can be uncomfortable and painful and make it tough to stick to a daily routine. "Joshua faces unique challenges every day, as do every one of our wonderfully sweet spina bifida patients," says Dr. Dranove.
And unique challenges call for unique care. Fortunately, Levine Children's Hospital is home to one of the only full-service gastroenterology programs in the Carolinas, and Joshua has been able to get the procedures and treatments he needs to help his lower intestines function better.
Joshua even became one of the hospital's first patients to receive a new bowel management treatment, which has been a gamechanger for his quality of life. "It's given him the confidence and ability to maintain a school and social schedule as close to normal as possible," says Dr. Dranove.
Most importantly, treatments like this help Joshua focus a little less on his condition and more on what matters: being a kid.
No such thing as can't
Just because everyday tasks can take him longer to complete, that doesn't stop Joshua from going to school or playing sports. Not even his wheelchair can confine him, and he tosses a football with the best of them – just ask Dr. Dranove.
From receiving a lifelong diagnosis to playing golf with his peers, Joshua is redefining what it means to live with special needs. And whether it's at school, on the links or – one day – on his own, Joshua's family is optimistic about his future.
The almost-10-year-old has infinite potential, and his mom says only two words are off-limits: I can't.