Cardiac rehabilitation is the next step for a number of people who are recovering after a heart procedure. According to the Centers for Disease Control and Prevention, patients who engage in cardiac rehabilitation have a 20 to 30 percent reduced chance of death during the five years following a heart attack or bypass surgery. However, only about 20 to 30 percent of eligible patients actually go to cardiac rehabilitation.
For patients like Elena Gonzalez, completing Atrium Health's Sanger Heart & Vascular Institute's Cardiac Rehabilitation program was essential to helping her navigate a new normal – emotionally and physically.
"The cardiac rehab programs here have educated me to be where I am today," says Gonzalez. "I needed their help." Gonzalez struggled with a lot of emotions and stress as she recovered. The stress management component in rehab enabled her to cope as she found her way back to health and happiness.
In 2019, the Sanger team took quick action to help Gonzalez, performing a stent procedure to correct blocked arteries caused from a rare blood clotting disorder. As Gonzalez recovered, she found herself also recovering from feeling at odds with her own body.
"When my sister asked how I felt, I answered her in a kind of funny way. I told her it was like I was standing in the middle of Times Square in New York City, and I had dropped my purse. Everything fell out, and I could not get anything back in my purse."
She credits her faith, her family (even her cocker spaniel Theo) and her Sanger doctors, nurses and cardiac rehabilitation teams for helping her find her way back to herself and her life.
"After a while, I told my sister that I was able to start putting things back in my purse," says Gonzalez.
"Elena's recovery can be attributed to her commitment to complete cardiac rehabilitation, which is a proven step toward reducing the risk of advancing heart disease," says Hadley Wilson, MD, one of the physicians who treated Gonzalez. "Patients work with a team of physicians, exercise physiologists, registered nurses and dieticians to approach recovery holistically."
Cupid's Cup Marks Progress for Heart Patients and Families
The Cupid's Cup 5K is an event hosted by Atrium Health Foundation to benefit cardiac rehabilitation programs across the region. The funds raised to support these cardiac rehabilitation programs help to educate and shape treatment plans for patients like Gonzalez, who need cardiac rehabilitation to enhance their heart's future.
Supported by more than 900 runners, walkers and volunteers in Charlotte, this year's Cupid's Cup raised $70,000 with more than $1.1 million raised for cardiac rehabilitation in the event's 16-year history. This annual event always takes place during Heart Month to bring awareness to heart health throughout the community.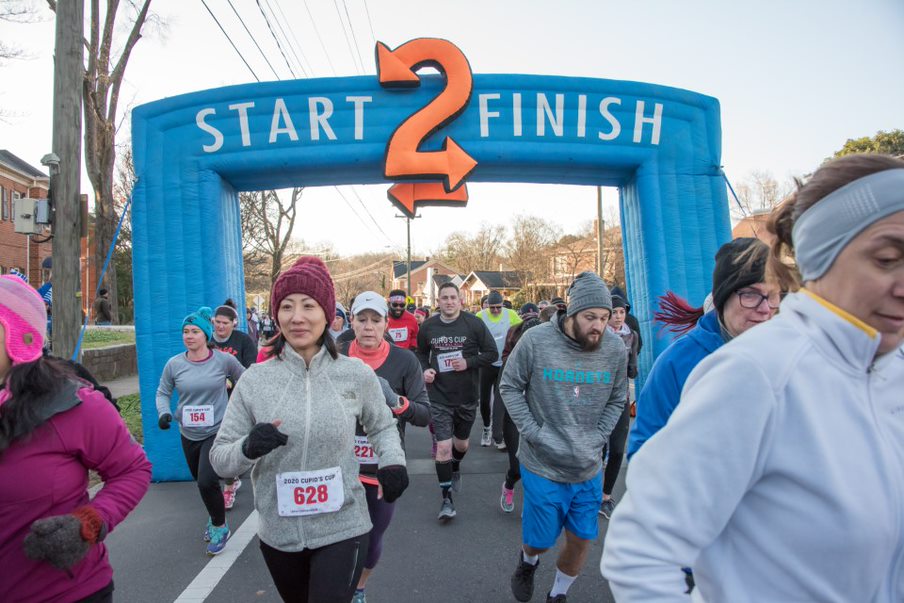 For Gonzalez, whether it's a race like Cupid's Cup or the larger race for her life, she takes it one step at a time, "one day at a time," she says. "I'm wonderful now. I'm confident, stronger physically and emotionally. In every way, I'm feeling really well. This brought me back together, again."
Cupid's Cup has grown to become a success for some former patients taking their bodies back after a major heart event, but many others are there to support family and friends as participants, volunteers and donors. The event has raised more than one million dollars since it first originated in 2004, according to Kathleen LeFever, director of strategic relations and communications at Atrium Health Foundation.
"This is an event that a lot of Atrium Health patients, teammates and employees get excited about for Heart Month because it's about all of them getting behind the cardiac rehabilitation program," says LeFever.
Crossing the Finish Line Back to a Healthy Life
The proceeds from the Cupid's Cup fundraiser benefit cardiac rehabilitation programs at Atrium Health Pineville, Atrium Health SouthPark and Atrium Health Union by providing funding for patient education, outreach, rehabilitation equipment and patient scholarships.
"There are patients who either do not have enough insurance coverage or none at all and cannot do the full course of cardiac rehab they need. A vast majority cannot afford this out of pocket," says Rachel Field, MS, exercise specialist at Atrium Health's Sanger Heart & Vascular Institute and coordinator of Cupid's Cup. The scholarships ensure some receive this necessary component of their treatment.
"Patients do four to 18 weeks of goal-driven heart-healthy lifestyle rehab," Field explains. "It includes a comprehensive individual program of exercise, nutrition (Mediterranean-style diet), stress management and support from other patients in their classes. So, patients are not alone; they have friends around them who understand what they are going through."
Gonzalez has completed her cardiac rehabilitation, and she's now back to continue twice a week in a maintenance program there. Field is proud of Gonzalez' comeback.
"She went through a long road to get here," recalls Field. "Now she's back to work, back to her family, she even took a trip to Utah to see her daughter. She is working and exercising and balancing it all."
After her journey to recovery, Gonzalez has a newfound appreciation for life and looks forward to a heart-healthy future surrounded by friends and family. "I'm so grateful," she says, "I feel like I've been given a second chance to tell my kids, my husband, everyone, how much I love them."
---
To learn more about Atrium Health's Sanger Heart & Vascular Institute's expert heart care, click here.
For more information about Cupid's Cup, visit CupidsCup5k.com.