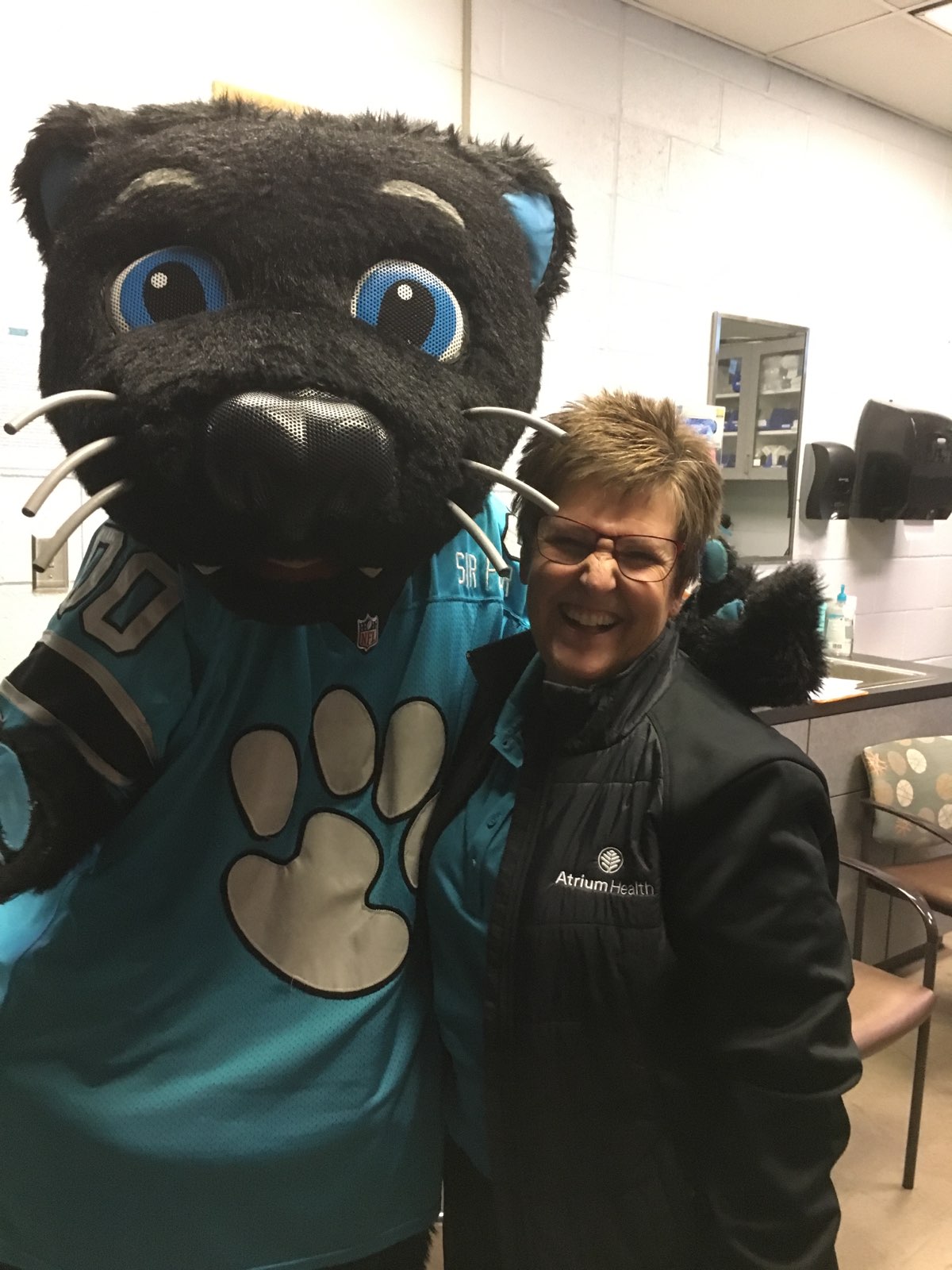 As manager of Atrium Health's Event Medicine team, Connie Tompkins, RN ensures that a full complement of EMTs, paramedics and nurses are at Bank of America Stadium when the Carolina Panthers play home games. But she was surprised when she was given the opportunity to play a different role from the comfort of her own home for this year's NFL Draft.
"I'm excited and a little nervous," Tompkins said before participating in one of the nation's biggest sports events. "This is a humbling experience."
Tompkins, a 41-year teammate of Atrium Health, was recruited to cheer during the first-ever "virtual" NFL Draft. The coronavirus pandemic forced the league to conduct activities remotely, using technology to link officials, coaches, and players in homes across the country. The NFL league was determined to connect with their fans who look forward to showing some love for their favorite teams each year. Thus, the virtual draft was born. To participate, fans of each team ­— decked out in jerseys and caps — appear on a video grid when their team selects a player.
The Panthers drafted defensive tackle Derrick Brown (Auburn) in the first round on Thursday, April 23 giving Tompkins an opportunity to see how the process works live. She had rehearsed prior to the draft but a different group of fans cheered Thursday and she is scheduled for duty Friday, April 24 for Rounds 2-3.
"There's a log-in I have to go to and there's a producer talking you through everything," Tompkins said. "This is all new and different. Who would've thought we'd be doing the draft this way?"
Long history together
Much is new and different nowadays as a result of the coronavirus pandemic within our communities. But one thing that hasn't changed is Atrium Health's lengthy relationship with the Panthers, which dates to the team's inception. Atrium Health donated part of the land under the stadium and has been the franchise's official healthcare provider since 1995. Even the team's climate-controlled indoor practice facility is known as the Atrium Health Dome.
The Event Medicine team supports not only every Panthers game, but also other events like soccer, concerts, and college football at Bank of America Stadium. Coverage also includes the convention center and BB&T Ballpark, home of Charlotte's Triple-A baseball team, the Charlotte Knights, and many other locations. "No one day is the same, but that's what I enjoy most about it," Tompkins says.
A native of Lorain, Ohio, she has lived in Charlotte for 50 years. Most of her nursing career was spent in emergency medicine, but managing schedules is a big part of her current job. Roughly 40 healthcare personnel typically are onsite. Some have been pressed into other duties, like pre-screening for employees and authorized visitors to check for symptoms of COVID-19 prior to arrival. Others have followed the same advice given from coast to coast.
"A lot of the members on my team specially have been working from home, which is good," Tompkins says. "They go with the flow, so pleasant and awesome to work with. And they're always willing to raise their hand to offer help wherever it's needed."
A long-time superfan
Among the instructions for participating in the draft, one was particularly difficult for Tompkins: Fans couldn't wear the jersey of players no longer on the team. That ruled out Luke Kuechly, Tomkins favorite player. He unexpectedly announced his retirement in January at age 28.
One of Tompkins most memorable Panthers moments involves Kuechly. During one game, he intercepted a pass and returned it for a touchdown. A fan became overexcited and fell over the railing, knocking down Tompkins' as Kuechly ran by. The linebacker stopped for a second, helped up the director, and continued running.
Just like the rest of us, she can only guess when anyone will be back out on the field. She's glad that the NFL conducted its draft despite current conditions, creating a sliver of normalcy, and she's happy to have a small role.
"I'm very honored that I can be a part of this for Atrium Health," she says. "I've worked for the system for so long and to be a part of this is so unique."