Editor's Note: As the coronavirus disease 2019 (COVID-19) pandemic has evolved over the past several months, Atrium Health's teammates have been on the frontlines, caring for our patients and providing essential assistance in their respective communities. It takes a united effort across our healthcare organization to make this happen, as our teammates still face the same challenges managing their personal lives that we all do. We're all in this together. So, join us in recognizing these teammates for their ongoing efforts as they offer a look at the COVID-19 situation through their eyes.
Meet Dr. Susan Evans, who is chief of surgical critical care at Atrium Health's Carolinas Medical Center. She wears many hats – working across emergency surgery and trauma as well as critical care areas of the hospital. Depending on the day, she may be working overnight in the trauma bays, performing emergency surgeries or caring for patients in the STICU (Surgical Trauma Intensive Care Unit). Follow along for a behind-the-scenes look of Dr. Evans and the region's only Level I trauma center!
---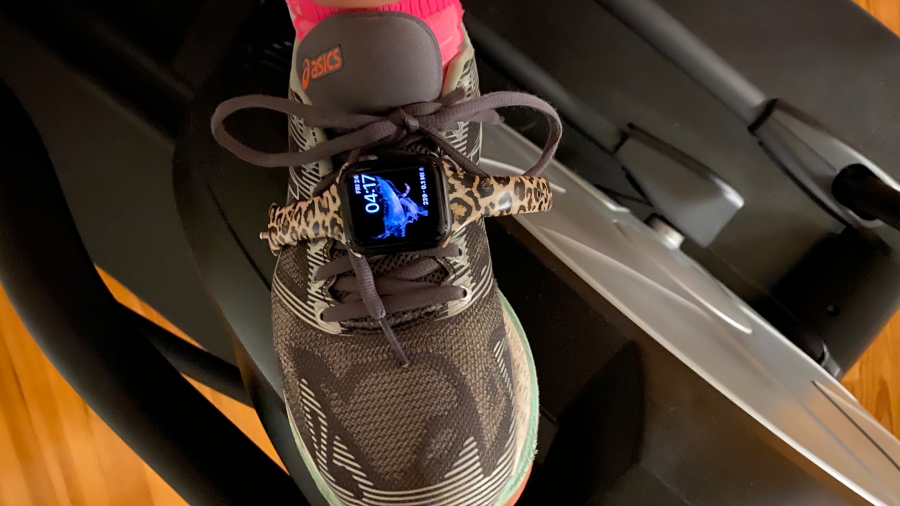 Rise and shine! Before any workday starts, Dr. Evans makes sure to start her day off with an early wake-up call at 4 a.m. so that she can get her workout underway.
---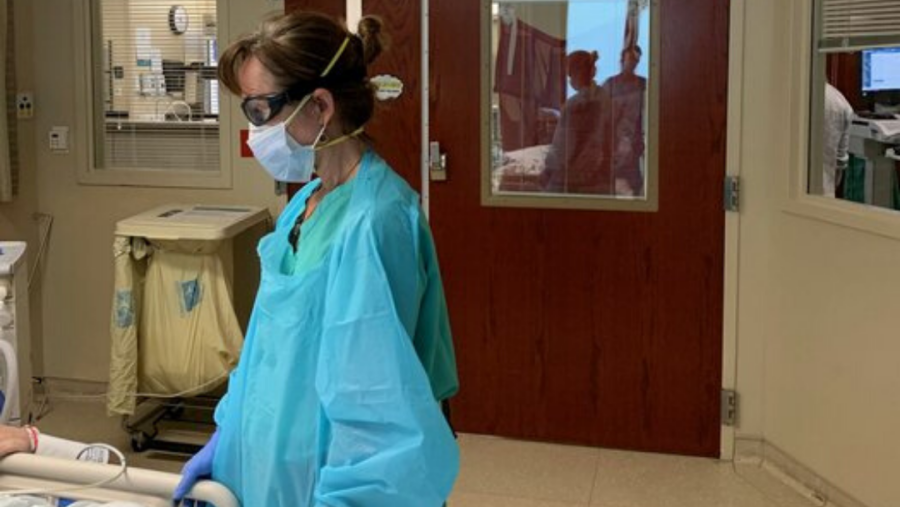 "I'm at work by 6 a.m. and review patient cases before visiting patients who are recovering in the Surgical ICU. At the hospital, I get my temperature taken and a wellness screening. I receive a surgical mask, and I see the patients with my mask on, my hair up, and the fanny pack filled with additional protective gear. If patients have the potential to be COVID-19 positive, we put on more gear. I change into an N95 mask, goggles and a face shield. This gear is also worn when treating patients who are getting an aerosolizing procedure, such as a tracheotomy."
---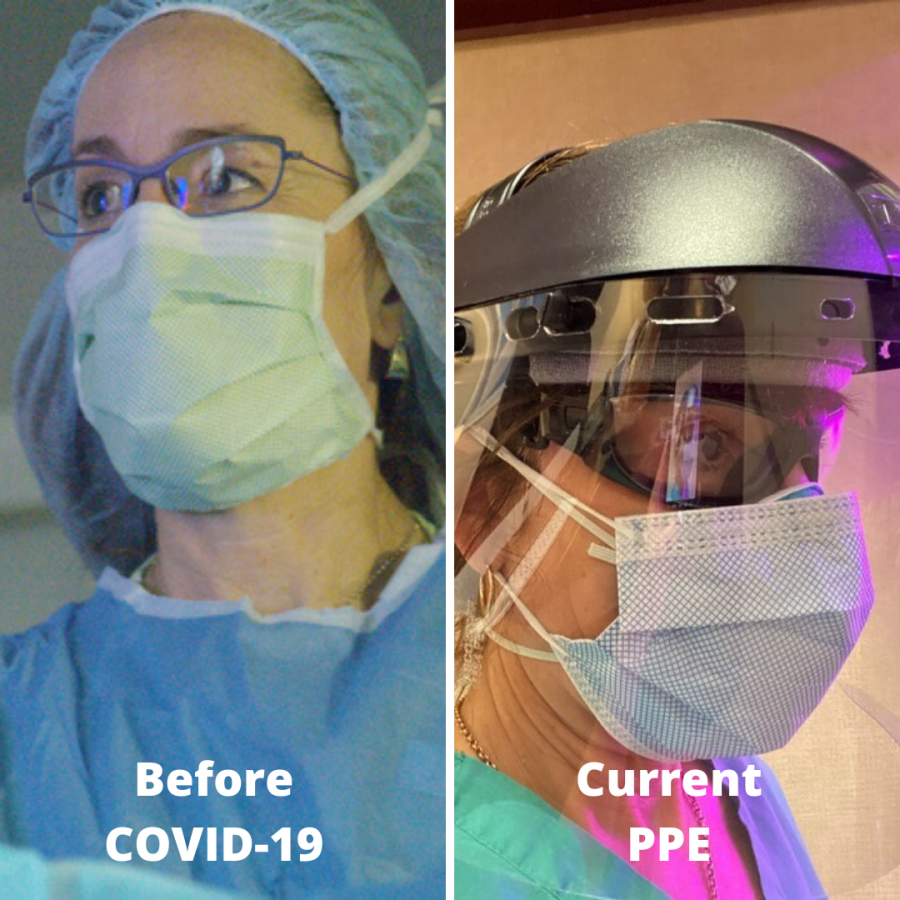 "We have implemented numerous clinical practice changes. We're prepared – and the volume of patients with COVID has been lower than originally expected in the region.
We look different when you see us. We're taking additional precautions and patient and team safety is extremely important. Outside of the OR, I wear a surgical mask to round on patients (left photo). However, if patients have the potential to be COVID-19 positive, the surgery team – residents, CRNAs, nurses, physicians -- puts on more gear (see right). I change into an N95 mask, goggles and a face shield. This gear is also worn at all times when treating patients who are receiving an aerosolizing procedure, such as a tracheotomy."
---
If you're sick, and think you may need medical assistance Dr. Evans emphasizes that you don't delay seeking care! We've got numerous precautions in place to ensure that you remain as safe as possible upon arrival.
---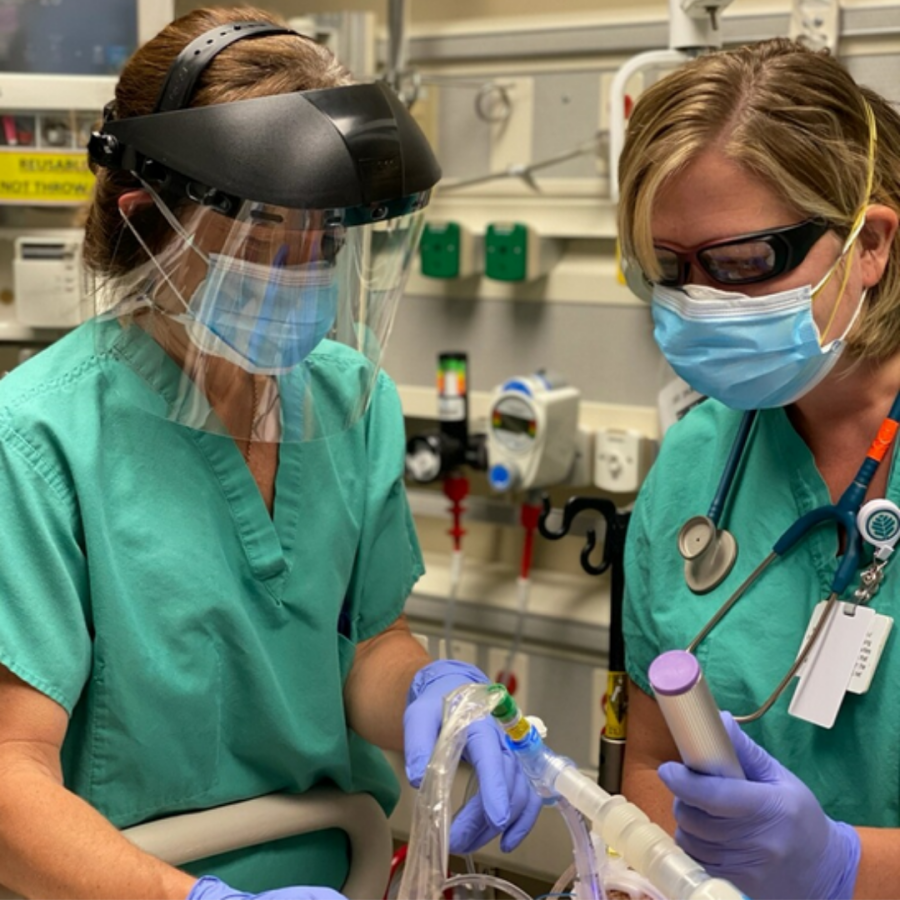 Inside the OR, the team wears an N95 mask for any patients who are COVID-positive or showing symptoms of being COVID-positive.
We also started using plexiglass boxes for intubations and sometimes performing tracheostomies. Now, staff – CRNAs, anesthesiologists, clinicians – have an added layer of protection when performing intubations.
Intubating a patient means a teammate is inserting a breathing tube as a life-saving measure or necessary surgical measure. That requires proximity – thank you Piedmont Plastics and Sunbelt Displays for the donations of intubation boxes.
---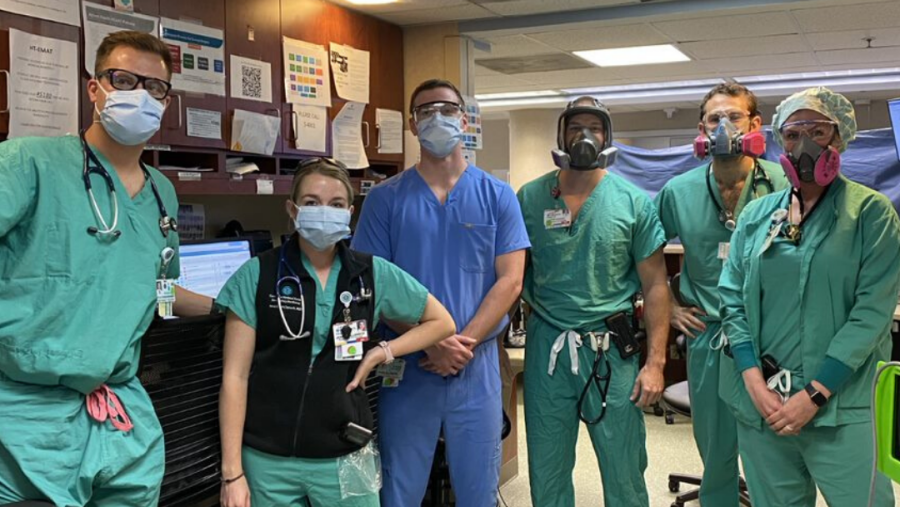 "Communication with our peers in emergency and trauma situations has changed. Wearing masks is the best possible course of action, but depending on the PPE, hearing each other and recognizing each other is difficult. Trust of the team – across the Emergency Department, the trauma bays, the surgical ICU, is THE thing that will get us through. I trust my colleagues; we have to make decisions continually to change our practices to keep all our patients safe."
---
Compassion means keeping you safe, but we miss giving the hugs, too. So much of our work outside of surgery is the compassion to help families through difficult situations.
---
Last but not least — thanks to all in the community who have supported healthcare professionals on the frontlines during the coronavirus pandemic. We hear you and appreciate you! We're all in this together 💙
---
Read more:
Coronavirus from the Frontlines: A Time to Jump In and Help
Coronavirus from the Frontlines: Leading a Response
Coronavirus from the Frontlines: Ensuring Access to Care
Coronavirus from the Frontlines: Care for a High-Risk Population
Coronavirus from the Frontlines: Bringing the Comfort of Home to Skilled Nursing Facilities