---
Whether there's a natural disaster, mass casualty incident or a global pandemic just supporting large-scale public events,
Atrium Health's MED-1
has been counted on time and time again to provide emergency medical assistance for those who need it most.
Now, a second, lifesaving mobile hospital will make its grand debut and hit the ground running for communities in need.
Improving emergency access to care
Since inception, MED-1 has been the only first-class mobile emergency department in the region, providing on-the-ground emergency care to sick or injured patients following largescale crises, natural disasters or extensive community events. And as we continue to navigate the COVID-19 pandemic together, we've all begun to see just how important these services may be to our mothers, our brothers, our grandfathers, nearly everyone we love — ourselves included — and recognize the importance of mobile emergency care that's ready to treat patients at a moment's notice.
According to Kristy Haynes, manager of operations for MED- 1, the addition of the second mobile emergency department will help to broaden Atrium Health's reach in ensuring exceptional disaster relief support and patient care.
"Not only are we here for disaster response, but we're also here to better serve our hospitals, patients and communities," says Haynes.
Emergency medical support communities know and trust
A complete emergency department on wheels, both MED-1 mobile hospitals consist of 14 acute care beds, a 2-bed operating room, digital X-rays, ultrasounds, an on-site lab, a pharmacy and other essential emergency department necessities. MED-1 is fully staffed by Atrium Health teammates including physicians, nurses, medical technicians and support staff to provide expert patient care at a level that is expected in any emergency department.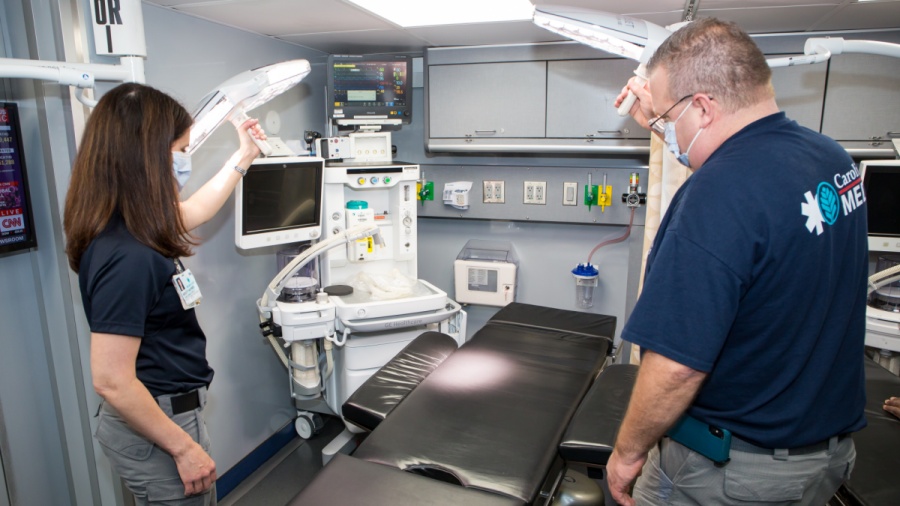 "MED-1 is the first of its kind, offering enough equipment, staff, and expert care necessary to make an emergency department run efficiently," says Haynes. "We are proud to have a second mobile emergency department with upgrades to the medical equipment, technology and security offering another critical asset in providing care to communities that need it most."
MED-1 is designed to deploy within 24 hours, is fully operational within 45 minutes of arrival and is self-sustaining for 72-hours.
Committed to COVID-Safe patient care
By holding MED-1 to the highest standards of COVID-safe care, Atrium Health has deployed the second MED-1 for its first assignment: the Coca-Cola 600. Stationed at the Charlotte Motor Speedway in Concord, N.C., the newest unit will be fully staffed over Memorial Day Weekend to care for NASCAR drivers, support teams and personnel, members of media and others who will be working the event during the historic Coca-Cola 600. Due to the ongoing pandemic, MED-1 will be onsite to maintain a COVID-Safe environment for anyone who may need treatment during the races.
---
Learn more about
Atrium Health's MED-1
.