This Memorial Day weekend in the Queen City, many dreamt about beaches and pools. For racing fans though, it meant just one thing: The Coca-Cola 600 at Charlotte Motor Speedway. But this year, that wasn't necessarily a guarantee.
The coronavirus pandemic shut down all professional sports – including NASCAR – back in March. And while drivers and fans alike were anxious to restart, plenty of work was being done behind the scenes to get everyone back on the track.
It's something Jennifer Gardner, director of outreach for Atrium Health's Musculoskeletal Institute, which is the system's primary sports medicine provider, knows first-hand. She's spent more than 30 years with Atrium Health in a variety of roles including the original Charlotte Memorial Hospital's Emergency Flight Service and Community Health. Now focusing on sports medicine and event medicine, her team provides leadership and clinical care coordination for school systems in 8 different counties as well as colleges and universities, along with our sports partners, including the Carolina Panthers and Charlotte Motor Speedway.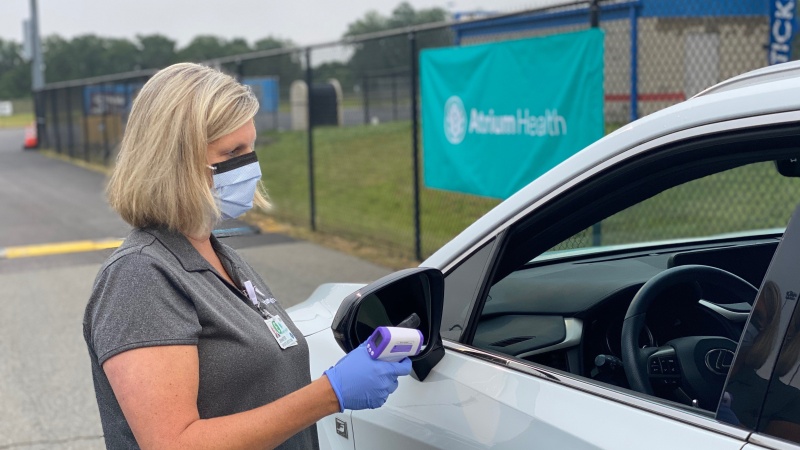 "It's our role to make sure all their clinical needs are met," Gardner explained, "whether working with a team physician or working with the athletic trainers or the teams themselves."
But since the onset of coronavirus disease 2019 (COVID-19), Gardner's world, like all of ours, has looked a bit different. With athletic events effectively on hold, her team took on new roles to continue helping the community, however they could.
"We looked for ways to invest back into the community," Gardner said, "to serve and assist the different facilities that help us in our usual activities."
So the sports medicine and event medicine team, which includes EMT's, paramedics, nurses and athletic trainers who are more accustomed to helping patients on a field rather than in a hospital setting, have been helping in other ways.
"They have gone above and beyond to step out of their normal roles and make sure Atrium Health is supported," she said.
Many have been conducting entrance screenings at Atrium Health facilities as well as screenings and tests at some of our mobile testing sites.
"They truly did shift gears. They shifted from a football field to a hospital facility to do entrance screenings or work on the front lines testing people for COVID-19. That's huge."
The sports medicine team has enjoyed the chance to use their skills in new ways, and to meet new teammates and members of the community they wouldn't otherwise encounter.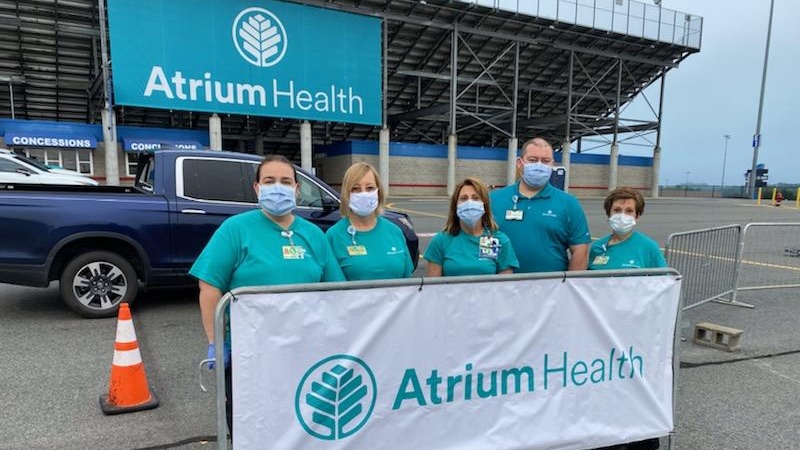 But of course, they, like so many of us, have been waiting for the day when the world of sports, would begin to spin again.
So when NASCAR started discussions about trying to bring back racing to Charlotte Motor Speedway, Gardner and her team, were ready to shift gears – again.
Atrium Health worked along with our partners at the speedway as well as NASCAR, to help create a plan to keep drivers, crew, employees and broadcasters safe during four Memorial Day weekend races scheduled at the Charlotte Motor Speedway, including NASCAR's longest event, the Coca-Cola 600.
"As we look for ways to return to normalcy, having 'race day' at Charlotte Motor Speedway happen over Memorial Day weekend is a sign of hope and a sign of healing," said Brian Middleton, vice president of Atrium Health's Musculoskeletal Institute. "At Atrium Health, we're proud to be able to help create an environment that helps protect the health of all those taking part in this incredible event."
Race weekend also marked the debut of Atrium Health's new, state-of-the-art MED-1 mobile hospital. MED-1 is a one-of-a-kind emergency department on wheels, to help maintain a COVID-Safe environment for anyone who needed treatment during the races.
Meanwhile, 30 of our sports medicine teammates are helping for each race day, with 20 teammates conducting temperature screenings and COVID-19 related questioning. The other 10 teammates are staffing the infield care center, in the event a driver, or anyone else on the infield needs care.
They know the eyes of the sporting world were on Charlotte to see what the return to professional sports might look like. Gardner and her team are ready for whatever comes next.
"This is what we do for our community," Gardner said. "This is why we are Atrium Health proud."
And race fans throughout Charlotte, are thanking them for it.