Editor's Note: In this memo sent to all Atrium Health teammates, Benjamin Simmons, MD, shares his feelings and thoughts about Pride Month, celebrated every June, and how it celebrates the transformation of struggles into triumphs for America's LGBTQ+ community. [Photo: Dr. Simmons pictured with fellow teammates at the 2019 Atrium Health LGBTQ Pride Celebration.]
---
By
Benjamin Simmons, MD
, a family medicine physician at
Atrium Health Union Family Practice
.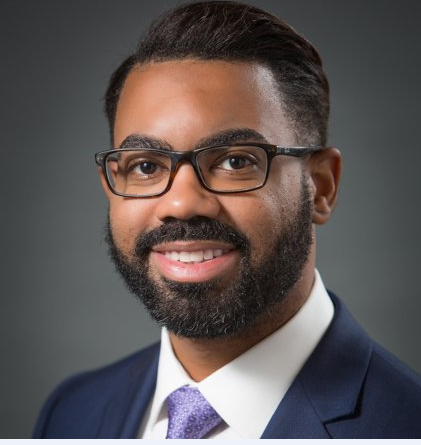 This month marks the 50th anniversary of the first Pride march, held in New York City on June 28, 1970. The first march was organized in honor of the Stonewall Inn Riots the year before, which were in response to police brutality against LGBTQ+ people. This year, despite being impacted by significant global and national challenges, LGBTQ+ individuals do have reason to reflect on who we are collectively, the values we hold individually and an opportunity to celebrate as a community.
Possibly the most impactful recent event the LGBTQ+ community can celebrate is the Supreme Court of the United States (SCOTUS) decision on June 15 to uphold and expand Title VII of the Civil Rights Act of 1964, making it illegal for employers to discriminate based on a person's sexual orientation or gender identity. Fortunately, Atrium Health already lives its mission of "FOR ALL" by including this protection for our teammates, filling what was a critical gap left by state statutes and federal court decisions. The SCOTUS decision in Bostock v. Clayton County – the case that initiated this amendment – now provides national protection.
Not only has the LGBTQ+ community faced challenges socially but medically as well, which have given rise to specific health disparities, such as higher rates of HIV and STDs, higher rates of substance abuse and tobacco use, higher rates of victimization from violence, higher rates of depression and anxiety and lower rates of breast and cervical cancer screenings. Historically LGBTQ+ have feared seeking medical care due to concerns of being discriminated against in the medical office or hospital. I am grateful to work for a healthcare system that does intentional work to support better care of LGBTQ+ patients as through the Levine Children's Center for Gender Health where pediatric patients who identify as transgender or nonbinary can get gender affirming care. Atrium Health provides specific education to our providers, collecting accurate data in regard to patients' sex assigned at birth, current legal sex, sexual orientation and gender identity, and is a system that works with multiple organizations to help bring more cultural competence to our teammates.
I am proud that Atrium Health stands for its mission to "improve health, elevate hope and advance healing – FOR ALL." Through the Office of Diversity and Inclusion, we have multiple resource groups that teammates sit on to help us better come together in our D&I efforts, one of which I currently lead.
I am #AtriumHealthProud to work at Atrium Health knowing that I can bring my full self to work and provide care to all patients.