More than a decade ago, Scott Whitesell was rushed to Atrium Health Pineville with a recurring, splitting headache that left him unconscious. Soon after admission, his partner, Tim Manes, learned there was a high chance Scott wouldn't be leaving the hospital alive due to the severity of his condition.
Now, 12 years later, the 47-year-old pianist is alive, is happily married to Tim, and has learned more about confronting terminal illnesses than he could have ever imagined. And according to Scott, it's because of his "take each day as it comes" mentality, the consistent support of his partner, and the medical teams at Atrium Health that he is still here today.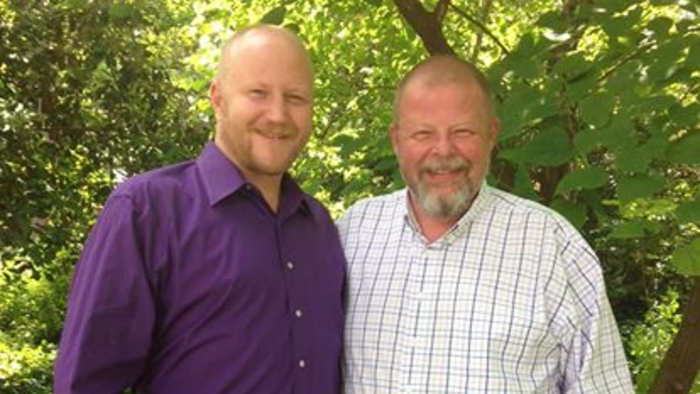 "Atrium Health went above and beyond what I thought they could do," says Scott. "Each time, they worked as a team— they would come together on their diagnoses and prognoses, and they got me through everything that most people don't survive."
A life-changing diagnosis
Scott's story begins in 2008 when he was rushed to the emergency room several times in a week for severe headaches that wouldn't let up.
"I first started having some horrible headaches that I had never had before, and they made my ears ring." Scott explains. "One night I collapsed in the house and must have lost consciousness. The ambulance came and took me to Atrium Health Pineville."
After several ER physicians, led by Sapana Adhikari, MD, worked together to determine the cause, they found that he had cryptococcal meningitis -- a serious infection of the brain and spinal column -- which is caused by end-stage HIV/AIDS.
Acquired immunodeficiency syndrome (AIDS) is a chronic, life-threatening disease caused by the human immunodeficiency virus (HIV). This illness interferes with the body's ability to fight infection and disease, greatly compromising the immune system.
His care team worked quickly to stabilize him, but Scott's prognosis was grim under the circumstances.
While his care team briefed Tim on his seemingly dire prognosis, Scott says the physicians' stellar bedside manners kept his mind at ease and his body pain-free.
"They did not talk to me as if I was going to die, and this is a common thread with all these experiences at Atrium," says Scott. "So I treated it as what I needed to do in the moment, what test did I need to do today, what procedure do I need to do tomorrow? And I think that made a big difference in the long run."
After seeing some progress during his hospital stay, Scott headed home six weeks later.
Following his first hospital admission, however, Scott's meningitis recurred. James Horton, MD, Atrium Health internal medicine specialist, looked after Scott's HIV-related needs as well as his internal medicine needs until his recent retirement.
Using a new kind of medicine that passed through the blood-brain barrier, Scott once again entered the road to recovery. During that time, an Atrium Health neurosurgeon placed a shunt in Scott's brain to treat developing hydrocephalus—fluid on the brain.
"My immune system had crashed completely," says Scott. "I was in the hospital for more than a month. I got home and had to learn how to start over, had to learn again how to walk and talk."
Under Dr. Horton's supervision, his care teams helped Scott regain his ability to play the piano.
"One of my big moments during that time of regaining my strength and abilities was when my mother came to visit," Scott adds. "I wanted to play a grand piano in the waiting room. And I could play, I had not lost my functionality. My husband and mother were in tears. They were beside themselves since this was my living, my vocation and avocation."
One step forward, two steps back
Scott's health stabilized over the next couple of years. During this time, he was able to get back to doing what he loves—creating music and playing piano for people.
In 2012, however, a freak bowling accident landed Scott in the hospital once more.
"I went home, and my abdomen was quivering so I headed to the ER," says Scott. "What started out as a very annoying side effect turned into the discovery that my pancreas was dying. It was necrotizing, and 10% had already died."
Scott learned that his kidneys were failing. Doctors pumped 10 liters of fluid into his kidneys to restart his organs. He was immediately moved into Atrium Health's Intensive Care Unit, where he spent more than 30 days for kidney failure.
Once again, Scott's fate took a gloomy turn.
"That was probably one of the darker chapters we've had," says Tim. "I would go home at night believing I would not see him again. It was bad but, again, the doctors were amazing. Dr. Horton always managed to tell me things to calm me down and help me cope."
According to Scott, the first few years after his diagnosis taught him to advocate for swift medical care when new symptoms arise.
"I've had too many close calls where had we waited for just a few more hours, I could have died," says Scott. "I've learned to ask questions, and they give me straight answers, which is nice. I feel like I have an understanding of how the process works, so I can ask technical questions and get answers I can be happy with."
Finding a new normal and facing a cancer diagnosis
In 2013, Scott's T cells were growing, a sign that his immune system was stabilizing despite his HIV/AIDS diagnosis. After years of living in a bubble to protect his fragile health from infection and illness, he could finally enjoy life as close to normal as possible.
Unfortunately, a new problem emerged. By the end of the summer, Scott ended up with a giant blood clot in his leg. Dr. Horton suggested a PET scan to determine the cause, which revealed anomalies in Scott's lymph nodes. Further testing showed Scott was facing a stage 4 lymphoma diagnosis.
It was an aggressive form of cancer requiring equally aggressive treatment. Under the direction of Nilanjan Ghosh MD. PhD. Chief of the lymphoma division at Atrium Health Levine Cancer Institute, Scott underwent a hard-hitting chemotherapy protocol with curative intent that left him bed-ridden and exhausted.
Scott's treatment, in addition to type 2 diabetes that developed during his journey, left him with severe neuropathy in his feet. Often a result of chemotherapy, neuropathy is a nerve disorder that causes weakness, numbness, tingling, and pain in certain parts of the body.
As a response, his oncologist team adjusted his chemo meds so the neuropathy would leave his hands unaffected and free to play music.
"I didn't have the hand neuropathy to deal with, which I was so grateful for," says Scott. "I still see specialists, oncologists, and physical therapists to treat the neuropathy in my feet, as I still need them to play the piano."
In 2019, Scott also learned he had developed 3A squamous cell cancer in his rectum. After radiation in the area, both of his cancers were officially in remission.
A multi-disciplinary approach
Shortly after recovering from rectal cancer, Scott found himself short of breath with no explanation behind it.
"I was just panting and huffing and puffing for no reason," says Scott. "My heart was racing terribly, and I didn't do anything about it for a while. Finally, I went back to the ER."
Doctors treated Scott for pleural effusions, a buildup of fluid on the lungs. They removed liters of fluid from his lungs. Eventually, he had to be intubated and placed on a ventilator.
"They found I had a blood disorder in which too little oxygen was being delivered to my cells," says Scott. "As a result, my lungs were filling up with fluid to the point the doctors said they were like 'soggy pancakes' because they were so flat."
He was treated aggressively with oxygen and CPAP. The senior medical director of adult medical specialties at Atrium Health, Scott Lindblom, MD, managed several chest tubes to combat the condition. Part of the pulmonary/ critical care team was Joshua Smith, MD, who helped him get through numerous pulmonary and cardiac tests as Scott slowly improved over time.
Looking back with gratitude for medical support
More than a decade since his AIDS diagnosis, Scott wants others to know that with the right medical care and attitude, they too can face tough times and come out on the other side.
"So, this is time number nine or 10 now, and I am here, I am still here, and I want to pay it forward," says Scott.
Currently, the couple plays it safe as they face the globe's ongoing pandemic. Scott's compromised immune system means he's high risk for severe outcomes if he contracts the COVID-19 virus.
"We are as careful as you can imagine," says Scott. "Tim goes out for groceries and other necessities, but I only go out for doctor appointments. It was hard at first but then it gradually became another way to get to know one another and enjoy each other's company."
Ultimately, Scott wants those facing similar circumstances to know they can get through it just as he did.
"You absolutely can—you have to have the right attitude," says Scott. "And there are some steps you have to take along the way. But, if you just ask yourself what you have to do today, then you can deal with that day, then go to sleep, then start the next day. It doesn't matter what it is, whether it's meningitis, AIDs or cancer or whatever else. Just ask what today's challenge is, because there's always going to be something."