When cancer returns, high-risk patients need access to innovative treatments to increase their chance of survival. This is especially true for children with neuroblastoma, an extremely aggressive and deadly form of childhood cancer. In fact, it's the leading cause of pediatric cancer death in children age 1 to 5.
Neuroblastoma most commonly affects the early nerve cells in children. By the time it's diagnosed neuroblastoma has often spread to other parts of the body, making it especially difficult to control.
Today, the biggest challenge doctors face in caring for neuroblastoma patients is finding ways to prevent relapse. "We can get kids into remission with very aggressive chemotherapy and intensive therapy," explained Giselle Sholler, MD, a pediatric oncologist and director of the Isabella Santos Foundation Solid and Rare Tumor Program at Atrium Health Levine Children's and chair of the Beat Childhood Cancer Research Consortium. "When we stop therapy, however, 40-50% of children relapse."
Targeting
Cancer stem cell
s
Dr. Sholler and her team are leading an FDA-sponsored clinical trial through the Beat Childhood Cancer (BCC) Research Consortium, a group of more than 40 universities and children's hospitals that offer a worldwide network of childhood cancer clinical trials. The trial is designed to target the cancer stem cell pathway in order to prevent children from relapsing from neuroblastoma. The 2-year trial is studying difluoromethylornithine (DFMO), an antiparasitic drug that was first developed to treat African sleeping sickness. For neuroblastoma patients, DFMO blocks the gene that affects cancer development and stops cancer cells from growing.
Promising results
What are the results so far? "Through our study of DFMO, we have shown that we can keep more kids in remission, with only about 15% of them relapsing," Dr. Sholler said. "We're very excited to report that we have 97% of patients still alive 4 years after treatment instead of just 80% of patients."
Levine Children's and the BCC Research Consortium have already received breakthrough therapy designation from the FDA for DFMO in April of 2020. The DFMO trial includes more than 40 hospitals throughout the U.S. and Canada.
International
patients
To help as many children as possible benefit from this breakthrough therapy, Levine Children's is making the DFMO trial available to patients around the world. In fact, enrollment includes dozens of international patients.
For patients who travel to Levine Children's for DFMO treatment, the hospital provides Global Healthcare Services for their families. "Our Global Healthcare Services team makes it easy for patients to get world-class care by coordinating medical care, appointments, travel logistics, language services and all other arrangements," explained Dr. Sholler. "I've been amazed by how this team has embraced families from different communities and cultures, allowing them to maintain their focus on their child during their visit."
We're happy to share the touching experiences of Thanos and Helena, 2 of our international patients. They are traveling to the U.S. to seek treatment for neuroblastoma at Levine Children's because of Dr. Sholler's reputation for excellence and advanced care.
Athanasios (Thanos) Tararas
Age: 2 | Location: Greece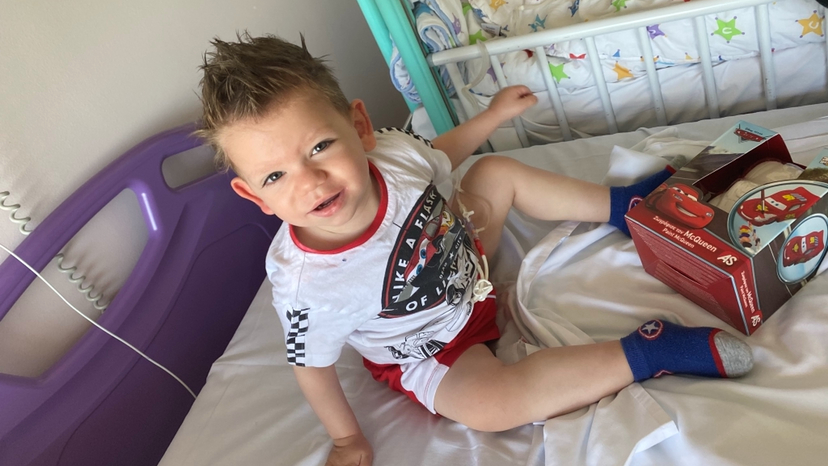 Thanos' mother, Christina Vouli, shares some background on her son and his medical journey:
"Thanos first started showing signs of cancer on March 9, 2020, when he developed a high fever and low blood counts. On March 13, we got the neuroblastoma diagnosis from our local hospital in northern Greece. His treatment started with surgery on April 2,2020. Then, he started chemo on April 16.
After personal research about neuroblastoma treatments and trials, we came across Dr. Sholler's articles. We also met other parents who followed the DFMO trial. We first met with Dr. Sholler on July 6, 2021,at Levine Children's.
Working with Dr. Sholler and her team has been amazing. The cooperation between our Greek physician team and Dr. Sholler's team has given us a feeling of security, knowing that our child receives the best possible treatment.
Our son's current treatment plan involves taking low-dose DFMO in the form of 4 pills per day. This will continue until July 2023. We're relieved that Thanos receives his treatment without experiencing any side effects. Our family is trying to return to normal life now that his condition is much more manageable."
Helena Mantovani
Age: 6 | Location: Brazil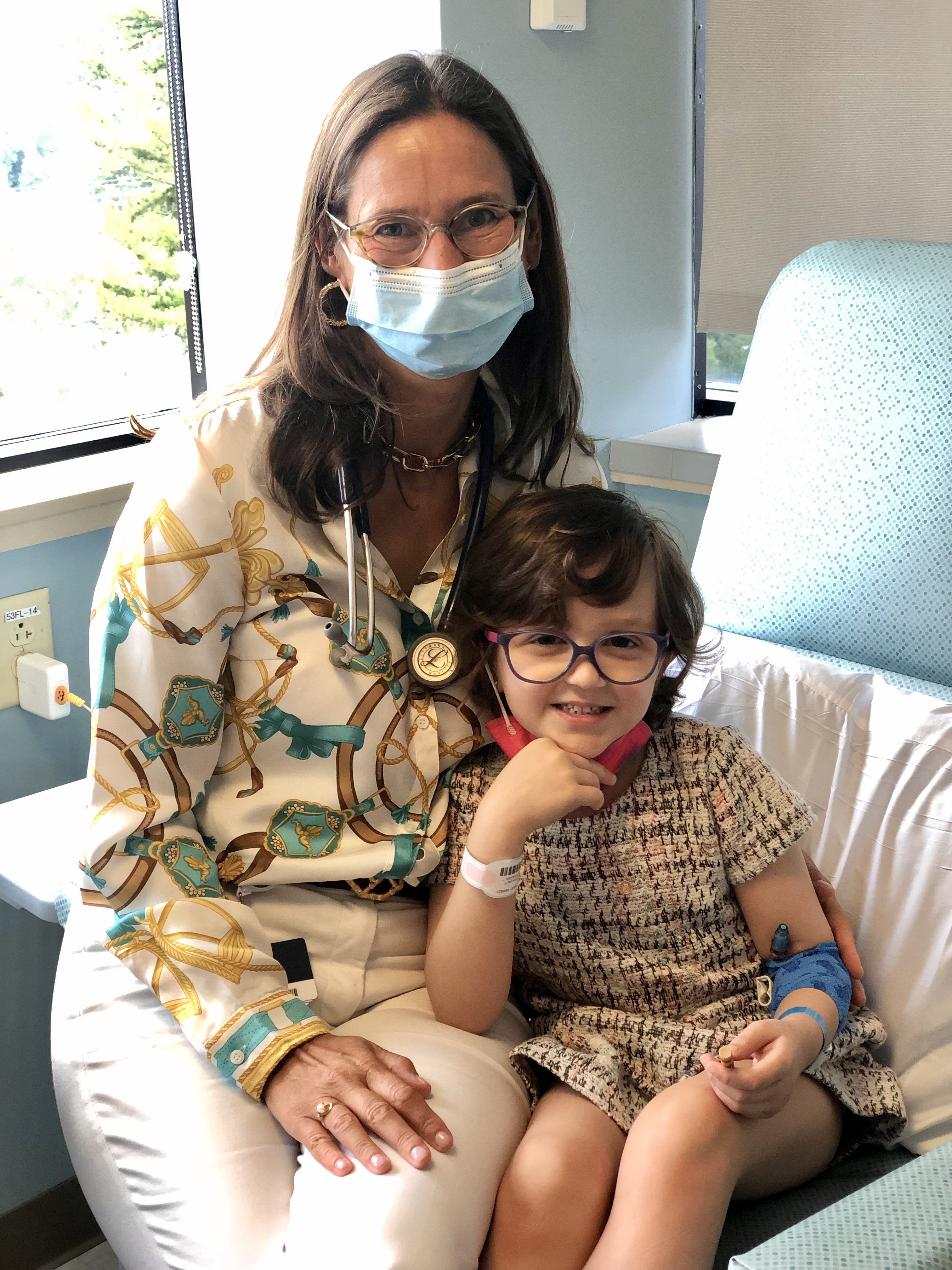 Helena's mother, Juliana Mantovani Bottós, shares her daughter's medical journey:
"Our family is from Brusque, Santa Catarina, which is located in southern Brazil. We first noticed a change in Helena, our only child, in June 2019. She had started complaining of pain in her hip and left leg, and she was beginning to limp.
We started the standard protocol for neuroblastoma in Brazil. Unfortunately, the immunotherapy, a very important tool for survival, was not approved in our country. Plus, Helena was resistant to chemotherapy. So we left everything behind and moved to Spain, trying to save our little warrior. We lived in Spain for 2 years. After finishing the standard treatment, we returned to Brazil.
I'm an ophthalmologist. But when I found out about Helena's cancer, I immediately stopped working in my medical specialty, and I started to study all about neuroblastoma. During this time, I found some studies about new therapies designed to reduce the risk of relapse.
After almost 2 years of intense treatment, which included high-dose chemotherapy, chemoimmunotherapy, stem cell transplant, radiotherapy and maintenance immunotherapy, we asked our oncology team if it was possible to contact Dr. Sholler to evaluate Helena's inclusion in the DFMO clinical trial.
After a few months, we traveled to Charlotte where we were warmly welcomed by Dr. Sholler and her team at Levine Children's. All the concern, attention and affection we received made us feel really special.
With this clinical trial, the rate of relapse can be reduced to 15%. Of course, our worst nightmare is a relapse. But having Dr. Sholler's wonderful team working to eliminate neuroblastoma and improve survivorship in children is a gift to all humanity.
Helena is currently taking DFMO orally twice a day for 2 years, with minimal side effects. She has to be evaluated monthly at our home hospital. We also travel to Levine Children's every 3-6 months during these 2 years of treatment.
We are very happy about this incredible opportunity to save our child's life. Seeing our little girl return to her life, including her school, friends and family, is the best gift anyone could give us.
As a physician, I know how much work goes into a clinical trial, and I'm aware of all the professional and personal dedication required to reach its goal. But I also imagine how gratifying it is to know that your life has made a huge difference in the lives of many children and their families. We are very grateful to each one involved in this incredible work."
---
Dosage and
s
ide effects
During DFMO treatment, most patients take 2-3pills twice a day. "About 70% of kids in our first clinical trial had no side effects," revealed Dr. Sholler. "Most of our kids are able to live a normal life at home and at school, with few side effects from treatment."
A small number of patients may experience temporary thinning of the hair, dry skin or reversible hearing loss. Dr. Sholler and her team can make dose adjustments to help control these side effects.
Eligibility criteria
The DFMO trial is designed for any child with high-risk neuroblastoma who has already had the standard care of treatment. To qualify, children must have minimal disease status or be in remission.
For young patients who have relapsed or are still dealing with ongoing disease, Levine Children's has a few other DFMO trials that may help. In fact, DFMO may be used in combination with oral chemotherapy for some patients with active disease.
A positive outlook
"When I started taking care of kids with neuroblastoma, there was only a 30% chance of survival," revealed Dr. Sholler. "As a researcher and physician, I wanted to make real a difference and change outcomes. We've made a huge jump in improving outcomes with this trial. Our goal, as we work with the FDA towards approval, is to make this treatment available to children in every rural community – not just the ones who can travel."
Learn more about innovative neuroblastoma care and treatment at Levine Children's.