Each day at Atrium Health Levine Children's, we care for patients who inspire us to be our very best as they face some of their hardest days. Some days we play offense, some days we play defense, but these kids do it all in the face of adversity. They are resilient, they are strong, and they are determined – They are our superstars.
To recognize and celebrate them as they tackle some of the hardest days, we partnered with the Carolina Panthers to give them each the ultimate experience and come face-to-face (virtually) with some of their favorite superstars and bring awareness to childhood cancer.
Thank you, Panthers, for choosing to honor our brave little heroes!
---
Cayson Burdette
China Grove, NC
Enjoys fishing, hunting, playing and watching football. He loves to stay active and spend time outdoors.
William "Judd" Harrelson
Lincolnton, NC
Loves to spend time with his family and friends, fishing and being active outside, watch and play sports and games like cornhole.
Kharis McGee
Waxhaw, NC
Kharis was diagnosed with osteosarcoma in March 2021 and has since undergone chemotherapy which has killed 80% of the cancer. Kharis will undergo additional surgeries to ensure there are no more legions. A student at Winston-Salem State University, Kharis is a biology major and aspires to be an OBGYN. In her free time, she enjoys music and spending time with friends and family both at college and when home from school.
Gio Sosa
Rock Hill, SC
Arguably one of the biggest football and Panthers fans, Gio loves gaming and enjoys school with his classmates.
Zack Long
Statesville, NC
Diagnosed with Alveolar Rhabdomyosarcoma, a type of cancer that often affects the large muscles of the arms, legs and trunk, Zack spends his days playing travel baseball and serving as the pitcher, 2nd baseman and outfielder for Iredell High School. When he's not playing baseball, he enjoys working out and researching cars. One day he hopes to own his dream car, a Mustang, and travel to Italy and Hawaii.
Dradyn Jordan
Charlotte, NC
Dradyn, age 12, was diagnosed with Hodgkin's Lymphoma, a cancer of the lymphatic system which is part of your immune system. In his free time, Dradyn enjoys playing Xbox and going to the park with his sisters.
Peyton Wyatt
Lake Wylie, SC
Diagnosed with Hodgkin's Lymphoma, Peyton doesn't let that stop her from playing softball for Clover High School. She also spends her time keeping up with the Georgia Bulldogs and working at Papa Doc's Shore Club restaurant.
---
While our cancer-fighting warriors couldn't physically attend the game due to the risk of COVID-19, each of them got to participate in a virtual experience with the Panthers players. They virtually interacted with the players through a robot, named KP, after practice and watch them run through the tunnel at the Bank of the America Stadium to kick off the October 10th game against the Philadelphia Eagles. KP stands for "Keep Pounding" and is a 4-foot-8, 20-pound robot that will help connect the community with the players and coaches in this new era of virtual connectivity.
Robots, @Panthers, and lots of smiles. Sounds like the perfect day, right? That's how a group of our strong cancer-fighting warriors spent their day as part of the @NFL's Crucial Catch initiative. Thank you, Panthers, for honoring our brave little heroes! https://t.co/92hiirLccf

— Levine Children's (@LevineChildrens) October 8, 2021
To recognize and celebrate our patients, Javier Oesterheld, MD, division chief of Atrium Health Levine Children's Cancer & Blood Disorders team, was the game's Keep Pounding drummer. Dr. Oesterheld and his team work tirelessly to bring the latest, most innovative cancer treatments to our patients here in our community and around the world.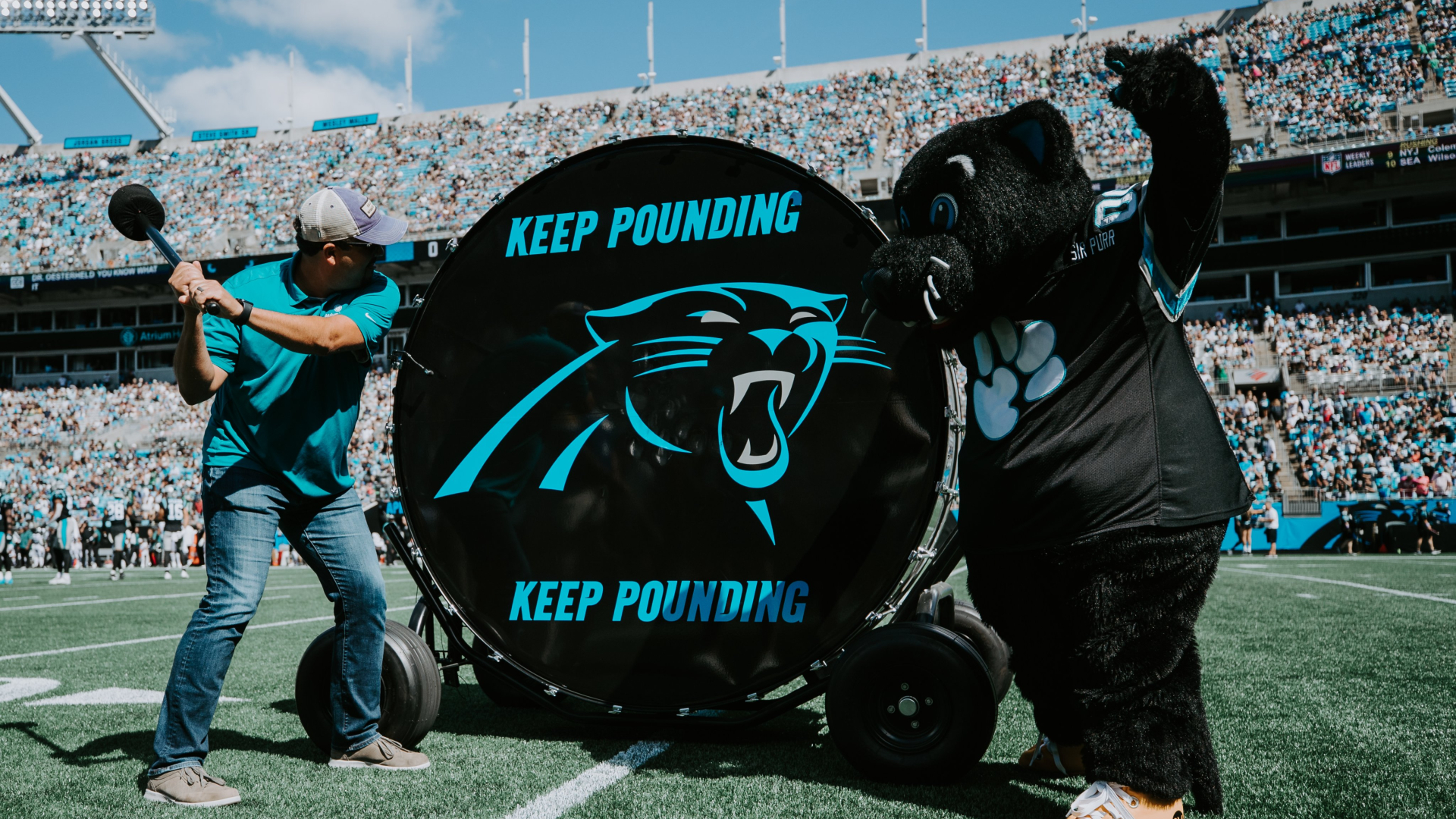 The "Keep Pounding" slogan was inspired by former Panthers' linebacker and later assistant coach Sam Mills. Mills passed away due to intestinal cancer in 2005 just two years after being diagnosed. "Keep Pounding" has become a team and fan mantra to remind them to fight and keep going.
To all our patients fighting their cancer battle, we stand by you. Keep Pounding!
Click here to learn more about Levine Children's nationally ranked pediatric cancer and blood disorders program.