It all started with some unusual eye movement. Then a slight hand jerk and a head nod.
Kate McKenzie was only 6 months old when her mom, Katie, noticed these subtle behaviors. At that age, babies are still learning how to control their bodies. It wouldn't be unreasonable to think she was just acting like an infant.
But Katie had a gut feeling about the changes she saw, as small as they were. Something was different. Something was wrong.
A mother's intuition is a powerful thing – and in this case, it was life-changing. Katie and her husband, Matt, brought their daughter to Atrium Health Levine Children's Hospital (LCH), where she was diagnosed with infantile spasms, a rare and severe form of pediatric epilepsy requiring immediate treatment.
"I felt like I couldn't even catch my breath," says Katie. "As a parent, epilepsy is a harrowing experience. All Matt and I knew was that we would do whatever it took to give Kate the best possible life."
The right diagnosis, right away
Rani Singh, MD, a pediatric neurologist with Atrium Health Levine Children's, was part of Kate's care team at LCH. Katie credits Dr. Singh, who serves as Kate's pediatric neurologist to this day, with saving her daughter's life.
"You need to get these seizures under control as soon as you can because there's a serious risk of developmental regression and problems long term," Dr. Singh says.
While infantile spasms are very rare – only about three to five kids out of 10,000 have them – doctors at Levine Children's see at least one child with this condition every month. The LCH team's experience was essential to give Kate the best possible outcome.
People often think of seizures as someone falling and shaking intensely, but there are many types of seizures that cause a range of symptoms that can differ from person to person. Infantile spasms are often very subtle and may initially be misdiagnosed as colic, reflux or the startle reflex.
In fact, one study found that nearly half of babies who suffer from infantile spasms aren't accurately diagnosed for more than a month, which can increase the risk of intellectual disability, autism, lifelong epilepsy and even death. For a child showing signs of infantile spasms, fast, expert care is critical.
"At Levine Children's, we have a multidisciplinary team and comprehensive diagnostic options, like EEG monitoring, to determine if a child is having infantile spasms," says Dr. Singh. "And if they are experiencing seizures, we can treat them promptly. Kate had further testing in our epilepsy monitoring unit (EMU) at Atrium Health's Carolinas Medical Center (CMC), a Level 4 epilepsy center recognized by the National Association of Epilepsy Centers. Level 4 epilepsy centers provide the highest level of specialized care.
Subtle symptoms of an urgent problem
During an infantile spasm, a baby may suddenly stiffen their body and bend their arms and legs forward or extend their arms and legs out. Sometimes, they may only roll their eyes up or nod their head. (You can see video examples from the Infantile Spasms Project here.)
Each seizure only lasts for a couple of seconds, and they tend to happen in clusters of a few seizures in a row, most often when a baby has just woken up. Over time, the seizures may last longer or happen more frequently. Parents may also notice other changes in their baby's behavior, like the loss of a "skill" they previously had (like rolling or babbling), or loss of interest in the people and objects around them.
There are a few different causes for infantile spasms, such as infections and genetic disorders, though it's not always possible to determine why these seizures happen. In Kate's case, doctors determined that the cause was structural – meaning her seizures were related to a previously unknown brain injury.
Testing revealed that Kate, who was adopted at birth, had a stroke before or during birth (called a perinatal stroke) that left scar tissue on her brain.
"A lot of times, you don't know that a perinatal stroke has happened until symptoms appear," says Dr. Singh.
At 6 months old, Kate's symptoms came on suddenly – though subtly – and escalated within a matter of days. When she was admitted to LCH, less than one week after her first seizure, Kate was having up to 60 seizures per day.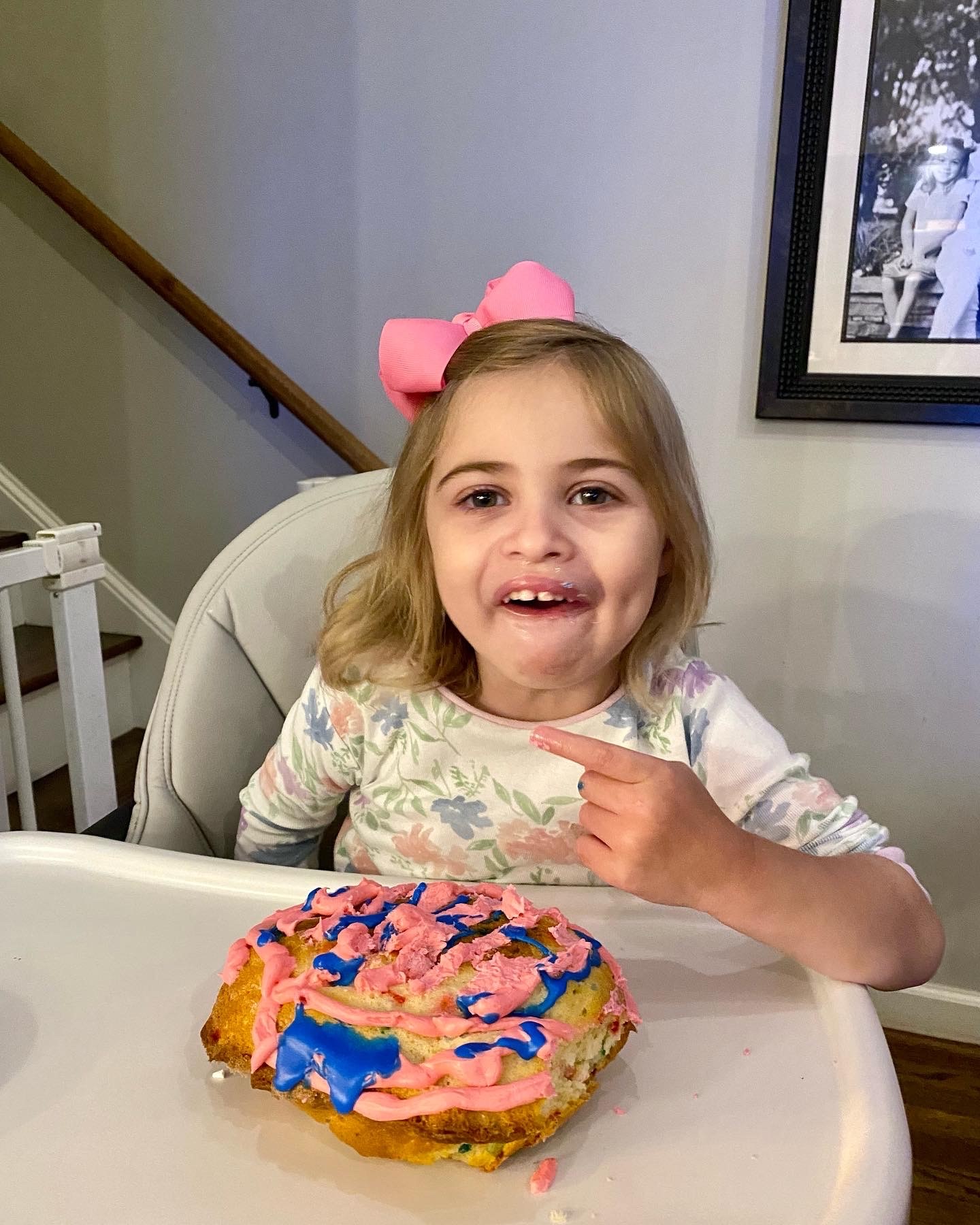 When the timing is right
Within one day of being admitted to LCH, Dr. Singh enrolled Kate in a clinical trial that gave her access to a treatment that wasn't otherwise available in the US. At the time, LCH was one of fewer than 10 sites nationwide participating in the study, and the only site in NC.
Within three days of starting treatment, Kate's seizures had stopped.
However, medication can't always control seizures long term, and having infantile spasms increased Kate's risk for other types of seizures in the future. Dr. Singh recommended finding out if Kate was a good candidate for brain surgery, which can cure epilepsy in certain cases.
Kate's parents were understandably hesitant. Kate had already overcome some developmental setbacks, and they were afraid that undergoing brain surgery could stunt – or even undo – her progress. This time, it was Dr. Singh's intuition that pushed them to explore further treatment.
"Epilepsy surgery is a big deal," says Dr. Singh. "But my gut was telling me that even though she was doing OK with medication, her seizures would come back."
By early 2020, Kate had undergone presurgical testing that determined the injured part of her brain that caused her seizures could be removed without affecting important skills like movement and speech. Kate was an excellent candidate for surgery whenever she and her family were ready.
Unfortunately, Dr. Singh's gut feeling was right. In June 2020, at just under 2 years old, Kate relapsed with multiple types of seizures. Dr. Singh got her in for another evaluation the very next day.
"When you're considering surgery for children who have epilepsy, the younger, the better for long-term outcomes in learning and overall health," says Dr. Singh.
Katie and Matt knew it was time. They needed to get Kate's seizures under control again – and hopefully for good.
Little but fierce 'Warrior Kate'
In July 2020, Kate underwent a brain surgery called a left temporal lobectomy. During the procedure, Mark Van Poppel, MD, a neurosurgeon with Atrium Health's partners at Carolina Neurosurgery & Spine Associates, removed the precise part of Kate's brain where her seizures started.
It was a success: Kate hasn't had a seizure since the surgery, now more than a year ago. Still, there were moments during her recovery that Katie and Matt questioned whether they'd made the right decision.
When Kate first woke up after her procedure, her parents were relieved to find her fierce personality intact. But the right side of Kate's body, which had always been slightly weaker as a result of her stroke, wasn't moving at all.
"I completely lost it," Katie says.
Though it wasn't easy, Kate's care team encouraged her parents to be patient. Her brain was still swollen and needed time to recover. Kate was admitted to inpatient rehabilitation at LCH, where she stayed for a week to work on getting her strength back.
Katie and Matt took turns staying overnight with Kate at the hospital. Three days after surgery, something amazing happened.
"I remember holding Kate and feeling just a little bit of push from her right arm," Matt says. When Katie got to the hospital that day, he told her what he'd felt. It seemed like a good sign.
"I went into work, and that afternoon, Katie sent me a video of Kate crawling around on the floor," he recalls. "It was awesome to see such a drastic change within such a short period of time. It showed us that she could overcome this."
As it turns out, the ability to overcome is Kate's specialty. A month after her first procedure, Kate underwent a second procedure to place a shunt (or a tube) in her brain to drain extra fluid that had built up, a common side effect of pediatric epilepsy surgery.
"She had two brain surgeries before she turned 2 years old," Katie says. "We call her 'Warrior Kate' because she's overcome so much."
Like the first procedure, the second surgery was a success. The shunt, which is programmable (or adjustable), is no longer needed and has since been turned off. Now, Kate's on one anti-seizure medication as a preventive measure, and she continues to attend speech, occupational and physical therapy to help with her development.
And though she's been through more than most kids her age, she's living her best toddler life: attending preschool, watching Peppa Pig, loving trucks and the outdoors, and idolizing her 9-year-old sister, Addie.
"I have zero regrets. The world is her oyster," says Katie. "We truly believe that with all of the resources she's surrounded by, she'll catch up on her time, whatever that may look like. She figures out her own way, which is a pretty beautiful thing."
One Year Later and Seizure-free
Warrior Kate is still seizure-free! She is growing leaps and bounds and her speech continues to develop, as is evident in the joy she expresses the more she is understood.
Kate's personality continues to be bold and tenacious, and there is never a question of what she wants. She leaps at the chance to mimic her big sister, who is still her best friend and biggest supporter. She also still loves Peppa Pig, trucks and the outdoors, and has added dress-up, books, puzzles and imitating everyone around her to her list of favorite things. Her journey is nothing short of a miracle.
Her mom, Katie, continues to be appreciative of the care her daughter is receiving. "We are so grateful for the dedicated team of therapists she sees each week, who have not only enabled her to begin to run, but also begin to experience social interaction in the 'new world' of preschool," she says. "She inspires us every day and her care team has been second to none. They share equally in our investment to see her grow and progress. It's hard to believe she had major brain surgery just two years ago, and with the progress she's already achieved, it is clear, the sky's the limit."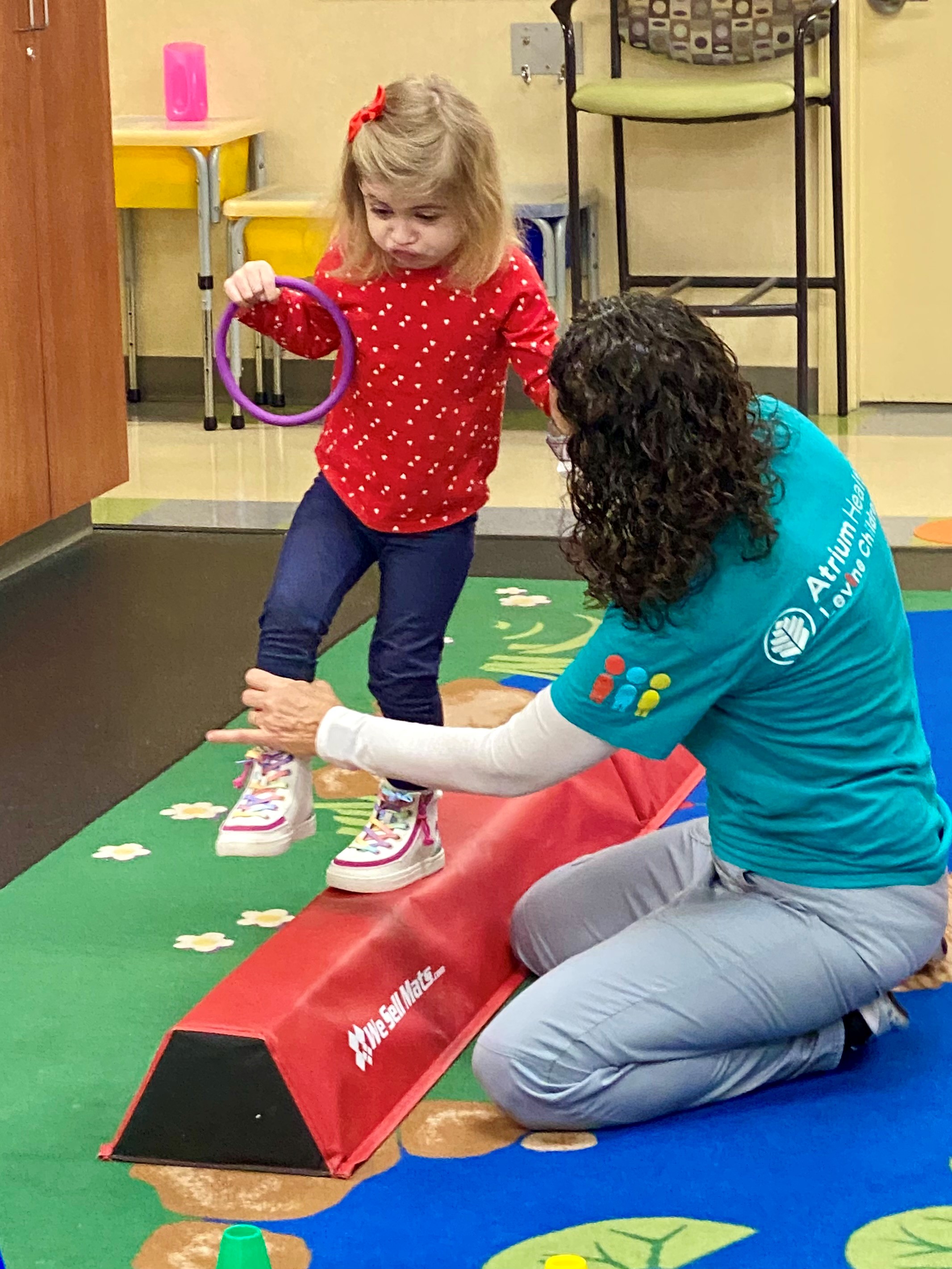 The true meaning of 'care'
If a parent believes their child may be having infantile spasms, they should immediately contact their pediatrician or go to the hospital, says Dr. Singh. It can also be helpful to take a video of the child's behavior to show to their doctor.
"Parents know their babies well," says Dr. Singh. "They know what's normal – and what's extraordinary and needs more evaluation."
It's a lesson Kate's parents hold close to their hearts: Trust your gut. After that? Surround yourself with people you can lean on – including the best experts.
"The second I knew something was wrong, I knew she needed to be seen at Levine Children's Hospital," Katie says. "I didn't want my child's care in anyone else's hands."
And since the very beginning, Kate's care team has been there to support the McKenzie family, offering compassion and clinical expertise in equal measure.
"When we were at the hospital for the first time, it was the worst 24 hours of our lives. The nurses that came and sat with me when I cried…," Katie recalls, her voice cracking. "It's just a wonderful team. The care you receive is second to none."
Learn more about the pediatric neurology and neurosurgery program at Atrium Health Levine Children's, ranked among the best nationwide by U.S. News & World Report.
November is National Epilepsy Awareness Month. If you or someone you know is living with seizures, Atrium Health Neurosciences Institute can help. Find out more about our comprehensive epilepsy care here.