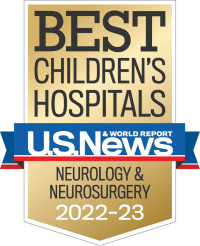 When your child is facing a neurological condition, you want them to receive the very best care – care that's state-of-the-art, delivered by leading experts, and focused on the unique needs of children.
At Atrium Health Levine Children's, our pediatric neurology and neurosurgery program offers some of the Southeast's most advanced child neurology care. That's why we're named one of the nation's best by U.S. News & World Report. From renowned epilepsy care to the latest surgical treatments, our specialists provide leading-edge, compassionate care designed to get your child feeling and functioning at their very best.
Pediatric neurosurgery
Our team of board-certified pediatric neurosurgeons offers a full suite of advanced neurosurgical care options, including:
Brain and spinal trauma treatment at the dedicated 24-hour pediatric emergency department and the Hemby Pediatric Trauma Institute at Levine Children's Hospital
Minimally invasive surgery, image-guided surgery and other advanced surgeries to treat brain and spine tumors, congenital conditions and vascular problems
Cortical mapping and vagal nerve stimulators to treat epilepsy
Brain and facial reconstructive surgery
Epilepsy Care
Our nationally recognized Children's Epilepsy Center, located at Jeff Gordon's Children's Hospital, offers advanced epilepsy care and a pediatric epileptic monitoring unit (EMU). This is the only dedicated Level III EMU in the state.
Getting epilepsy care from our pediatric neurologists means your child is getting care from board-certified epileptologists specially trained in the latest diagnosis procedures and treatment options for your child. We offer highly specialized surgical options for epilepsy in children as well.