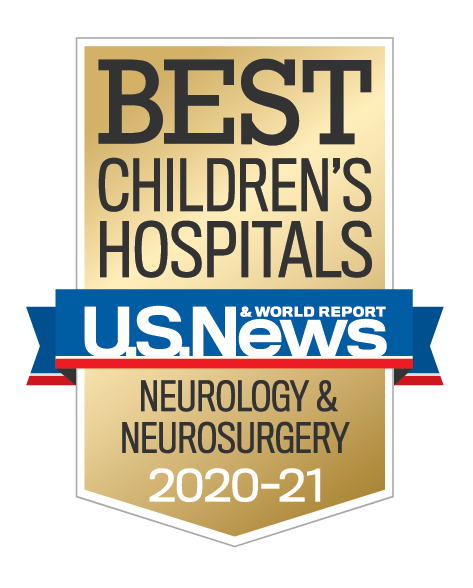 When your child is facing a neurological condition, you want them to receive the very best care – care that's state-of-the-art, delivered by leading experts, and focused on the unique needs of children.
Levine Children's Hospital's pediatric neurology and neurosurgery program, named one of the nation's best by U.S. News & World Report, offers the Southeast's most advanced child neurology care. From renowned epilepsy care to the latest surgical treatments, our specialists provide leading-edge, compassionate care designed to get your child feeling and functioning at their very best.
Pediatric Neurology Conditions
We treat a range of pediatric neurological conditions, including:
Abnormal walking
Acute back and neck pain
Brain and spinal tumors
Cerebral palsy
Change in mental status, including acute developmental regression
Double vision and blindness
Epilepsy, including seizures and tremors
Headaches
Meet our pediatric neurologists.
Hydrocephalus
Muscular dystrophy and other neuromuscular diseases
New-onset weakness
Paralysis
Spina bifida
Tic disorders, including Tourette syndrome
Traumatic brain and spinal injuries
Epilepsy Care
Our nationally recognized Children's Epilepsy Center, located at Jeff Gordon's Children's Hospital, offers advanced epilepsy care and a pediatric epileptic monitoring unit (EMU). This is the only dedicated Level III EMU in the state.
Getting epilepsy care from our pediatric neurologists means your child is getting care from board-certified epileptologists specially trained in the latest diagnosis and treatment for your child. We offer highly specialized surgical options for epilepsy in children as well.
Pediatric Neurosurgery
Our team of board-certified pediatric neurosurgeons offers a full suite of advanced neurosurgical care options, including:
Brain and spinal trauma treatment at our dedicated 24-hour pediatric emergency department and at the Hemby Pediatric Trauma Institute at Levine Children's Hospital
Minimally invasive surgery, image-guided surgery and other advanced surgeries to treat brain and spine tumors, congenital conditions and vascular problems
Cortical mapping and vagal nerve stimulators to treat epilepsy
Brain and facial reconstructive surgery
Meet our pediatric neurosurgeons.
Patient Forms
Carolinas Pediatric Neurology Care provides new and existing patients the following forms for download to complete and bring to your appointment.

New Patient Packet
Pediatric Neurosciences Outpatient Locations
We provide pediatric neuroscience care at several Levine Children's Specialty Center locations:
Concord
100 Medical Park Drive, Suite 310
Concord, NC 28205
Phone:
704-403-2660
Get Directions
Eastover
2608 East 7th St.
Charlotte, NC 28204
Phone:
704-381-1450
Get Directions
Gastonia
2550 Court Drive, Suite 203
Gastonia, NC 28054
Phone:
704-381-1450
Get Directions
Huntersville
9625 Northcross Center Court, Suite 102
Huntersville, NC 28078
Phone:
704-403-2660
Get Directions
University
101 E. W.T. Harris Blvd., Suite 3301
Charlotte, NC 28262
Phone:
704-403-2660
Get Directions