The Queen City Senior Bowl showcases top talent from high school football players across the Charlotte area. On December 18, 2021, student athletes from more than 60 schools will compete in the game.
Some of the most invested people in the game will be watching from the sidelines., Athletic trainers from Atrium Health Musculoskeletal Institute (MSKI) – the official healthcare provider of the Queen City Senior Bowl – have worked with many student athletes throughout their athletic endeavors. It's part of a much bigger relationship between Atrium Health MSKI and high schools in North Carolina and South Carolina, who make sure that student athletes receive top-quality sports medicine care.
"As athletic trainers, we're with these student athletes every day. Few healthcare providers are in the position that we get to be in," says Eric Rogers, an athletic trainer at South Mecklenburg High School. "We're there for pre-practice treatments, practice and after practice. We're the first ones on the scene when there's an injury, and we're with the athletes all the way until they're winning games."
Athletic trainers bring a wide variety of treatment options to student athletes, including ultrasound, electronic stimulation, cupping, scraping, trigger point work, as well as heat and ice. "We really have a large toolbox of treatment options to keep our athletes game day ready and on the field."
With this time comes trust between student athletes and their athletic trainers. Here are three stories of Queen City Senior Bowl athletes and the athletic trainers who helped them regain peak performance:
---
South Mecklenburg High School
Student Athlete: Panos Burlos
MSKI Athletic Trainer: Eric Rogers, LAT, ATC, PES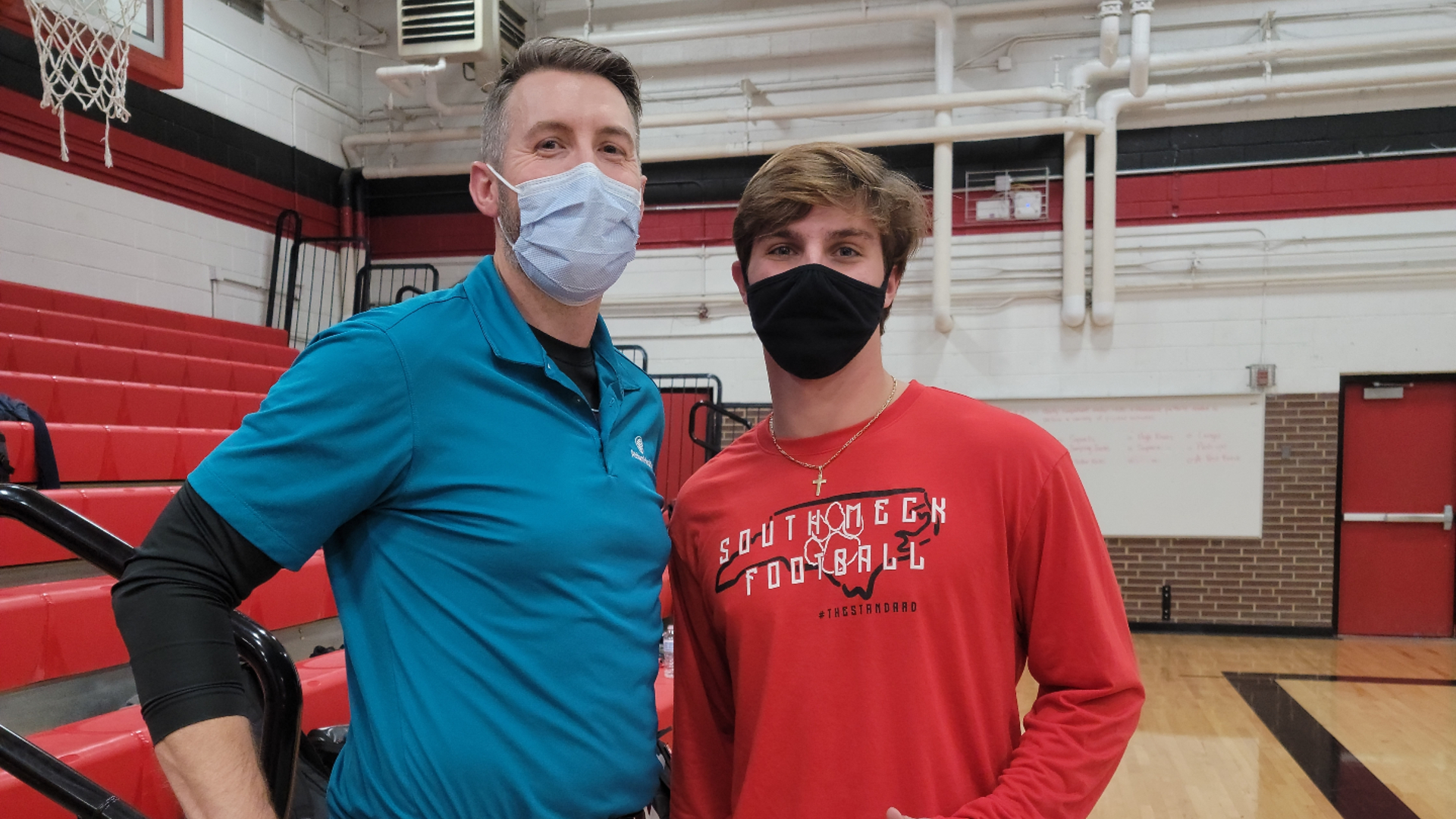 Panos Burlos met athletic trainer Eric Rogers as a sophomore. It wasn't a season for the highlight reel: The team went winless during a season when Panos suffered an ankle injury. The next season proved to be rough in another way: Covid-19 restrictions cut the season short. Then, shortly before Panos entered his senior year, he had a shoulder injury.
"A lot of other young athletes would've said, 'OK, I'm done. I won't be an athlete.' But that never entered his mind," says Eric Rogers, the athletic trainer who worked with Panos. "Instead, Panos just wanted to know what he had to do to get through it. It's a blessing to work with athletes who know that everything we're doing is to keep them on the field to help them accomplish their goals."
Even when Panos couldn't play, Rogers kept him involved in practices any way he could, whether it was joining the team in foot work or mentoring younger players. The immediate goal was to keep him safely engaged with the team, even with an injury. The ultimate goal was to return him to the field to play.
Now, Panos is playing at the Queen City Senior Bowl and just received his first offer from a Division I school.
"It means a lot. I view all these kids as my own; I see them every single day," Rogers says. "To see someone go from being a sophomore in a winless season to becoming a senior in the playoffs with a football scholarship to college – to know I was part of that journey with him – means the world to me."
---
Mountain Island Charter School
Student Athletes: Trae Nikleson
MSKI Athletic Trainer: Megan N. Haraszkiewicz LAT, ATC
It's clear that Trae Nikleson is a leader on the field. But it was Trae's commitment to his team and to his health off the field that made him such a stand-out, says Atrium Health MSKI athletic trainer Megan N. Haraszkiewicz LAT, ATC.
Trae had to miss a few games during his senior year, but he went to the athletic training room with positive energy, total commitment and intellectual curiosity. "Trae puts 120% into everything he does and has been nothing but a great leader and helper on and off the football field and in the athletic training room," Haraszkiewicz says. "He is always asking questions, wanting to learn more about sports medicine."
In addition, Trae encouraged his teammates to make it to rehab and to commit to building the health and strength required to contribute to the team. Now, he will compete in the Queen City Senior Bowl – not in spite of the games he missed due to injury, but because of how wisely he spent that time off the field, committing to his health and to the team.
---
West Cabarrus High School
Student Athlete: Chris Coates
MSKI Athletic Trainer: Jim Bazluki, MAEd, LAT, SCAT, ATC, EMT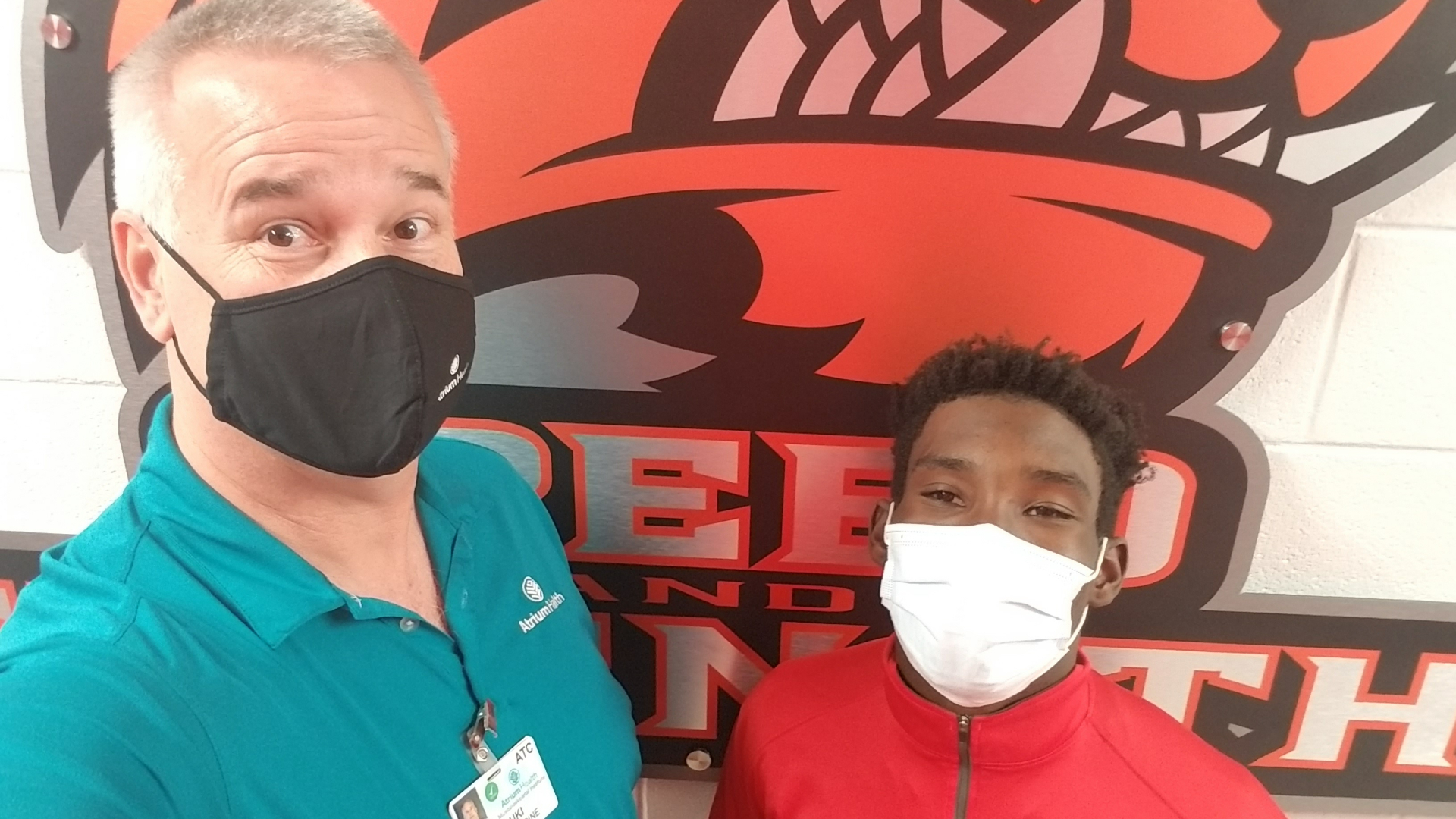 Jim Bazluki has gotten to know the Coates family well. As an athletic trainer, he worked with Ben Coates, Jr. during his time as an athlete at Northwest Cabarrus High School. Then he got to know Ben's younger brother Chris, working with him even as a middle school athlete. Football is a Coates tradition: Their father, Ben Sr., played in the NFL, mostly with the New England Patriots. Their father would attend practices and comment that the athletic training his sons received in middle and high school was on par with his professional sports experience – and far exceeded the care that preceded it.
"Ben Sr. knows the importance of athletic training more than most. He may not have athletic trainers when he was in high school. That was back during the 'play at all costs' mentality,'" Bazluki says. "Whereas now, these student athletes understand how to take care of themselves, they know when to speak up if they need care or treatment or rehab, in order to elongate their athletic careers."
Bazluki appreciated how Chris would acknowledge him as part of the team, recognizing that athletic training existed to help him maximize his performance on the field. While his father and brother excelled at football as tight ends, Chris forged a new path as a linebacker.
"It's great to see someone who's put in the hard work, who's seen the success of his father and brother, and who's formed his own path in an entirely different position," Bazluki says. "He embraced the idea that everyone needs to find their own niche to succeed. That mindset will serve him well throughout life."
---
Atrium Health MSKI provides athletic trainers to more than 100 schools across North and South Carolina and is proud to help athletes of all ages perform at their best, on and off the field. For the Queen City Senior Bowl, physicians and athletic trainers will be on-site to assist with pre-competition injury prevention and injury care. Learn more at AtriumHealth.org/HURT.