From January 22 to January 24, 2021, Atrium Health clinicians administered close to 16,000 vaccinations to community members 65 years of age and older at a first-of-its-kind mass vaccination event held at Charlotte Motor Speedway. Hosted by a unique public-private partnership with Atrium Health, Honeywell, Tepper Sports & Entertainment and Charlotte Motor Speedway, the three-day clinic was North Carolina's largest vaccination event at the time and the first of several mass vaccination events in the community.
"This time last year, we were on a mission to vaccinate as many people as possible to protect them against COVID-19," says David Callaway, MD, Atrium Health chief of crisis operations and sustainability and professor of emergency medicine. "We made a tremendous difference and saved a lot of lives. Now, a year later, that mission continues. With the arrival of Omicron, it's an even more urgent mission."
Becky Fox, MSN, RN-BC, is chief nursing informatics officer at Atrium Health. Her team was integral in planning and executing the mass vaccination events.
"For me personally, in my 25+ years of working in healthcare and IT, the COVID vaccination efforts have been some of the most challenging and yet rewarding work I've ever done," Fox said. "When you can make a difference to an individual patient – it's a win. When you can make a difference to patients AND teammates – it's a victory. And when you can make a difference to all three – patients, teammates and the community – you call it some of the best days of your life."
One year after the introduction of the vaccine and the first mass vaccination event, much has changed. Vaccines and boosters are now readily available for everyone age 5 and older. We know more than ever before about how to prevent and treat COVID-19. Despite that, our hospitals and ICUs are again experiencing an increase in patients. Businesses and schools are facing staffing shortages as the Omicron variant continues to spread at incredibly high rates while the demand for testing reaches levels we haven't seen since the start of the pandemic. And even though the vaccine is readily available, 40% of Americans remain unvaccinated.
"We've been vaccinating the public on a large scale for a year now and again and again the vaccines have proven to be safe and effective at preventing serious illness or death from COVID-19," says Dr. Callaway. "Many people are still choosing not to get vaccinated because they're worried about safety. Let me tell you: the vaccines are safe. They save lives – maybe even yours."
For those who were among the first to be vaccinated during the Speedway event last January, their lives were changed forever.
Milton and Lang Ellis, ages 66 and 65, respectively, were among the many who eagerly commuted from out of town to receive their vaccines. Driving from their hometown in Mount Airy, North Carolina, the couple welcomed the two-hour road trip to reach the mass vaccination event at the speedway.
"We've got children and grandchildren. But we've been almost totally isolated from that life. We wouldn't have waited one more minute. We would've driven to Atlanta. Our dog came with us so she could see us get well."
– Milton and Lang Ellis, Mount Airy, N.C.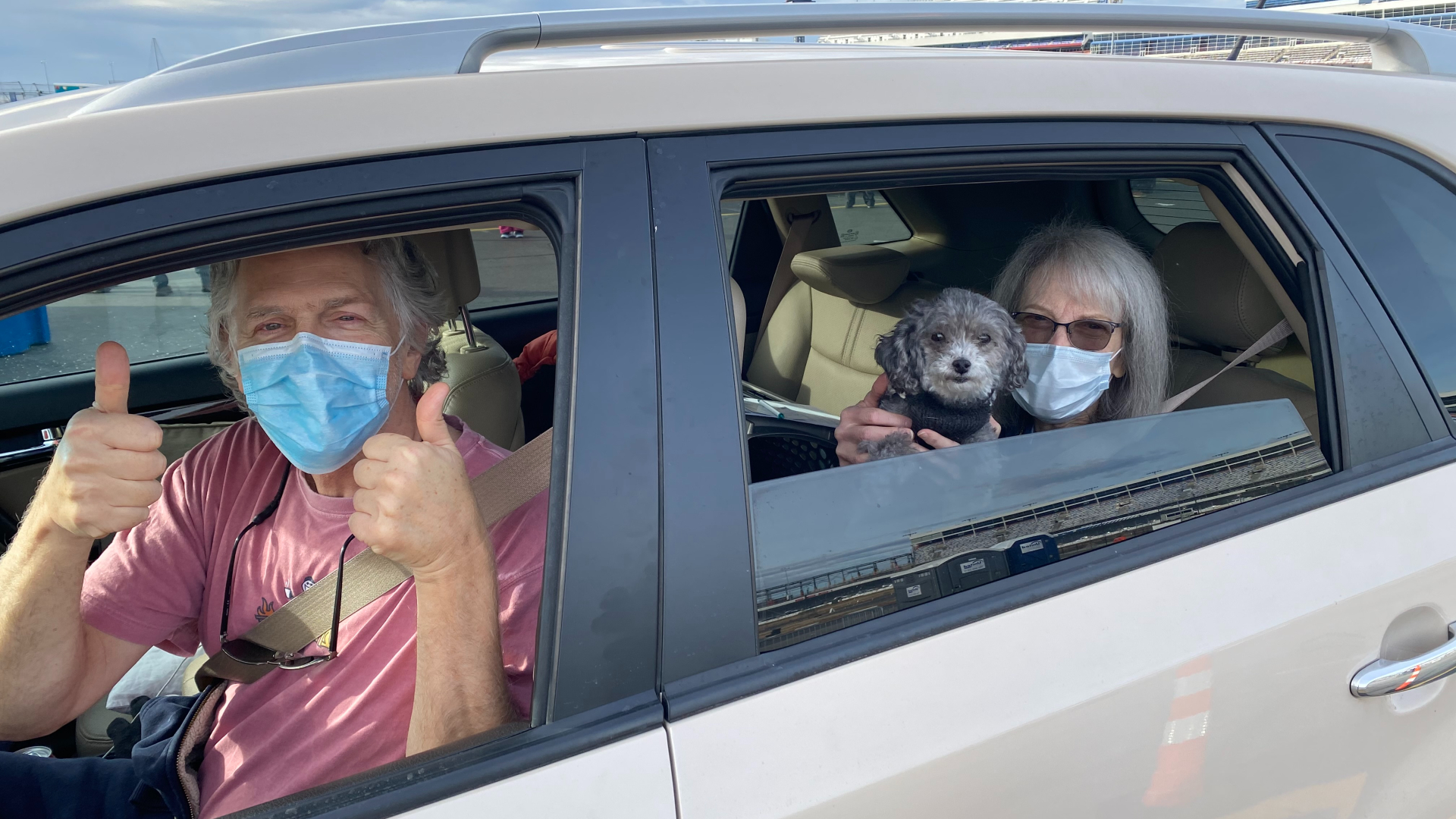 Following the success of the speedway event, Atrium Health held several other mass vaccination events, including at Bank of America Stadium, Charlotte Douglas Airport and local breweries, while also coordinating on-site vaccinations throughout the community. Hundreds of teammates staffed drive-thru vaccine sites across the Charlotte region, providing more than 10,000 vaccines a week during their months-long operation. The events changed the lives of those who were vaccinated, and also the Atrium Health teammates who took part.
"It became a rewarding experience for teammates," Fox says. "After such a tough year and seeing so many sad situations, when you put those clinicians in a vaccination setting where 100 times an hour people are saying 'thank you,' 'you changed my life,' 'I can't wait to see my grandchildren,' 'now I can travel,' it made a huge, positive impact on them at a time when they really needed something that was uplifting."
Katie Passaretti, MD, Atrium Health vice president and enterprise chief epidemiologist, couldn't agree more.
"I loved the mass vaccination events," Dr. Passaretti said. "I volunteered at every one I could, in my downtime on the weekends. Seeing Atrium Health coming together to get hundreds of thousands of vaccines into arms is one of my proudest moments in this pandemic. We've saved a lot of lives and helped many more avoid serious illness."
There's no longer a need for massive events to vaccinate hundreds of people at a time. Vaccine appointments are readily available for anyone over the age of 5 and COVID-19 boosters are now available to everyone 18-years and older, as long as enough time has passed since their vaccination. (Five months for Pfizer-BioNtech and Moderna and two months for Johnson & Johnson. Boosters are also available to those aged 12 to 17 years who got the Pfizer-BioNtech vaccine at least five months ago.) With the onset of Omicron, it may be the perfect time to get a booster.
"Give yourself a fighting chance," says Dr. Callaway. "Don't wait to get vaccinated. If you're eligible for a booster, we're ready to give you one."
Fox agrees.
"We may not need a massive event like we did a year ago, but we do need the same commitment and support from the community to get vaccinated," she said. "We all have to do our part. We're asking you, we're begging you: Please get vaccinated. We want you, your family and our community to be protected."
To schedule an appointment to receive your COVID-19 vaccine or booster shot, go to AtriumHealth.org/COVID19Vaccine.