Atrium Health servant leader David Callaway, MD, chief of crisis operations and sustainability, recently traveled to Ukraine to provide much-needed medical care and assistance to refugees fleeing and those displaced from their homes.
Having served in war zones around the world, serving those in need in Ukraine had a particularly profound impact on Dr. Callaway, who is a husband and father of two daughters. He recalls a moment when he took cover in an air raid shelter one night, when a mother came running in clutching a young child who was screaming and crying.
"I thought, 'What must it be like for this 5-year-old kid who three weeks ago, was in kindergarten, eating snacks, going to school with his friends, playing on the playground, coming home … and now has been yanked out of his home; his mom is staying in a dormitory and running down into a bomb shelter in the middle of the night,'" says Dr. Callaway.
It's the sobering reality for the estimated 6.5 to 7 million people who have been displaced within the borders of Ukraine and another 4 million people who have crossed over international borders as refugees.
Dr. Callaway, a U.S. military veteran, also serves as chief medical officer with Team Rubicon, a nonprofit organization that includes a team of emergency medicine providers who assist in emergency relief in disaster and crisis zones around the world. Team Rubicon has partnered with Atrium Health since 2015.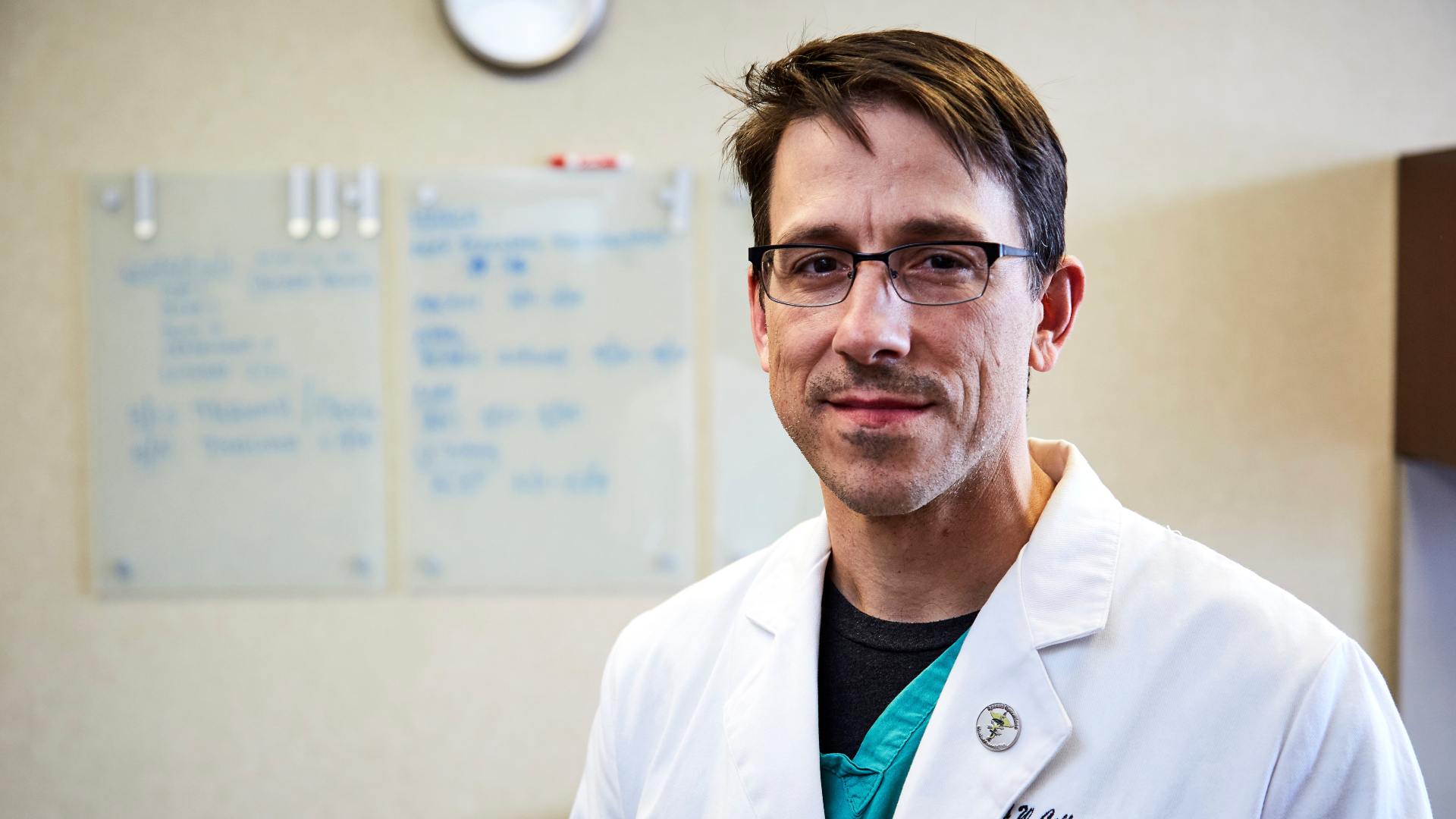 In early March, Dr. Callaway deployed with Team Rubicon to western Ukraine, Poland and Hungary, to assess medical needs and establish relationships with local governments and health systems in these crisis zones. The team coordinated its deployment with the World Health Organization, its representatives in Ukraine and the Ministry of Health of Ukraine – integrating language interpreters and local representatives on their response team to better understand the needs and culture of the populations they served.
"It's critical that, whenever we operate in any other country, we work hand-in-hand with local health systems to make sure that we're taking care of the population in the most effective way," says Dr. Callaway.
Facing a complex and dynamic environment where hospitals, shelters and schools were targeted and threats changed all the time, Dr. Callaway and the team provided safe, mobile medical care for those displaced internally within Ukraine or those who were refugees who had fled the country – mostly women, children and the elderly. The self-sustained medical team can care for 100 patients per day for two weeks without needing to resupply.
"When you have more than 10 million people who have been displaced, it starts to put a strain on the health care system," Dr. Callaway says. He added that the most critical part of the experience was providing care and emotional support for the displaced population.
Though Dr. Callaway himself has returned to North Carolina, Team Rubicon members remain in Ukraine – serving the area for up to 90 days. He says the region will continue to face humanitarian challenges associated with infectious disease risk and the various types of vulnerabilities of particularly women and children who have been displaced.
His work with Team Rubicon gives Dr. Callaway a sense of pride and community. He says that much of the way that trauma care is provided on the battlefield has a direct influence on the emergency medical care provided here at Atrium Health.
"Many of the protocols that we use at Atrium Health Carolinas Medical Center in the trauma bay were actually lessons learned in Iraq and Afghanistan," Dr. Callaway says. "That exposure, that experience and that knowledge has direct implications to protecting our community here in Charlotte."