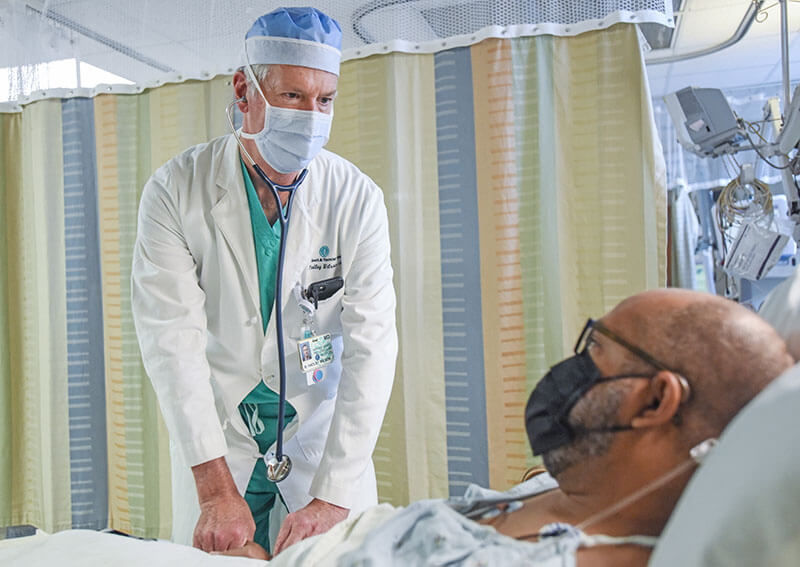 Dr. B. Hadley Wilson, executive vice chair for Atrium Health Sanger Heart & Vascular Institute, was recently elected to serve as the 2023-2024 president of The American College of Cardiology (ACC), a prestigious professional organization representing 56,000 cardiologists and other professionals in cardiovascular care.
"I am excited to lead the American College of Cardiology next year," Wilson says. "The organization is devoted to transforming cardiovascular care and improving heart health for people world-wide through science and innovation to optimize healthy outcomes. My vision is to further this transformation to provide increased knowledge and value to all our members and their patients."
The ACC leads in the formation of health policy, standards and guidelines for cardiovascular care and bestows credentials upon cardiovascular professionals who meet stringent qualifications. The College also provides professional medical education, distributes cardiovascular research through its world-renowned JACC Journals, operates national registries to measure and improve care, and offers cardiovascular accreditation to hospitals and institutions.
Rooted in Experience
Wilson has many years of education, experience and research under his belt. He graduated with honors from Davidson College and Duke University Medical School and went on to train in internal medicine at Vanderbilt University, where he served as chief resident before his cardiology fellowship. For the past decade, Wilson has served as a clinical professor of medicine at the University of North Carolina School of Medicine.
Wilson has been caring for patients at Sanger Heart & Vascular Institute for decades. He was director of the Cardiac Catheterization Laboratory before serving as the chief of cardiology for 15 years.
Wilson has been a member of the ACC since he finished his fellowship. Over the years, he has been involved in a variety of committees and served in multiple state chapters of the ACC.
Wilson's extensive experience coupled with his steadfast devotion to patient care make him an exceptional leader and valued resource for current cardiology professionals who are working to make an impact on the future of health care.
Leading with Intention
In March 2023, Wilson will officially begin leading fellow cardiovascular professionals and researchers who are part of the ACC with the shared goal of transforming cardiovascular care and improving heart health.
Wilson says that although the organization is the American College of Cardiology, the reach extends far beyond our nation's borders.
"The intention of the ACC is to provide, guide and direct not only in this country, but also to have an impact internationally. We want to be a model to help reduce mortality worldwide," Wilson says. "It is imperative that we work to reduce cardiovascular disease, which remains the No. 1 killer in the United States and around the world."
Wilson shares that there are two major projects he is most excited about working on with his fellow cardiology professionals in the ACC. One is the major heart attack treatment initiative, which currently has sites in over 29 countries in the world.
"These sites where we're impacting heart attack care have shown to reduce mortality by about 3% in these sites over last three years," Wilson says.
Another project Wilson is interested in furthering is the digital transformation of the organization, so members can have actionable knowledge at their fingertips to provide the best care for their patients.
Bringing Next-Level Care
Wilson's position with the ACC brings global recognition to Sanger Heart & Vascular Institute.
"As ACC president, I hope to further Sanger Heart and Vascular Institute's already prominent national reputation as a leader in heart care, and to involve our physicians and cardiovascular team leaders further on the global stage of education and optimal cardiovascular care," Wilson says.
More recognition of the expert care provided at Sanger Heart and Vascular Institute can mean more opportunities to attract next-level resources for providers and patients.
Sanger Heart and Vascular Institute is home to specialists who not only perform some of the world's most complex procedures, but who developed the techniques and tools behind these surgeries.
According to U.S. News & World Report, Sanger Heart and Vascular Institute is the region's top-rated heart and cardiovascular program, and the only hospital in the region to be recognized as high performing in all six common heart conditions and procedures evaluated by U.S. News.
Learn more about the state-of-the-art cardiovascular care offered at Sanger Heart and Vascular Institute.