It takes a well-orchestrated team to provide comprehensive care for a roster of powerhouse athletes. For Charlotte FC, that health care team is comprised of Atrium Health specialists in orthopedic surgery, physical therapy, emergency medicine, sports medicine, cardiology, neuropsychology, nutrition and more.
Dr. Brent Messick, sports medicine physician at Atrium Health Musculoskeletal Institute, is the chief medical officer for Charlotte FC. As the team physician for the club, Messick is responsible for ensuring that all MLS medical protocols are followed appropriately. Messick also oversees the overall health of the players.
"Atrium Health and our medical team work hard to ensure the players get the expert care they need throughout the season," says Messick.
Atrium Health is a founding partner and the official health care provider for Charlotte FC. The team of medical professionals at Atrium Health Musculoskeletal Institute work together to provide care and expertise so Charlotte FC's elite athletes can perform their best.
Messick's background includes working with a wide range of athletes – from little leaguers to Olympians. Messick meets each player where they are and works with them to ensure they are ready to safely maximize their performance.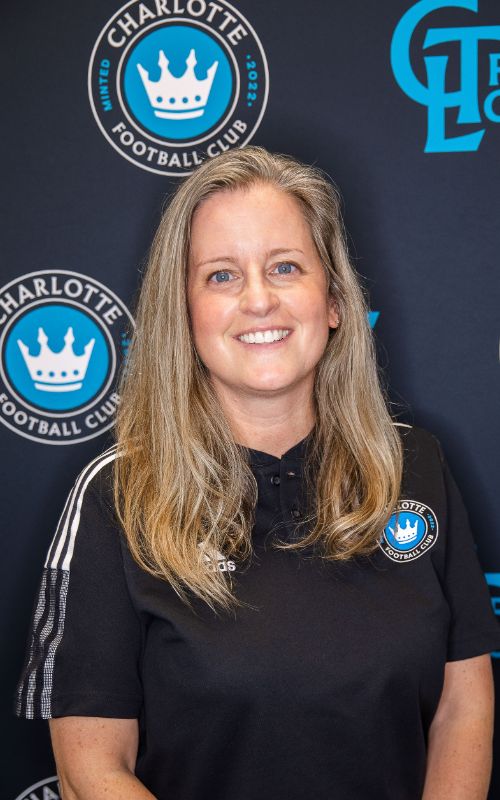 Pam Black
, care navigator at MSKI, plays a critical role in keeping things running smoothly. Black works with the Charlotte FC players and the staff, as well as their families, to arrange new player physicals and facilitate any care they need within Atrium Health. Black has developed a wide network within Atrium Health to facilitate appointments, radiology studies and interpretation services.
"I believe this partnership is an excellent opportunity for Atrium Health to help the players, families and staff to acclimate to a new city and, for the majority of players, a new country," Black says. "It has been a year of growth and learning and I look forward to continuing to assist with the further development of this relationship in the seasons to come."
Alicia Fogarty (see below) is a sports dietician at Atrium Health and works with the Charlotte FC team to help them stay fueled up and hydrated. Fogarty supports each player's unique nutritional need based on their goals, position on the team and playing time in each match. She also takes into consideration the players' individual preferences and cultural eating patterns.
"In professional sports, competition is fierce, and athletes realize they must stay focused on all factors that will impact their performance," says Fogarty. "Nutrition is one of those areas as it can impact speed, strength, endurance and decision making, all of which are important to both individual and team success."
Fogarty adds that proper nutrition and hydration aren't just for professional athletes.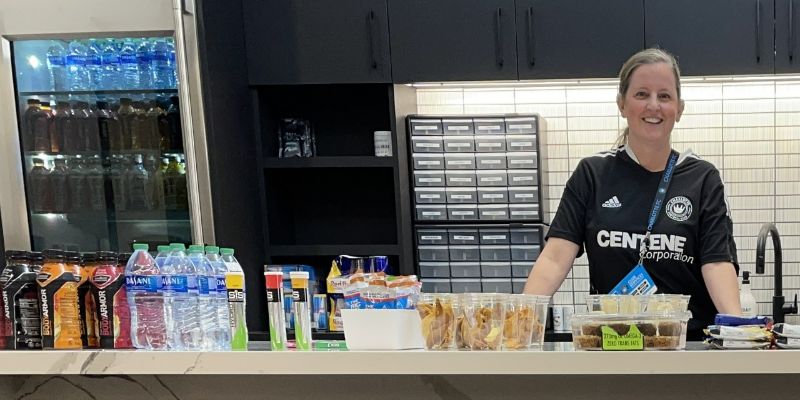 "Whether you're new to working out or you're a weekend warrior, it's important to learn what works best for your body to achieve the results you desire," says Fogarty. "But be sure you are getting your information from reliable and professional resources. There is a lot of misinformation circulating in the sports nutrition world."
Caring for the Next Generation
Atrium Health is also the official health care provider of the Charlotte FC Academy – a program that works to identify and develop some of the most talented soccer players in the nation, with the goal of helping them earn a professional contract with Charlotte FC.
While soccer is a great outlet for kids and helps develop key skills like agility, coordination and teamwork, the risk of injury and even long-term effects from the sport are always a possibility.
Messick is passionate about injury prevention in kids, especially soccer players. He and the MSKI team help the next generation of athletes by offering support with training and recovery so they can stay healthy and grow into their full potential.
For parents of young players, Messick suggests looking into injury prevention strategies such as FIFA 11+, a warm-up program that has been shown in multiple research studies worldwide to substantially reduce major injuries in youth soccer players. The FIFA 11+ program is effective if it is completed regularly – at least twice a week – and injury risk is lowest in athletes who strictly adhere to the program.
Catching a Feeling
Working with the Charlotte FC community is part of the job, but it's hard not to get caught up in the magic of Charlotte's Major League Soccer team.
"We have so many great players, athletic training staff and coaches who have built an exciting soccer experience in Charlotte," says Messick. "I do my best to stay objective, but once the supporters start the Poznan, it's hard not to be a fan!"
"From being there fueling and hydrating the team during their home opening match, to getting to know each player as an individual and who they are as both a person and a player, to seeing one of the academy boys I have worked with sign a contract with their first team," says Fogarty. It has been an exciting year."
Atrium Health is the official health care partner for professional teams and sporting events including Charlotte Knights, Carolina Panthers, Charlotte Motor Speedway, UNC Charlotte, Davidson College athletics and more. In addition to caring for elite athletes and providing medical support for spectators, the team of experts at MSKI helps patients from all walks of life.
Atrium Health Musculoskeletal Institute has been ranked by U.S. News & World Report in the top 10% in the nation for orthopedic surgery for 2022-2023. Learn more at Atrium Health Musculoskeletal Institute.