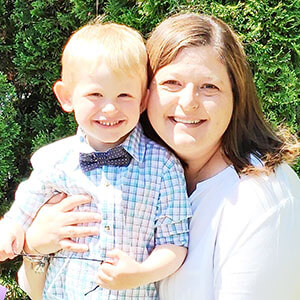 Katie Almond is a 40-year-old mother of two and an elementary school teacher. After working with epilepsy experts at Atrium Health Neurosciences Institute, she got her seizures under control, but her quality of life was diminishing with some embarrassing speech and memory problems. She sometimes forgot appointments or went to them at the wrong time.
From Mount Pleasant, North Carolina, Katie teaches third to fifth grade students with intellectual disabilities, such as Down syndrome. She's very active in her church and loves reading and baking in her spare time.
Katie has dealt with epilepsy since she had her first seizure at age 10. She did well on antiseizure medication for several years before stopping them to start driving at age 15. In early 2020, at age 38, she got COVID-19 and had her second full seizure. Katie was concerned about additional seizures causing safety issues, especially while driving.
She decided to consult with Dr. Ilona Humes, a neurologist with Atrium Health Neurosciences Institute. In addition to its convenient location, Katie chose Atrium Health because a friend's child who has autism received great care at the institute. Humes ran some tests and wrote Katie a prescription for additional seizure prevention.
By late 2021, Katie's epilepsy was stable and she wasn't having seizures. However, she was having cognition and memory problems. For example, she would forget appointments or go to them at the wrong time. While trying to speak, she would mix up her words and get tongue-tied. She would even walk into a room and forget why she was there. For a mom and educator, she found these issues embarrassing. She also wanted to improve her daily life and perform her job well.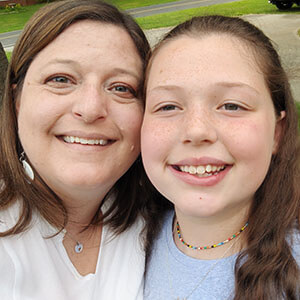 In January 2022, Katie met with Amanda Gordon, an adult epilepsy nurse practitioner with Atrium Health Neurosciences Institute. She recommended that Katie enroll in the Home-Based Self-management and Cognitive Training Changes Lives (HOBSCOTCH) program. This clinically studied program has proven to help epilepsy patients improve their quality of life.
Over the course of eight weeks, patients meet with an epilepsy navigator who serves as a memory coach. During this one-on-one program, the coach teaches patients techniques and coping mechanisms for daily life.
Katie wanted to join the program but was concerned about it interfering with her teaching schedule. After coordinating with Gordon, she was able to start the program in late June 2022 – at the beginning of her summer break.
"We're here to help you fit the program into your schedule – and your life," Gordon explains. "The program is virtual and scheduling can be flexible. We do everything we can to make it easy for patients to participate."
Effective Memory Strategies
Katie worked with memory coach and nurse practitioner Casey Cruse throughout the program. Each week, they identified one goal or problem area related to Katie's memory or thinking. If working on one of these goals didn't go well, Katie would try again the following week. Cruse helped her identify different strategies to use to achieve her goals.
"Casey was great to work with," Katie says. "She was very flexible and met with me when I was available. She was also very personable and easy to talk to."
Here are four strategies that have helped Katie:
Set timers/alarms on your phone. "I'm a very routine-oriented person. So, if my routine got messed up, I would forget to do things like take my medications," she says. "If there's something I need to do, I set an alarm on my phone to jog my memory. I keep my medications with me and, when my alarm goes off, it reminds me to take them." She also uses alarms to remind her when to pick up her children.
Organize your schedule. Katie always had a paper agenda, but wasn't using it in an organized way. "I started reorganizing my planner and reviewing it more frequently," she says. "Now my husband and I sit down on Sunday and discuss who is picking up the kids that week, so we both know what's going on."
Practice self-talk. Initially, this was embarrassing for Katie. But gradually, she started to see its benefits. "If I'm going to the kitchen to get a pen and paper, under my breath, I say 'pen and paper.' This helps remind me why I'm going there, and it keeps me going where I'm supposed to."
Take time to relax. Katie used to find relaxation activities unnecessary. But Cruse encouraged her to try them once a week. This has helped her become more self-aware. For example, she discovered that she clenched her teeth frequently. Now that she takes time to pay attention to her stress levels, she feels more relaxed and in control.
Better Quality of Life
Katie completed the HOBSCOTCH program in August 2022. Since then, she has continued using the strategies to manage her daily tasks, which have improved her quality of life.
"The epilepsy experts at Atrium Health do so much more than prescribe medication and give quick recommendations," Katie says. "If you're struggling with other issues, like memory, they have great programs designed to empower you to be part of your own care plan."
Focus on Well-Being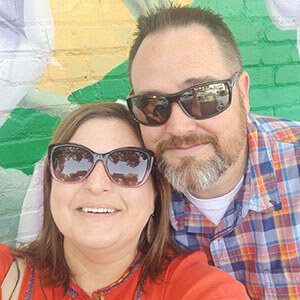 Epilepsy experts at Atrium Health Neurosciences Institute focus on the patient's diagnosis and treatment, as well as their overall well-being and helping them better understand their diagnosis.
In addition to HOBSCOTCH, epilepsy experts offer Project Using Practice and Learning to Increase Favorable Thoughts (UPLIFT). This eight-week program combines cognitive behavioral therapy with mindfulness training to help epilepsy patients become more aware of negative thoughts and work through them in a healthy way.
Since UPLIFT is offered in a group setting, participants are able to connect with other epilepsy patients in their community who are facing similar issues. A virtual platform is used to allow face-to-face interaction.
HOBSCOTCH and UPLIFT are available to patients with epilepsy, free of charge, and are offered virtually, for convenience.
Epilepsy navigators follow the patient throughout their epilepsy journey to ensure continuity of care.
Gordon adds, "The reality is that many of our patients have other chronic health issues, along with their epilepsy. It feels like a win for our team when we can help them improve multiple aspects of their lives."
Personalized Care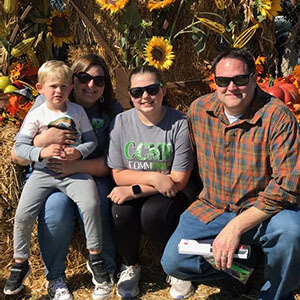 Things are going well for Katie during the new school year. She loves her job and calls her students "some of her favorite people in the entire world." She's not concerned about having breakthrough seizures and is still applying the skills she learned through HOBSCOTCH in her daily life.
Katie visits Humes or Gordon twice a year to have her condition and medication levels checked. She appreciates the personalized care she continues to receive as a patient.
"I can't sing enough praises about Atrium Health," she says. "I feel like I'm cared for as an individual. My providers always take the time to listen and make me feel like I'm really being heard. They ask about my job and family, which makes me feel like I'm not just a number – but a person."
Learn more about expert epilepsy care at Atrium Health Neurosciences Institute.