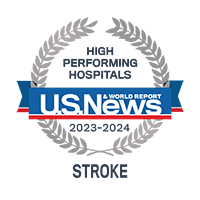 If you or a loved one needs care for your brain or nervous system, you can trust the experts at Atrium Health Neurosciences Institute. With cutting-edge research, the most advanced treatments and technologies, plus our compassionate approach to care, our neurologists and neurosurgeons can help you live your fullest life.
We specialize in diagnosing, treating and preventing all types of neurological conditions, from migraine headache and multiple sclerosis to Parkinson's disease and stroke. And whether you come to us with a diagnosis or you're looking for answers, we'll work with you to deliver comprehensive, personalized care for your unique needs.
Why choose Neurosciences Institute?
Nationally recognized expertise: Our subspecialty programs have earned many elite awards and distinctions. From stroke care rated in the top 10% nationwide, to accredited Level 3 and 4 epilepsy centers, to our certified excellence in ALS, MS, Parkinson's and more, you know you're in good hands with our experts.
Multidisciplinary team: We bring multiple specialists together to care for every aspect of your well-being. Our team includes experienced neurologists, neurosurgeons, rehabilitation specialists, dietitians, social workers, counselors and physical, occupational and speech therapists.
Innovative treatments and technologies: We're dedicated to offering leading-edge diagnostic testing and treatment options for neurologic conditions. For example, we're the only health system in the region that uses intraoperative MRI (iMRI) to improve neurosurgical outcomes.
Focus on research: For more than 20 years, our extensive neurosciences research program has given new hope to patients and caregivers. Through clinical trials, we offer early access to potentially breakthrough treatments. And every advance means better care for you.
Personalized care: We know that neurological conditions can affect your ability to live how you want to. That's why our experts work with you to create an individualized treatment plan for the best quality of life at every step of your journey.
For referring providers
When you refer a patient to Atrium Health Neurosciences Institute, our experts work with you and your patient to develop the care plan that's best for them. We keep you informed and involved every step of the way, and transition your patient back to your care when treatment is complete.
To make a referral to our neurology team, please call 704-468-0101. For neurosurgery, call 704-376-1605.
Find a provider
Our neurology and neurosurgery specialists are here for you. Find a provider who meets your needs. Use the filters to narrow your search.