Linda Yeldell was home with her husband, Bernard, one evening when the 64-year-old suddenly felt lightheaded and collapsed on the bedroom floor.
"I knew something wasn't right," Linda says. "My mouth felt funny – I couldn't speak and I couldn't get up."
As Bernard was trying to help his wife up, he noticed her left side was paralyzed, her speech was slurred and she was disoriented.
"I didn't know what had happened, but he immediately recognized that I was having a stroke," Linda says. "It was such a scary experience."
Bernard called 911 and Linda was taken to Atrium Health Carolinas Medical Center (CMC). When she arrived, Linda's care team quickly assessed her for a stroke.
Dr. Thomas Stout, a neurologist at Atrium Health Neurosciences Institute, says Linda met the criteria to be considered having a disabling stroke. A CT scan confirmed that Linda had an ischemic stroke – one of the most common types of stroke that typically occurs when a vessel that supplies blood to the brain is blocked.
Since Linda met the appropriate criteria, she was a viable candidate for tenecteplase (TNKase), a new clot-busting drug with chemical properties that make it a potentially safer and more effective treatment for stroke.
"TNK is an upgrade of tissue plasminogen activator, or tPA – a slightly older version of a clot buster used to treat strokes," explains Stout. "It's specially developed using tPA as a blueprint."
Atrium Health is one of the first health systems in Charlotte to provide this medication to the community, and Linda was one of the first patients at Atrium Health to receive the treatment. She also received an endovascular thrombectomy – an innovative surgical procedure used to remove blood clots from arteries and veins.
"The options for stroke treatment are limited," says Stout. "But TNK has better efficacy and can be given more rapidly than tPA."
B.E. F.A.S.T.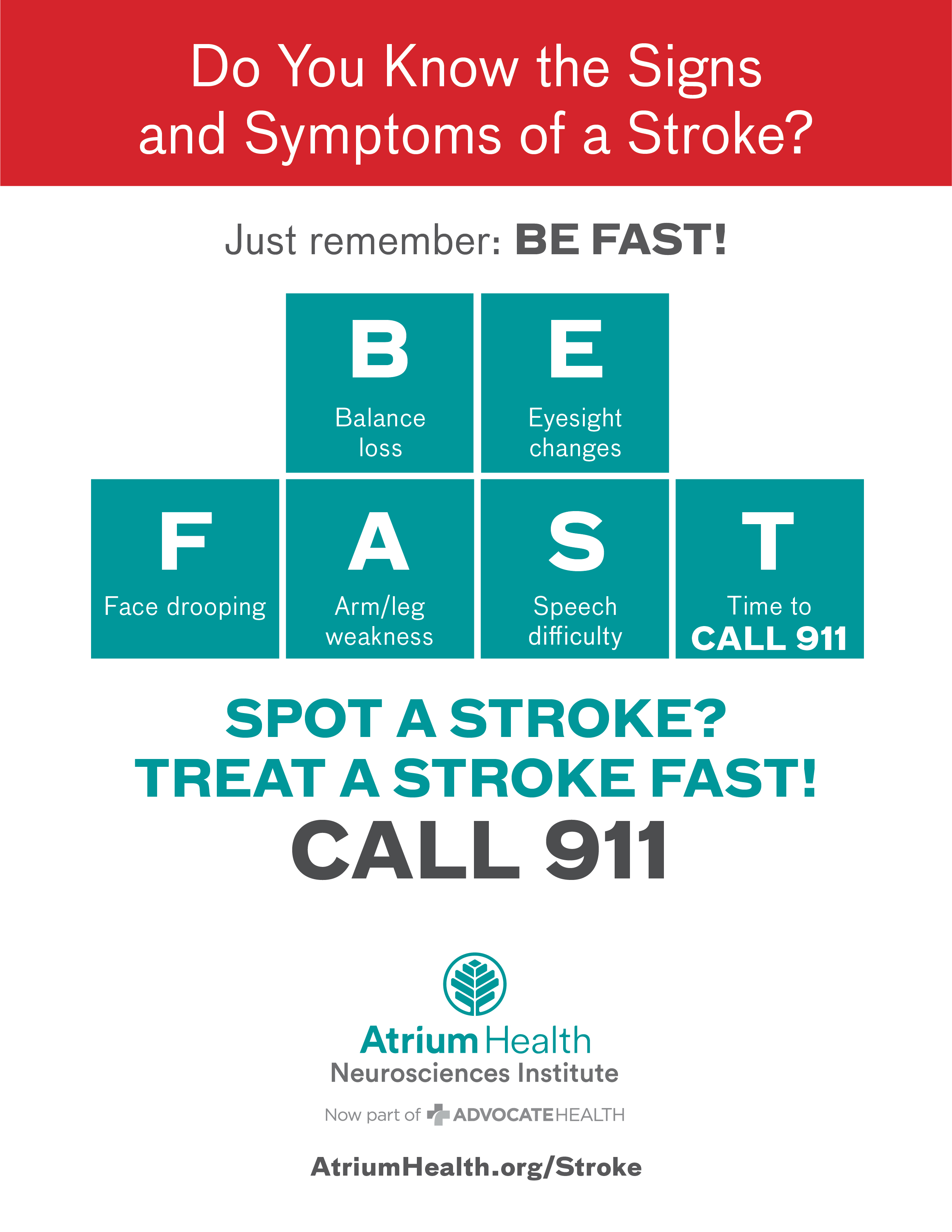 Stroke is the fifth-leading cause of death and a leading cause of adult disability in the U.S. On average, someone in the U.S. suffers a stroke every 40 seconds and nearly 795,000 people suffer a new or recurrent stroke each year. Early stroke detection and treatment are key to improving survival, minimizing disability and accelerating recovery times.
The phrases "Time is Brain" and "B.E. F.A.S.T." are literal reminders that when it comes to treating a stroke, every minute matters. It's critical to get expert treatment as quickly as possible.
"Timeliness is so important for stroke treatment," says Stout. "If it's been too long and it's too late, our hands are tied in what treatment options we have."
The team of emergency medicine physicians, neurologists, neurosurgeons, neuroradiologists, nurses and other specialists worked in unison to provide life-saving care when Linda needed it the most.
Linda's family and care team were amazed that she was ready to get up and walk around the morning after her procedure.
Like Clockwork
For Linda, the life-saving experience wasn't just about receiving a cutting-edge drug. It was a team working together seamlessly and putting her mind at ease.
"I was so scared when I was being rolled into surgery," Linda recalls. "I kept thinking, 'Lord help me.' Then someone grabbed my hand and said, 'You're not alone. You're going to be okay.' That's the last thing I remembered before I woke up."
Linda's team of experts also included Dr. Gary DeFilipp, an interventional neuroradiologist and medical director of the neuroendovascular program at Atrium Health Neurosciences Institute.
"All the pieces have to work together to make a successful program," DeFilipp says. "The stroke program at Atrium Health Neurosciences Institute is a team effort. We all take a lot of pride in the care we offer patients."
Stout agrees that teamwork is an important factor in helping patients get fast, expert treatment and have a shorter recovery time.
"There's only so much we can do alone," says Stout. "We all depend on one another. We each know what we're doing and trust our teammates' specialties to complete the circle of care. It has to work together like clockwork, especially when it comes to the nature of stroke treatment."
That coordinated care is something Linda will never forget.
"Each individual worked hand in hand and gave me amazing care," Linda says. "I'm so grateful for the hospital, doctors, staff and everyone involved in helping me when I needed it the most."
Linda had an impressive recovery. Stout says she came in Tuesday and was discharged Thursday and didn't need to follow-up with speech or physical therapy.
Her recovery is a testament to the quick and coordinated care of her husband who recognized the signs, and the team of experts who treated her.
In 2022, Atrium Health received the American Heart Association's "Get With The Guidelines®-Stroke" Gold Plus Quality Achievement Award at 12 facilities across North Carolina and Georgia. Get With The Guidelines-Stroke provides health care professionals with the most up-to-date, research-based guidelines for treating stroke patients.
Atrium Health Carolinas Medical Center, Atrium Health Pineville, Atrium Health Cabarrus, and Atrium Health Union have been recognized as the top 10% in the country for Stroke care by U.S News & World Report. Learn more about the region's largest and most experienced stroke network.