Notice of unauthorized access that may involve personal information | Learn more: English - Español
Child visitor restrictions now in place. Learn more.
The Region's Largest and Most Experienced Stroke Network
A stroke can happen to anyone at any time, and it occurs when blood flow to an area of the brain is cut off. When this happens, the brain cells are deprived of oxygen and it begins to deteriorate.
To deliver the best possible stroke care, we make every minute count. As the largest stroke network in the Carolinas, we give you access to rapid, life-saving treatments closer to home. And our stroke rehabilitation teams are the most experienced in the region, offering you the best chance of recovery. Providing comprehensive, high-quality care at more places, we treat more than 3,200 strokes annually – far more than any other network in the Carolinas.
Get the Right Stroke Treatment Faster
The more quickly a stroke patient gets emergency care, the better the outcome. Our Carolinas Stroke Network – connecting all 39 Atrium Health hospitals – accelerates the treatment of patients suffering from a stroke.

We deliver the right therapies, right away:
24/7 stroke care coordinated with local emergency medical services
Code Stroke – a process that ensures we follow best practices
Rapid transport by MedAir when necessary
Telestroke: A New Approach for Better Outcomes
Using two-way videoconferencing capabilities in the ER, our innovative telestroke program provides timely access to neurologists with critical stroke expertise. This capability ensures that every patient, no matter where they live, receives the specialized treatment they need as quickly as possible.
National Leader in Stroke Rehabilitation and Recovery
As one of the largest and most comprehensive stroke rehabilitation programs in the region, we are committed to getting our patients back home as soon as possible with renewed independence.
Using state-of-the-art technologies, we care for some of the most complex stroke cases seen anywhere. Our experienced teams – including board-certified physicians, physical and occupational therapists, certified rehabilitation registered nurses and neuropsychologists – work in hospital, skilled nursing and at-home settings. These capabilities have helped us become the first multi-site stroke rehabilitation program to earn certification from the Commission on Accreditation of Rehabilitation Facilities (CARF).
Recognized for Our Stroke Expertise
For more than a decade, our teams have treated the most severe strokes using the most leading-edge technologies and therapies. Our Neurosciences Institute's stroke program in Charlotte offers around-the-clock surgery for hemorrhagic (bleeding) strokes – treating more of these cases than almost any other hospital in the country.
Quality and Outcomes Highlights:
Received the American Stroke Association's Get With the Guidelines® Stroke Gold Plus Quality Achievement Award in 2017
Performed better than the American Stroke Association's national benchmark for complications related to carotid endarterectomy and diagnostic angiogram in 2017
Patients who underwent carotid arterial stenting (CAS) currently have a 30-day post procedure stroke rate of 0% YTD 2017
Carolinas Medical Center is recognized as a Comprehensive Stroke Center (CSC) by The Joint Commission in 2017 – one of only 100 CSC hospitals in the US
Five of our hospitals are certified as Advanced Primary Stroke Centers by The Joint Commission:

Carolinas HealthCare System Cleveland
Carolinas HealthCare System NorthEast
Carolinas HealthCare System Pineville
Carolinas HealthCare System Stanly
Carolinas HealthCare System Union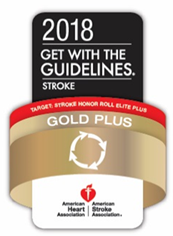 Full Range of Cerebrovascular Conditions Treated
We treat cerebrovascular conditions including:
Ischemic and hemorraghic strokes
Transient ischemic attacks (TIA), also called mini strokes
Subarachnoid and cerebral hemorrhage
Vascular malformations of the brain, spine, head and neck, including arteriovenous malformations (AVMs), cavernous malformations, arteriovenous fistula and aneurysm
Carotid and vertebral dissection
Fibromuscular dysplasia
Atherosclerotic disease, including carotid and vertebral stenosis or intracranial stenosis
Moyamoya disease
Meet Our Patients
---
Kent's Story
When all-around athlete Michael "Kent" Shirley was suddenly hit with a dizzy spell, he never suspected he was having a stroke. Thankfully, he received rapid stroke care and made a full recovery – running a 5K just three days later.
---
Linda's Story
Linda was cleaning her house, when suddenly she fell to her knees. Learn about the rapid stroke care that saved her life.
---
Locations Providing Stroke Care
---