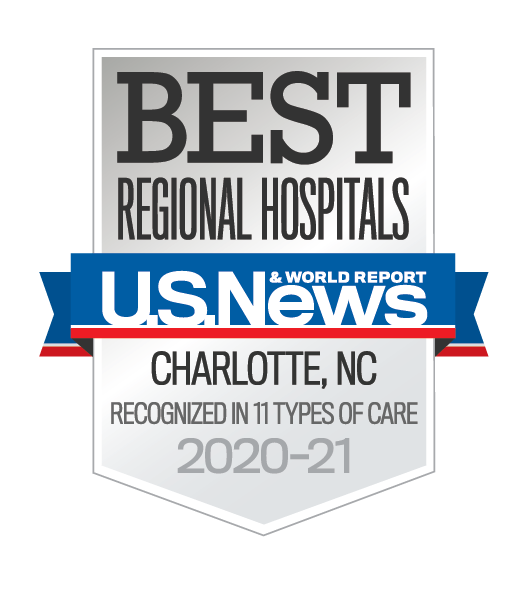 Atrium Health Carolinas Medical Center (CMC) is the flagship hospital of Atrium Health, which is distinguished throughout the Southeastern United States for its excellent patient care and medical expertise.
CMC operates at 2 locations: CMC and Atrium Health Mercy. These locations are 1.3 miles apart.
From modest beginnings in 1943, we have evolved into the largest hospital in the region and a world-class facility that offers a full range of services to the Charlotte community and beyond, with more than 1,100 physicians and providers specializing in all areas of medicine.
CMC serves as the region's only Level 1 trauma center and is an approved transplant center for heart, kidney, pancreas and liver. We also serve as one of North Carolina's 5 Academic Medical Center Teaching Hospitals, providing residency training for more than 200 physicians in 15 specialties and serve as a satellite for the medical school at UNC-Chapel Hill.
Carolinas Medical Center has been named a Best Regional Hospital by U.S. News & World Report 4 years in a row, making us Charlotte's best ranked hospital. Also situated at CMC Levine Cancer Institute's academic and research headquarters, Carolinas Rehabilitation, and Levine Children's Hospital, consistently ranked among the top 50 children's hospitals in the nation.
Contact Information
Atrium Health Carolinas Medical Center
1000 Blythe Blvd.
Charlotte, NC 28203
Phone: 704-355-2000
Atrium Health Mercy, a facility of Carolinas Medical Center
2001 Vail Ave.
Charlotte, NC 28207
Phone: 704-304-5000
Medical Services
Atrium Health Carolinas Medical Center is committed to providing advanced, personalized medical care to our community so you don't have to travel far for your healthcare needs. Learn more about our medical services.
Lodging and Dining
Atrium Health Carolinas Medical Center has a cafeteria if you need a "fuel" break for yourself, as well as other dining options. If you need to spend the night, we have a handy list of lodging options.
Gifts and Greetings
Our gift shop has all kinds of items if you need a little something to brighten your day or the day of your loved one in the hospital. Learn more.
Spiritual Care and Education
Sometimes we need a little extra support and spiritual comforting that only a chaplain can provide. Learn more.
Visitors Guide
Access a handy list of hospital phone numbers and general information you may need when visiting our hospital.
Volunteering
Are you looking for ways to give? Volunteering at the hospital is a rewarding experience. We couldn't do without our volunteers. Find out how you can become involved.
Estimated Wait Time: 1 hours 8 Minutes
Distance: 1.61 miles