Shelby Groot had a special day planned. It was her and husband Jon's 14th wedding anniversary and the first day of school for their youngest son. It all changed when she suffered a brain aneurysm and needed a team of experts at Atrium Health Neurosciences Institute to save her life.
"If I hadn't gone to a health facility that can do advanced neurosurgery, I would have died," says Shelby, a 38-year-old mother of three boys who is on track for a full recovery. "Brain aneurysms are typically fatal. It takes immediate care from knowledgeable and skilled neurosurgeons to save lives."
A Massive Headache
After dropping off her son at school that morning, Shelby returned home with a massive headache. She considered going to the hospital because of the severe pain and slight disorientation but decided not to when she began to feel better after a few minutes.
"That's when I really crashed," says Shelby. "It's not common knowledge but a brain aneurysm or rupture will get better before you might eventually die. That first rush of a massive headache is the red emergency light. Whether or not you feel better, it means go to the hospital."
Jon rushed her to the emergency room at Atrium Health, where she had a seizure, lost consciousness and collapsed in his arms as they entered the building. Doctors quickly determined she was having a large volume hemorrhage and transferred her to the neurosurgical intensive care unit at Atrium Health Carolinas Medical Center in critical condition.
Doctors rated her hemorrhage as grade 4 on the Hunt-Hess system used to classify hemorrhage severity. Grade 5 is the most severe with the lowest survival rate. Grade 4 ruptures have an 80% mortality rate.
A spinal fluid drainage tube helped lower the pressure in her brain. Given her severe condition, doctors chose a catheter-based therapy. Dr. Joe Bernard, neurosurgeon with Carolina Neurosurgery and Spine Associates and medical director of endovascular surgery with the Atrium Health Neurosciences Institute, has been practicing at Atrium Health since 2000. He successfully sealed off the aneurysm using the region's newest and most advanced angiography equipment, which uses medical imaging to visualize the inside of blood vessels. Once the aneurysm was treated, Shelby began to stabilize and improve.
"We used high-definition video x-ray techniques to place a tiny catheter in the aneurysm going through a small needle stick in the vessel and that was successful in sealing it off," Bernard says. "We used platinum threads, called coils, to make a ball of string inside the aneurysm to prevent blood from getting in the aneurysm by sealing it off. Keeping the aneurysm from leaking again was the most important step in her survival."
Later, Shelby learned how dire her situation had been.
"I remember opening my eyes and seeing my mom, my dad, my sister and Jon's family," says Shelby. "When I saw the tears in their eyes, I knew it must have been pretty bad."
Diligence Avoids a Near-fatal Complication
Shelby remained hospitalized after her surgical treatment, and after about a week, her speech and leg function declined sharply. She had developed a dangerous complication in which blood vessels clamp down where previously leaked blood sits on the outside of the blood vessel. It is considered the No. 1 cause of disability and stroke following an aneurysm. Specialty-trained neuroscience nurses caring for Shelby quickly identified the problem and she was taken into surgery.
Neurosurgeon Dr. John Parish performed emergency angioplasty surgery to open up the narrowed intracranial blood vessels, and Shelby's speech and motor skills rebounded immediately. She continued to improve daily and returned home exactly one month after suffering her aneurysm.
"A big key was having her family recognize the need to go to the emergency room and getting her stabilized so quickly," Bernard says. "From there, the coordination of an entire neuroscience team throughout her care allowed for the best possible outcome. It was truly a team – neurosurgeons with extensive experience, neuro-critical care, medical neurologists, neurosurgical intensive care nurses, and physical, speech and occupational therapists all working together."
Before heading home, she was able to meet Bernard.
"I was a little nervous at first," she says. "This guy saved my life and healed my brain, and I don't even know what he looks like. When he walked in, though, I knew his face right away. It felt amazing to see him and his smile. Jon and I both had tears in our eyes. It was just miraculous to meet with him, to take a deep breath, smile and say thank you."
A Healing Process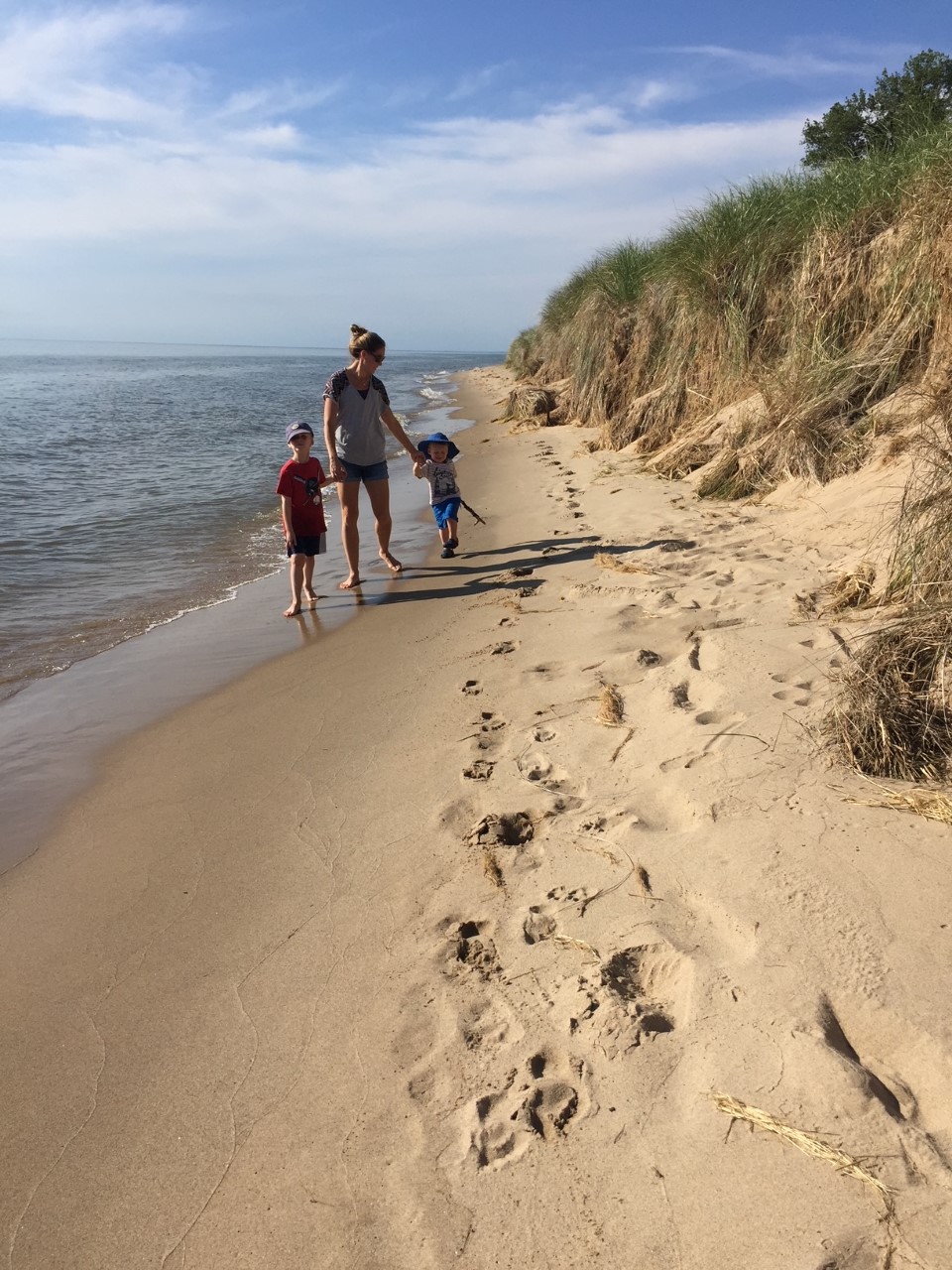 Her recovery has included physical therapy twice a week and regular appointments with her team. Recently Shelby had a successful follow-up surgery, where they placed a catheter back into the spot that burst to reinforce it and prevent future aneurysms. She's also focused on healing other lingering issues, in her eyes and legs. While her eyes suffered no damage, her left retinal artery retained some leaked blood, and she and her doctors are hopeful it will drain on its own with more time. She also has some lingering nerve pain and numbness in her left leg and foot, but she is expected to completely recover.
"It's a process of letting my body heal over time," says Shelby, who moved with her family to Charlotte from Chicago just a few weeks before her aneurysm.
"We knew we needed to be close to a great city for many reasons but having excellent health care close by was a big deal," she says. "Thank God we picked the right place."