Did you know the Southeast is recognized as the Stroke Belt? That means residents of North Carolina are 20%-40% more likely to die of stroke than those living in other parts of the country.
Every 40 seconds, someone in the United States has a stroke and it is a leading cause of long-term adult disability. Researchers at Wake Forest University School of Medicine, the academic core of Atrium Health, previously received $14 million in funding over five years to support the first statewide COMprehensive Post-Acute Stroke Services (COMPASS) study for post-stroke treatment. That award came from the Patient-Centered Outcomes Research Institute, an independent, non-profit, nongovernmental research funding organization authorized by Congress. The goal of the study was to determine whether longer-term care after a stroke helps stroke patients across North Carolina improve how they live their lives each day. The study also tried to find ways to reduce the stress of people caring for stoke patients by providing better resources to help in care once stroke survivors return home.
COMPASS: Guiding the Way
The COMPASS study compared the health outcomes of stroke patients who received traditional post-hospitalization treatment to the outcomes of patients who received more comprehensive care. This new care plan was developed with a team of physicians, nurses, therapists, pharmacists and patient caregivers that had specific experience with the variety of needs for stroke patients once they left the hospital. Over 10,000 patients from across North Carolina were enrolled in the study.
The numerous insights and resources gained during the study were consolidated and made available to anyone on the COMPASS study website for free: from advice on how to prevent a stroke to recommendations on how patients can find their way forward to recovery, independence and good health. The website also houses a comprehensive community resource directory built to support patients, caregivers and health and human services teams.
"This is a great example of how our academic learning health system can take research findings and develop solutions to help improve the health of patients right here at home and across the country," says Pamela Duncan, professor of neurology at Wake Forest University School of Medicine.
This massive collaboration and extensive work was also incorporated into the Post-Stroke Care Section of the North Carolina Stroke Care Plan, under development by the Stroke Advisory Council.
The Next Phase: COMPASS CP
The combination of stroke experts at Atrium Health Wake Forest Baptist's Comprehensive Stroke Center and Wake Forest Innovations resulted in the creation of COMPASS-CP (COMprehensive Post-Acute Stroke Services – Care Plan), a transformative digital health platform focused on post-stroke care that's also available to other hospitals and health systems across the country. COMPASS-CP uses remote patient monitoring such as blood pressure devices and virtual care management programs to monitor vital signs and overall health, which helps clinicians more efficiently care for their patients.
"COMPASS-CP allows clinicians to securely receive and easily interpret remote monitoring data, such as blood pressure and physical activity, which helps them and their patients make timely decisions and adjustments to lifestyle behaviors and medications aimed at reducing the likelihood of patients suffering future strokes," says Duncan.
Prevent a Stroke
While genetics can play a factor in stroke-risk, certain lifestyle changes may make a stroke less likely. As for how many people are genetically at risk for stroke, Dr. Cheryl Bushnell, professor of neurology at Wake Forest University School of Medicine, recently told AARP that can be a difficult question to answer.
"The interesting thing, though, is that most strokes are linked in some way to other factors, like blood pressure or cholesterol," Bushnell says. Lifestyle choices can also play a factor in triggering a stroke, even for those with a genetic predisposition.
So what can you do? Simple things you can do to reduce the likelihood of stroke:
Choose healthy foods and drinks: Eat plenty of fresh fruits and vegetables. Eating foods low in saturated fats, trans fat and cholesterol and high in fiber can help prevent high cholesterol. Limiting salt can also lower blood pressure. High cholesterol and high blood pressure increase chances of having a stroke.
Take appropriate medicine: If prescribed medicine to treat heart disease, high cholesterol, high blood pressure or diabetes, follow your doctor's instructions carefully.
Get regular physical activity: For adults, the recommended amount of exercise is 2 hours and 30 minutes of moderate-intensity aerobic physical activity, such as a brisk walk, each week.
Avoid smoking: Cigarette smoking greatly increases likelihood of having a stroke.
How to Recognize a Stroke
A stroke is a medical emergency, so the faster a patient receives proper treatment, the better the chances for recovery. Bushnell suggests using the BE FAST acronym to help identify a stroke when it's happening: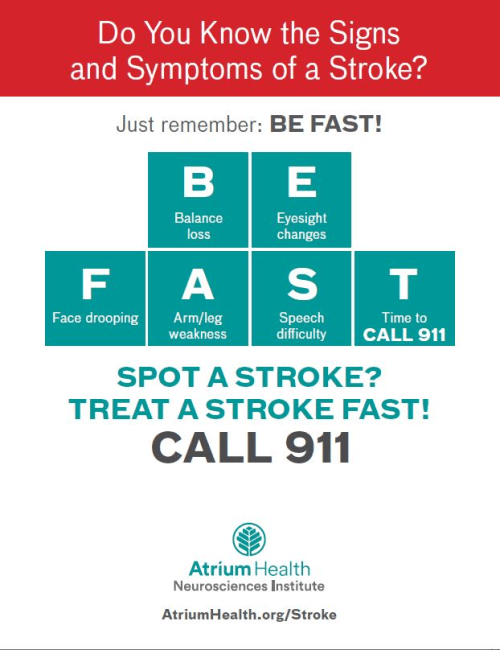 Access to Quality Care
As more people learn about the signs of a stroke, stroke patients are getting to hospitals quicker and physicians have more treatment options. Atrium Health Wake Forest Baptist's Telestroke Network provides around-the-clock access to expert stroke care for patients in smaller communities. Emergency department physicians at community hospitals within the network receive on-demand consultation with a Wake Forest Baptist stroke neurologist. The Telestroke Network team recently reached the milestone of serving 15,000 patients across North Carolina. Since its start in 2009, it has grown to include 21 hospitals throughout the state. Through the efforts of the Telestroke Network, 40% of patients seen have received the emergency clot-busting medicine tPA and more than 60% of patients have been able to receive the care they need while remaining at their local hospital.
Thanks in large part to clinical research excellence and improved access to care and resources, Atrium Health received the American Heart Association's "Get With The Guidelines – Stroke" Gold Plus Quality Achievement Award at 12 facilities across North Carolina and Georgia. The designation honors Atrium Health for its commitment to ensuring stroke patients receive the most appropriate treatment according to nationally recognized, research-based guidelines.