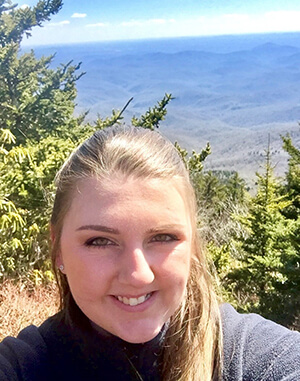 Atrium Health Lincoln nurse, Kassondra Josey, was on a flight back from Las Vegas with her husband after a fun family trip. Somewhere over Texas, she was watching a movie when her husband nudged her about an overhead announcement.
"My husband told me that they asked for medical personnel," says Josey. "But a doctor stood up, so I sat tight for a minute. When I saw him run to the front of the plane for his bag, I knew it was serious. I told him I was a nurse and asked if he needed any help. He immediately said, 'Yes!'"
That's when Josey jumped in, relying on her training and two and half years' experience as a nurse at Atrium Health Lincoln. The man was unresponsive, and his medical condition and history were unclear. But the nurse and doctor knew he needed help and fast because his vitals were unstable. While the flight crew worked to arrange an emergency landing at a small airport in Abilene, Texas, Josey crouched in the snug aisle and started an IV – incredibly challenging without the aid of a tourniquet – all while the plane encountered turbulence. The IV helped provide much needed fluids, and ultimately medications, for the passenger.
When a nearby passenger also fell ill, Josey also helped them while still caring for the original passenger, just before a flight attendant told Josey to "brace for impact" for a rough landing.
The plane landed and was met by EMS who rushed the passenger to a nearby hospital. Although Josey doesn't know who the man is, she did get an update that he was awake and stable at a nearby hospital.
"No one gets on a plane expecting someone to need dire assistance," says Josey. "I'm thankful for the positive outcome."
When reflecting on this incident, Josey recalls why she went into health care in the first place. As a teenager, she felt helpless when she witnessed a loved one in need of immediate medical care. "I went into health care so if I ever came across a life-or-death situation again, I would have the knowledge and skills to be able to help more than I did when I was a teenager."