Skip Navigation
Weather Alert:
Some locations may be closed or opening late.
View a list of our closings and delays
.
COVID-19 cases are rising.
Find information about testing
and visit our
COVID-19 Resource Center
for more updates.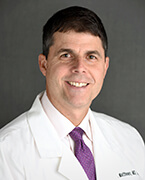 Chair, Department of Surgery
Senior Medical Director, Surgery Care Division, Atrium Health Medical Group, Surgeon-in-Chief
Throughout a distinguished surgical career, Dr. Matthews has been pursuing the innovative frontiers of minimally invasive surgery. He specializes in primary and re-operative foregut surgery (GERD, hiatal hernia and paraesophageal hernia), advanced spastic/motility esophagus disorders, Barrett's esophagus, abdominal wall reconstruction, ventral incisional and inguinal hernia repair, and minimally invasive solid organ surgery. Dr. Matthews has published more than 100 articles in peer-reviewed journals across his surgical specialties.
EDUCATION
Medical school
Indiana University
Residency
Northeast Ohio Medical University, Summa Health System
Specialty: General surgery
Fellowships
Baylor College of Medicine
Specialty: Minimally invasive surgery and research
Carolinas Medical Center
Specialty: Minimally invasive surgery
Other education
Internship
Northeast Ohio Medical University, Summa Health System
Specialty: General surgery
BOARD CERTIFICATIONS
American Board of Surgery