Skip Navigation
Weather Alert:
Some locations may be closed or opening late.
View a list of our closings and delays
.
COVID-19 cases are rising.
Find information about testing
and visit our
COVID-19 Resource Center
for more updates.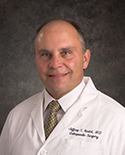 Executive Vice Chair
Jefferey S. Kneisl, MD, specializes in the treatment of tumors of the musculoskeletal system. He is director of musculoskeletal oncology in the Department of Orthopaedic Surgery at Carolinas Medical Center and medical director for surgical services at Levine Cancer Institute. Dr. Kneisl is a member of the Musculoskeletal Tumor Society, the Society for Surgical Oncology, the Children's Oncology Group and the International Society for the Study of Limb Salvage. He specializes in the area of bone and soft tissue tumors and serves as leader of the Bone and Soft Tissue Tumor Group, coordinating multidisciplinary care for patients with these complex conditions.
EDUCATION
Medical school
Northwestern University
Residency
Northwestern University
Fellowships
University of Chicago
Board Certification
American Board of Orthopaedic Surgery