Skip Navigation
Weather Alert:
Some locations may be closed or opening late.
View a list of our closings and delays
.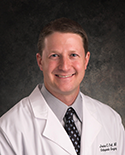 Vice Chair of Education
Joshua Patt, MD, specializes in musculoskeletal oncology and spine surgery. In addition to his clinical responsibilities, Dr. Patt serves as the residency program director for the orthopedic surgery residency program. He is a member of the American Academy of Orthopaedic Surgeons, the Musculoskeletal Tumor Society and AO Spine International. Dr. Patt earned his master's degree in public health from the Tulane School of Public Health and Tropical Medicine. He is also the co-director of the Carolinas Medical Center Geriatric Fragility Fracture Program. His primary research interests are clinical outcomes in oncology, spinal tumors and geriatric hip fracture outcomes. He has published six peer reviewed journal articles, nine book chapters and has done scientific presentations at multiple regional and national meetings. Dr. Patt's clinical practice includes the treatment and evaluation of sarcomas, as well as the comprehensive management of spinal disorders with a particular interest in traumatic and oncologic diagnoses.
EDUCATION
Medical school
Tulane University
Residency
Carolinas Medical Center
Fellowships
University of Washington