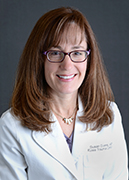 Susan L. Evans, MD Surgical Critical Care
As a surgeon, Susan Evans, MD, has seen first-hand how donated platelets can stop bleeding and save patients' lives after car accidents, gunshot wounds or other traumas. She also knows these platelets can be in scarce supply.
"The current practice is to store platelets at room temperature and discard them after five days," Dr. Evans says. "Unfortunately, that means we have to constantly refresh our supply – and that we sometimes don't have platelets for patients who desperately need them."
As a solution, Dr. Evans developed an innovative new way to store platelets and potentially extend their shelf life. The method revolves around refrigerating the platelets and adding an agent that boosts mitochondrial function.
Giving Platelets an Energy Boost
In a 2017 study, Dr. Evans and her colleagues showed that platelets stored at four degrees Celsius – and supplemented with cytochrome c or resveratrol – stayed viable for up to 10 days. What's more, the new storage method didn't affect oxygen consumption, lipid peroxidation, platelet count or other key factors. The results were published in the Journal of Trauma and Acute Care Surgery.
"The refrigeration slowed down decay, and the cytochrome c gave the platelets an energy boost that helped them maintain their clotting power," Dr. Evans says.
The researchers' next step was to repeat the study using whole blood, with one key change: They delivered the cytochrome c on day 10 instead of on day one.
"In the first study, the platelets were consuming the cytochrome c and then their function was dropping off," Dr. Evans says.
Preliminary data suggests that the later infusion could help platelets stay viable for beyond 10 days.
"These studies were pivotal because they demonstrated the concept is viable and could potentially transform how platelets are stored," Dr. Evans says.
Goal: Change FDA Guidelines
Now the researchers are trying to pinpoint the optimal dose of cytochrome c and the optimal time to give it to the platelets.
"We're starting by investigating whether it's most effective to deliver cytochrome c on both day one and day 10," Dr. Evans says.
She and her colleagues also plan to study how refrigeration and cytochrome c affect platelets stored in today's additive solutions. And they're looking for funding for clinical studies that investigate how well the platelets stored via the new method can control hemorrhages, compared to platelets stored at room temperature.
"It's going to take a few years, but I'm hopeful that we'll be able to make a strong case to the FDA that this method is effective, so they can potentially change their guidelines," Dr. Evans says. "If that happens, it will be a huge step toward making sure people get the platelets they need, when they need them – whether it's a patient in our trauma bay or a soldier on a distant battlefield."