"We cannot put into words how this surgery has changed our lives. Just being able to do things – take walks together, go to the gym, keep up with the kids! We get to do a lot more together now, and that means the world."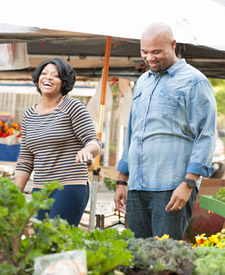 Kenneth and Shya are a husband-wife success story. They made a pact to have the surgery and lose the weight, once and for all. Kenneth was diabetic, overweight and out of shape, and found himself faced with daily injections and medications to manage his disease and resulting health issues. He knew it was time to do something. He wanted to be healthy for himself, his wife and his children.
Shya decided to take the leap toward weight loss surgery when she realized she was frequently experiencing shortness of breath, extreme fatigue and over-exertion. "Things you enjoy doing shouldn't be so hard. I knew it was time for a change. Time to be proactive about my future and my health."
After doing the research, Kenneth & Shya were confident in their decision to have the surgery. "Now that we have had the surgery – and 200 pounds lighter – we are healthier and happier than we ever been,".
"We were unhealthy and unable to do the things we love. The surgery didn't just change our lives. It gave us our lives back."
Kenneth is now able to actually enjoy exercise. He joined a gym and works out a couple times a week. Shya enjoys chasing after her children – something she wouldn't have been able to do prior to losing the weight.
The couple says their only regret is not having had the surgery sooner. They encourage others who are battling with weight to do the research and attend a free seminar to learn more about the available options.