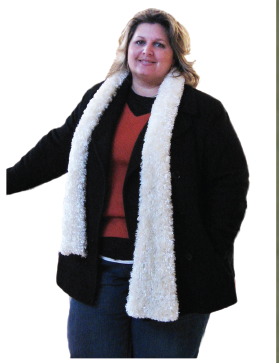 Lisa before surgery
Lisa had bariatric surgery in December 2010 at Atrium Health. She lost 170 pounds. But she gained so much more. Before my surgery, I felt trapped inside. I was always overweight since childhood and just accepted herself as an obese person. Now when I look in the mirror, I see someone who's making a difference, I do the things I've always dreamed of doing, like kayaking and running my own business.
I sing with more confidence. I can breathe and better support the notes that I'm singing. In fact, I look and sound so different that a member of my church didn't even recognize me.
I used to have arthritis in my knees and ankles. When I woke up in the morning, it took me five minutes to get up because it hurt so much. My arthritis is completely gone now.
I encourage individuals considering bariatric surgery to research your options and to decide if it is right for you.
We only get one life. We only get one shot at this. If the weight is going to hold me or someone else back from being the best they can be, then do something about it and if that means surgery, do it.