"I now have a life I never knew I was missing. So much has changed for me, but even the everyday moments in life are wonderful: I get in an out of the car with ease. Walking doesn't exhaust me after 10 minutes. My mind is clear and thought processes come easier. I actually want to do physical activities I never would've considered before. And that's just the beginning."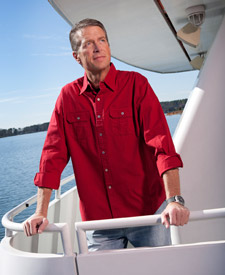 Fear of the unknown kept the old me from considering weight loss surgery. Would I be able to adjust? Would I ever stop wanting to eat an entire pizza? Would I be treated differently?
I decided the surgery was a risk worth taking. I was obese and a severe diabetic, taking insulin shots and many other medications. I needed to take action to care for his body. "Plus, I knew three other people who'd found success with surgery. I wanted that for myself."
Now, post-surgery, I feel amazing. My energy level has increased tremendously, allowing me to easily complete everyday tasks without tiring. I know without a doubt that I am much healthier and the quality of my life is better.
"It was worth everything I went through, and I would do it all again in a second."
All food issues were gone after the first 30 – 45 days. Seeing the weight drop off and learning that I no longer need diabetes medications gave me great hope and determination. I still treat others the same, but I'm treated very differently than I was as an obese person.
To others considering the surgery, success is within their reach. "It's a common phrase, I know, but if I can do it, anybody can. My willpower regarding food and a healthy lifestyle was next to nothing until I made the decision to have this surgery."
I also urge individuals to find the support they need, whether through a support group, an accountability partner or family and friends. "Once you've decided to have the surgery, find your muse. Someone who can inspire you to keep the faith and do the right things on a daily basis. It's not an easy journey, but its well worth all the hardships and trials you may face