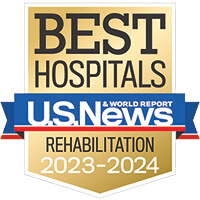 A brain injury can change your life. If you or someone you love has experienced this serious trauma, Atrium Health Carolinas Rehabilitation is here to help with the latest therapies and approaches.
We offer inpatient and outpatient rehabilitation, meeting patients where they are and providing the specialized care they need – from speech therapy to behavioral management support. Our goal is to help get individuals and their families back to living as independently and fully as possible.
Patient Care – What to Expect
---
We offer the latest therapies and do everything we can to help you feel safe and supported after a brain injury. Our patients benefit from:
Comprehensive support: We offer a variety of patient and family support groups. We're also home to a peer mentorship program that connects patients with people who have survived similar injuries and family members with other caregivers.
Continuous care: We start caring for patients in the hospital, after their injuries. When they're ready to leave the hospital, we'll help coordinate continuing therapy appointments and support you with follow-up care for years to come.
Support transitioning home: Our team offers home assessments after severe injuries. These assessments help families understand if they need to modify their home — for example installing specialized equipment like a wheelchair ramp — to help loved ones transition home safely.
Leading research: Our team is involved in groundbreaking research, pioneering new ways to help patients like you. We're a Traumatic Brain Injury (TBI) Model Systems Follow-up site, collecting data from patients from up to 20 years after their injury. This will help us learn more about how TBI impacts your long-term health and inform future care. We're also studying a small wearable sensor that measures how individuals with TBI move after injury, to help us understand how walking and performing another activity at the same time can cause changes in movement. We participate in multiple clinical trials that give our patients access to the newest treatments.
Robust resources: The Brain Injury Association of NC's Charlotte Resource Network is housed at Carolinas Rehabilitation. This gives you and your family additional information, resources, education and training to help navigate brain injuries.
Specialty certifications: Having highly specialized therapists leads to the best patient outcomes. That's why all of our Brain Injury physiatrists have specialty training in Brain Injury care. We pride ourselves in the number of staff members who have taken the extra step to obtain specialty certification in rehabilitation nursing as well as many who have obtained their Certified Brain Injury Specialists/Trainer from the Brain Injury Association of America.
What We Treat
---
We see patients with all severities of acquired brain injuries, including those who experience disorders of consciousness. Common conditions we treat include:
Traumatic brain injury (TBI)
Concussion (a mild form of TBI)
Anoxic brain injury
Brain Injury Rehabilitation: Treatments and Programs
---
We create a custom care plan tailored to each patient's unique needs. Our treatments and programs include:
Aquatic therapy: Our aquatic therapists help patients regain strength and mobility through weight training and gait training in our heated pool. These therapists may also teach pain management techniques.
Behavioral Management and Neurobehavioral Program: Some brain injuries may lead to behavioral disorders like impulsivity and personality changes. Our team uses our quiet gym, a space built to decrease triggers like bright lights and loud noises to help decrease distractions and provide a low stimulation environment. We also teach families and caregivers strategies to manage behavioral changes. Our staff has been trained in nonviolent crisis intervention, and we have daily huddles to discuss ways to help manage behavioral issues.
Emerging Response Program (ERP): Our specialized ERP program is designed for people who have experienced a severe brain injury and are in a minimally conscious state. The ERP supports patients using a team approach that includes doctors, nurses, therapists, social workers and case managers specializing in brain injury rehabilitation. We use advanced therapies to help patients become more engaged and aware so they can start doing purposeful movements and activities.
Robot-assisted gait training: How you step or walk is called your "gait." If you had an injury you may need gait training as part of your treatment. We have access to robotic machines that allow you to walk safely and efficiently while building your strength, mobility and balance. We use these tools during inpatient and outpatient therapy.
Community fitness center: Often, at the end of outpatient therapy, individuals want to continue to work out, but may not feel comfortable at their local gym. For just $30 a month, our patients have access to our specialized gym with all the equipment they're familiar with, plus the familiar faces they've met during therapy.
Wheelchair Seating Clinic: A seating and mobility specialist and physical therapists who specializing in seating run this clinic. They help patients who need wheelchairs, select the appropriate chair, cushions and controls to maximize comfort, mobility and health. They work with the family and insurance providers to advocate for the patient's needs to help them acquire the equipment that best meets their needs.
Your Care Team
---
After a brain injury, it's important to make sure you or your loved one gets expert care from a variety of specialists. Our care team includes:
Neuropsychologists who provide cognitive evaluations for inpatients and outpatients to determine their readiness to return to lifestyle activities such as driving and working.
Occupational therapist who help you get the skills you need to get back to being independent with many things including activities of daily living.
Psychotherapists who help patients and families develop skills to cope with behavioral changes and challenging feelings after a brain injury.
Physical therapists who specialize in helping you build strength, improve mobility and decrease pain.
Social workers who help families find financial assistance, connect them with support groups and more.
Spiritual care from on-call chaplains who can support you and your loved ones during treatment, no matter what denomination, faith or spiritual belief.
Speech pathologists who assess and treat swallowing issues, communication and thinking changes to maximize your functioning and safety.
Recreational therapists who help you improve or maintain your physical, cognitive, social, emotional and spiritual wellness.
Wound care specialists who help treat and prevent open wounds (like those from your original injury, sores from wheelchairs or other wounds) and guard against infection.