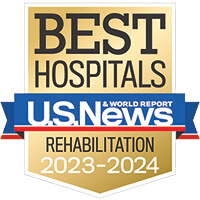 If you've suffered an illness or injury, you deserve to get back to living life to the fullest. Atrium Health Carolinas Rehabilitation is home to specialized occupational therapists who can help.
We believe that incorporating real-life activities into therapy – like cooking after a hand injury or doing a mock job interview after a stroke – can accelerate your recovery. Our therapists will work with you to find activities that motivate you and make therapy something to look forward to.
Patient Care – What to Expect
---
We see patients of all ages and most of our therapists have over a decade of experience. Our care team has been honored with awards like Best Doctors in America and Top Doctors in Charlotte, underscoring our ability to help patients like you. When you choose our team, you'll benefit from:
Custom treatment: We'll work with you and your doctors to understand your condition and create an occupational therapy plan tailored to your specific needs.
Care from an expert team: Our inpatient and outpatient therapists work together to maximize your rehabilitation and healing. If your care starts in the hospital, we'll develop a care plan that helps you recover during your stay, and then lines up with the therapy you'll receive when you go home.
Comprehensive resources: It's natural to feel anxious after your occupational therapy is finished and to wonder what's next. We're here to point you in the right direction by connecting you with local gyms, community fitness programs and our Adaptive Sports & Adventures Program.
What We Treat
---
Our occupational therapists aim to help you overcome injuries and illnesses and get back to your daily activities. We treat a variety of conditions, including:
Occupational Therapy Treatments
---
We'll tailor therapy to meet your exact goals and needs, from getting back to work, to moving more comfortably around your home. We support patients with:
Inpatient Therapy
During your stay at Atrium Health, our occupational therapists will get you ready to return to life outside the hospital. Our therapists help you relearn daily activities in specialized facilities — including a therapeutic apartment that's equipped with a kitchen, living room and bathroom. This gives you a place to practice real-life skills, so you can feel safe and confident when you go back home.
Outpatient Therapy
We'll work with you to help you feel comfortable getting back to daily activities like grocery shopping and driving. Therapy includes:
Practicing everyday tasks: Our team uses our therapeutic apartment to help you practice activities like using kitchen equipment, making a bed and navigating the bathroom.
Driving skills evaluations: We'll do a 2-hour assessment to determine if it's safe to drive again after your illness or injury. This includes a thorough review of your driving history and an assessment of your physical strength and skills. We can also teach patients to use modified vehicles that have a left accelerator or hand controls.
Vision support: If you're experiencing double vision or vision loss, we can come to your home and make sure everything is set up for you to get back to daily life, regardless of how well you can see.
Your Care Team
---
Our specialists work together to help you or your loved one before, during and after treatment. Our care team includes: