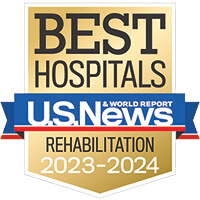 Problems with speech, mental tasks and swallowing are complex, challenging and personal. Our team has the knowledge and experience to help you address and overcome them.
Atrium Health Carolinas Rehabilitation sees patients of all ages with a wide range of challenges related to speaking, eating and cognition. Each person's condition and goals are unique, so we personalize your therapy to help you pursue the activities and lifestyle that are important to you.
Patient Care – What to Expect
---
Our speech-language pathologist are specially trained and deeply invested in helping you improve. Families choose us because we also offer:
Personalized care: We work closely with you to understand your specific challenges and what activities and experiences you want to pursue. Whether your goal is to flourish at work or in school or to have meaningful conversations with your loved ones, we tailor your therapy to your needs.
The latest evidence-based treatments: Speech therapy is an evolving field, and we constantly seek and test new treatments to provide better and more meaningful results. We have adopted innovative treatments like the McNeill Dysphagia Therapy Program. This program uses swallowing exercises to increase the range and amount of food you can eat. We're also trained in the LSVT LOUD program. This helps people with Parkinson's disease improve their vocal projection and quality.
Practical therapies: We regularly use games, scenarios and props to connect your rehabilitation to real life. This includes using smartphone features like alarms, reminders and apps to help you with cognition, communication and life skills.
Conditions and Speech Therapy Services for Adults
---
We help adults recover from conditions related to stroke, traumatic brain injury, head or neck cancer, or other events that affect the brain. These conditions include:
Eating and swallowing problems
Problems with how your mouth and voice muscles work, which affect how you speak and say words
Difficulty recalling or understanding words (aphasia)
Difficulty communicating wants and needs
Problems with following conversations or steps in a process
Usually, we start therapy when you're a patient at the hospital or in one of our rehabilitation hospitals. When you're well enough to go home, you'll likely have therapy appointments at one of our outpatient clinics.
Your treatments may include:
Speech and language treatments: For the basics of speech and comprehension, we use visual aids and other techniques to refamiliarize you with words, definitions and information. For people who need help with higher-level skills, we can do exercises with maps, conversation scripts and other tools. This can help you think and interact on a deeper level.
Cognitive treatments: We perform tests and exercises to help you maintain attention, organize thoughts, follow directions, recall faces and memories, and solve problems.
Swallowing treatments: We can use equipment like the modified barium swallow (MBS) test and the fiberoptic endoscopic evaluation for swallowing (FEES) to assess your swallowing. We also provide therapies that help you develop the necessary muscles and coordination. These therapies include the Beckman Oral Motor Protocol, which includes exercises to improve oral function.
Conditions and Speech Therapy Treatments for Children
---
When we treat children, it's usually because they have developmental delays and need help practicing and mastering different skills. Children may also need speech therapy because of an injury or illness affecting the brain.
The conditions we help children with include:
Delays in using speech and language
Difficulties making certain sounds and syllables
Communication and cognitive challenges due to autism
Food aversions, such as resisting specific foods, textures or tastes
Our treatment for children always begins with careful education for the child and parents. This includes teaching them about their problem and how therapy will help. Then our therapists use specific exercises and techniques to help your child, including:
Speech and language treatments: We help children speak, express themselves and process information. Treatments include using strategies like play-based activities and speech-motor techniques. This helps kids pronounce different vowels and consonants.
Eating and swallowing treatments: We teach parents ways to get kids used to foods they resist. This includes creating a positive environment at mealtime and introducing new foods in gradual stages.