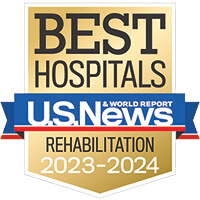 When you're sidelined by an injury, all you want is to get back to the activities you love. We're here to help you do that. Our highly skilled rehabilitation professionals provide expert care to help you overcome all of your aches and pains. From cutting edge musculoskeletal rehabilitation to sports therapy programs, we help you achieve your rehabilitation and fitness goals, often without surgery.
Patient Care – What to Expect
---
If you're experiencing pain from a sports or work-related injury, our team is here for you. We work with all types of patients — from weekend warriors, high school athletes to the Charlotte Symphony Orchestra. We provide care tailored to your exact needs. Patients choose us because we offer:
Comprehensive treatment plans: We'll start your care with a detailed evaluation to understand your exact condition. Our doctors will talk to you about your lifestyle and rehabilitation goals. Then they'll create a custom care plan to help you do the activities you love, without pain.
The latest therapies: From strength-building exercises to ultrasound-guided injections, we use the most advanced therapies to help you overcome your condition.
Fast, easy scheduling: We can usually see new patients within a week. Plus, several of our therapies are cash-based and you don't need a referral or insurance approval to make an appointment.
What We Treat
---
We treat all types of sports and work-related injuries and help you get back to your daily activities. Common injuries we treat include:
Back pain
Foot pain
Joint sprains and pains (ankle, hip, knee and shoulder)
Muscle strains
Neck pain
Overuse injuries such as rotator cuff overuse, tendonitis and stress fractures
Plantar fasciitis (heel pain)
Repetitive stress injuries (like carpal tunnel syndrome)
Sciatica (symptoms including lower back pain, leg numbness, hip and knee pain)
Simple or stress fractures
Sports Rehabilitation Treatments
---
We use the latest, most effective therapies to help you overcome any injury you're facing, including:
Casting and splinting of fractures: Depending on your injury, a cast or a splint might be the best way to support and protect injured bones, ligaments, tendons and tissues.
Dry needling: A trained specialist will insert a thin needle into your muscle to stimulate muscle tissue, reduce pain and boost muscle function.
EMG/nerve conduction studies: We use this test to find the cause of nerve pain such as pinched nerves or carpal tunnel syndrome. This helps us determine the best treatment.
Gait analysis: Your pattern of running or walking is called your "gait" and is unique to you. Some injuries can affect your gait. Walking or running in a certain way can also cause injuries. We use video analysis to help identify what's causing these problems and help you heal.
Knee osteoarthritis and cartilage preservation treatment: If you're experiencing cartilage problems, we can use hyaluronic acid to relieve pain and help strengthen cartilage. This is a way to treat knee osteoarthritis without steroids, which can make cartilage weaker over time.
Radiofrequency ablation: This procedure can help eliminate back and neck pain by dulling nerve fibers that carry pain signals to the brain.
Injections for Sports and Work-related Injuries
Depending on your injury, an injection might help you heal. We offer many types of injections including:
Back, neck and spine injections: Geared for people with degenerative disc disease, this treatment can reduce spinal inflammation and irritation.
Peripheral joint injections: This can reduce pain and help joints move better. We usually use them for carpal tunnel syndrome or heel pain, but we can use these injections in any joint.
Platelet-rich plasma (PRP): This is a mix of your own platelets that's injected into the body to improve damaged tendons, ligaments, muscles and joints. We offer this as a cash-only service. Your physician will be happy to discuss if this is the right option for you.
Tenotomy: Similar to PRP, this is an injection-based therapy for tendinopathy and tendon injuries. It's especially popular for tennis elbow, golf elbow, Achilles tendon pain and shoulder pain. The goal is to allow for a greater range of movement in the tendon.
Trigger point injections: This is an easy way to provide relief for muscle pain, muscle spasms and muscle knots. A small dose of numbing medication is injected into muscle knots or tight muscles, which relieves pain.
Ultrasound-guided injections: Ultrasound imaging provides a high-resolution, detailed image of the bones and muscles under the skin in real time, which allows your doctor to give injections with extreme precision. This technique helps reduce pain for many types of conditions including rotator cuff tears, bone spurs, inflammation, Achilles tendon tears and joint problems.
Your Care Team
---
Just like a sports team, our care team consists of many different players who will help you be as healthy as possible. This team includes:
Athletic trainers who can work closely with your doctor to make sure you're getting the treatment you need.
Specialized sports doctors who plan and facilitate your treatment. While physician assistants oversee much of care at other facilities, our team is largely made up of medical doctors (MD) and doctors of osteopathic medicine (DO).
Nurses who can help with scheduling, communicate and explain information from your doctor, and understand your treatment plan.
Occupational therapists who help you get back to your daily activities after an illness or injury.
Physical therapists who specialize in helping you improve mobility and decrease pain.