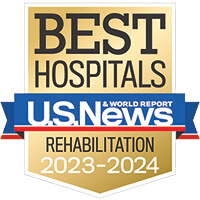 Navigating life in wheelchair can be difficult, not to mention finding the right equipment and finding funds for it. Our team is at your side to make this as easy as possible. Atrium Health Carolinas Rehabilitation is home to one of the few full-time wheelchair seating clinics in the Carolinas. Our occupational and physical therapists offer detailed evaluations and expert guidance to help you get the equipment you need.
Patient Care – What to Expect
---
We'll start your care with a 90-minute appointment to get to know you and learn about your wheelchair needs. If you're already working with an equipment provider that you like, we'll coordinates schedules so they can be at your visit. Patients can also schedule follow up visits if they need additional help finding their perfect chair, if they want to test equipment, and if they want to be trained on their new equipment or have it adjusted. Here's why patients choose us:
Wheelchair Seating Clinic: Who We Help
---
We help all types of patients find the right wheelchair, including those who've experienced:
Wheelchair Seating Clinic Program and Services
---
Our goal is to help our patients be as comfortable and mobile as possible in their new wheelchair. We'll support you through:
Patient education: First, we'll talk to you about your goals and what type of wheelchair will work best for you. Then we'll teach you how to use your wheelchair safely and effectively.
Computerized interface pressure mapping: We use a computerized pad to understand how you sit and see how your body's pressure is distributed in your chair. Then we can select the right cushion for your comfort and health.