We believe providing the best care starts with having a diverse team that's engaged, supported and valued.
Promoting diversity education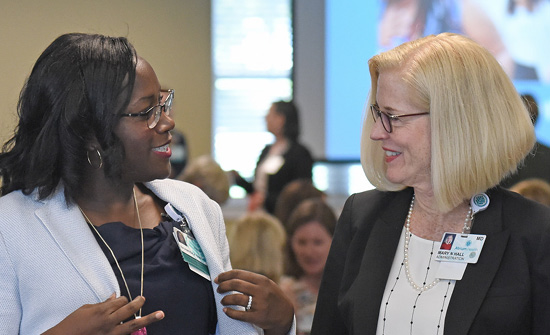 FOR ALL Conference
Atrium Health's annual FOR ALL Conference is the largest and most prominent learning forum of its kind. For teammates, it's a unique opportunity to hear from and connect with some of the nation's foremost experts in diversity, inclusion and equity.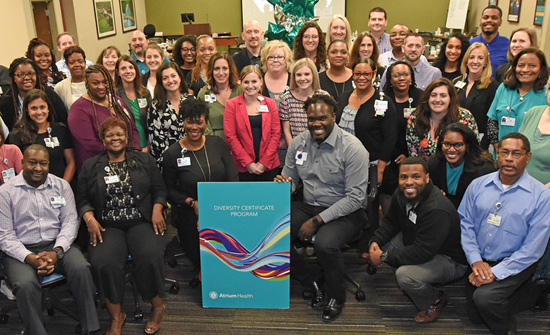 Diversity Certificate Program
The Diversity Certificate Program is an award-winning program that includes coursework in cultural competence, stereotypes, generational diversity, inclusive leadership, unconscious bias and more. This 6-week program incorporates instructor-led and experiential learning – and is open to both teammates and leaders.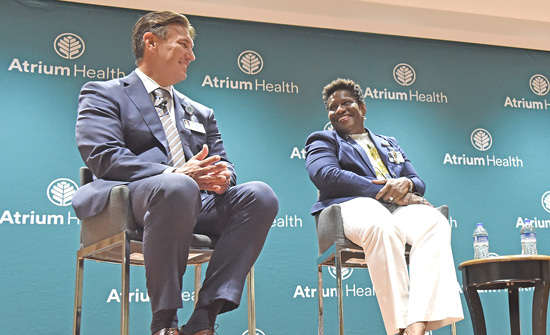 Diversity Leaders Speakers Series
Through this series of moderated discussions, leaders have an opportunity to share their personal experiences with diversity. For teammates, it's a chance to hear from some of our most respected executives, uncover new perspectives, consider personal opinions and spark new discussions on diversity.
Bringing teammates together
The goal of our System Resource Groups – teammates who join together in the workplace based on shared characteristics or life experiences – is to help recruit, retain, engage and develop minority teammates at Atrium Health. Groups include:
Young Professionals
UNIDOS (for Latinx/Hispanic teammates and allies)
Multicultural Physicians
EQualityOne (for LGBTQ+ teammates and allies)
Women's Executive Leadership Group
One Team – One Mission (for military members, veterans and supporters)
A2WeXcel (African American Women Exemplifying Commitment to Equity and Leadership)
Men's Diversity Leadership Network
Providers of the Tree (faith/spirituality)
Advancing diversity & inclusion
Our diversity councils help advance diversity & inclusion efforts across our organization. Groups include:
Medical Group Diversity & Inclusion Committee
Physician Diversity Advisory Committee
8 Divisional Diversity & Inclusion Councils
Join our diverse workforce
It takes a diverse team to provide the diverse care our community needs. Explore careers at Atrium Health.