A new, safer low-dose X-ray technology will advance the way children with complex chronic conditions – and other surgical or medical issues – undergo imaging scans.
Carolinas HealthCare System's
Levine Children's Hospital
is the first hospital in Charlotte – and the second in North Carolina – to use the technology. Doctors say it will be especially beneficial for children who need frequent imaging because it greatly reduces their exposure to radiation compared to other imaging technologies, such as standard X-rays or CT scans. The fast, efficient scanning method can be used to assess the progress of children with orthopedic issues of the hips, legs and spine, such as scoliosis. Doctors say this technology will help thousands of patients, including cancer patients and those in the
Pediatric and Adolescent Spine Program
and the
Limb Lengthening/Deformity Program
.
Making Innovation the Standard
The new imaging device uses low-dose radiation to create three-dimensional, full-body images of a patient standing on their own weight. It is the only machine in the world that can capture such an accurate view of the spine and lower limbs – with such a range of detail – so effectively.
Low-Dose Highlights
Low-dose imaging has been shown to reduce a patient's radiation dose 50 to 85 percent compared to standard X-ray technologies
The ability to capture three-dimensional, full-body images without distortion ensures a more accurate diagnosis and treatment
Images are produced in actual size to help with surgical planning
Who Can Benefit?
Pediatric patients with orthopedic issues, including joint and spine problems
Adult patients who need spine surgeries or hip/knee replacements
Patients who require ongoing orthopedic images
Better Technology, Better Outcomes
Brian Scannell, MD
, medical director of pediatric orthopedics, and several others worked to bring the innovative technology to Levine Children's Hospital.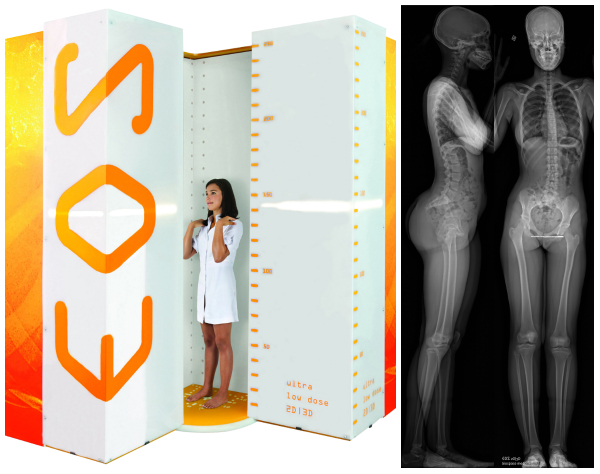 A new, safer low-dose X-ray technology will advance the way children with complex chronic conditions -- and other surgical or medical issues -- undergo imaging scans.
(Photos courtesy of EOS Imaging)
"When advanced technology options are available, they need to be the standard," says Dr. Scannell. "I felt it was something we really needed to offer because patient safety is so important to us. And this will help relieve parents' fears about their child being exposed to too much radiation as they grow." Dr. Scannell calls the purchase of the equipment a no-brainer: "I think of these radiation safety issues most in my very young patients. I currently have a 2-year-old patient with severe scoliosis who was sent to us from Asheville. Patients just like her will need multiple X-rays as they grow and develop, so this improved safeguard to radiation exposure is going to be so important for them."
Brian Brighton, MD
, pediatric orthopedic surgeon, says the technology also will advance efforts to improve patient outcomes. "The level of visual detail offered by this technology will elevate our understanding of spinal and musculoskeletal pathology, aid in our ability to diagnose our pediatric patients, and help us provide more in-depth treatment strategies," says Dr. Brighton. "The micro-dose solution offered by this new technology is a huge step forward in reducing radiation exposure. In 25 seconds or less, we get two full-body digital radiographs, making the total exam time for complex spine issues last about four minutes."
Connect With Us
To learn more, call 704-381-8840.