Melody Clark, a patient facing an aggressive form of cancer at Atrium Health Levine Cancer Institute, is an avid Carolina Panther's fan who had never attended a game in-person. But thanks to a group of Atrium Health teammates who were touched by Melody's story and her love for the Panthers, they were able to jump into action to give her the experience of a lifetime.
Through dedicated coordination of the two teams at Atrium Health and the Panthers, they were able to present Melody and her family with suite tickets to her very first Panthers game against the Tennessee Titans along a few other special surprises.
A team on a mission
Melody was first diagnosed with cancer at the age of 56. Since then, the cancer has taken a turn for the worse, showing minimal improvements from treatment. And after three long years of fighting, Melody made the difficult decision to stop her chemotherapy treatments in an effort to live out her remaining days as comfortably as possible.
In a recent visit to LCI, Melody saw a group of Atrium Health teammates wearing "administration" badges and felt compelled to stop and tell them how incredible her care team has been – every single one of them. She made a connection with multiple people on the team after sharing her history and even shared her plans to visit the new Keep Pounding Family Center at Levine Cancer Institute. This connection touched the administration team. They knew Melody wasn't asking for any favors, but they were inspired to help her fulfill a dream.
Making a dream a reality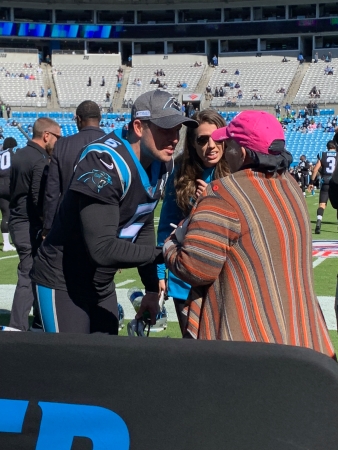 The administration team partnered up with the Carolina Panthers and organized a surprise that was sure to put a smile on Melody's face. She was told they had organized a special "tour" of the Keep Pounding Family Center with Sir Purr.
Little did Melody know, she would be getting more than just a tour of the lounge. What Melody received instead was a warm welcome from Panthers staff, Sir Purr, and four VIP suite tickets to the game on November 3 against the Tennessee Titans at Bank of American Stadium.
Melody was in disbelief and incredibly thankful. She was overjoyed for the opportunity to fulfill a promise to her 12-year-old grandson that if she ever had the chance to go to a Panthers game, she would take him. Her appreciation of LCI was front and center as she took in the special moment. "I'm telling you, if you have to go through something like this, there is no better place to do it than here [at Levine Cancer Institute]," says Melody.
The connection Melody formed in her initial conversation with the administration team deeply touched them all.
"Melody's desire to share her experience at LCI with us was deeply moving. We got a sense of what the LCI team, and other clinical care teams, probably experience daily," said Jane Robbins with Office of General Counsel. "It was so powerful that we really wanted to find some small way to connect back with her."
A meet-and-greet to remember
After being diagnosed with terminal cancer, @AtriumHealth made sure Miss Melody attended her first #Panthers game 💙 pic.twitter.com/UOnw2C6TAc

— Carolina Panthers (@Panthers) November 6, 2019
Melody's first Panthers game was everything that she could have dreamed of – and more. Before fans began to enter the stadium and the players warmed up for the big game, the Clark family was given a special tour of Bank of America Stadium and was even escorted onto the field by Panthers owner, David Tepper. On the field, she was introduced to a number of players, including Christian McCaffrey, Donte Jackson, and even her favorite (former) player, Jake Delhomme.
As seats began to fill up, Melody and her family made their way to their suite where they were able to cheer the Panthers on in their path towards an outstanding victory against the Titans. By the end of the day, it was a dream come true for Melody.
"There are so many fighting this fight. As a friend told me, no one fights alone. I love my LCI family and everything I said in the lobby that day was from my heart," says Melody.
"To all my fellow warriors, #KEEPPOUNDING. And a huge thanks to my Panthers for a day I will never forget."