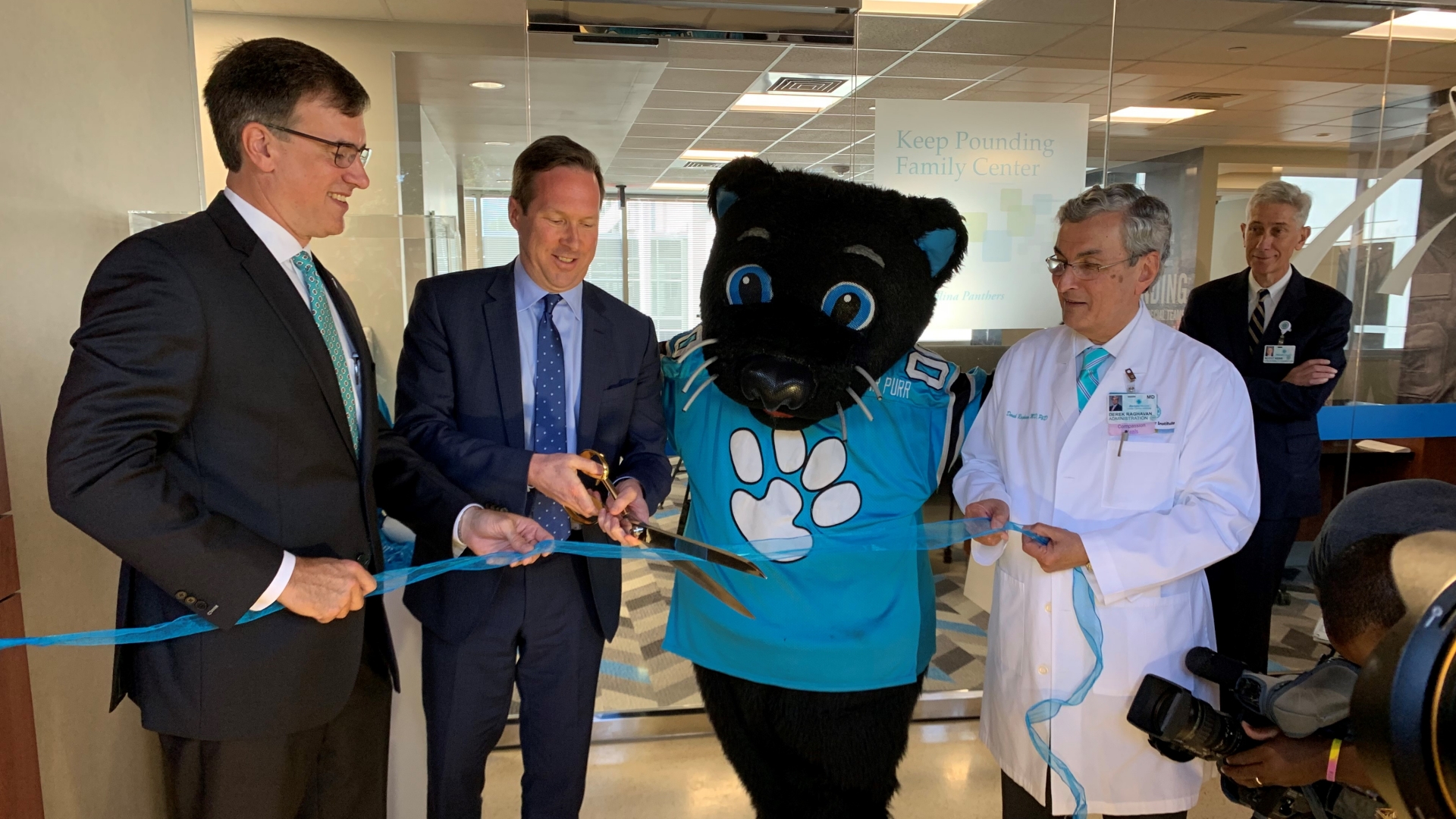 Carolina Panthers Give $1 Million to Levine Cancer Institute For Keep Pounding Family Center
09.30.2019
Atrium Health News
CHARLOTTE, N.C., September 30, 2019 – On September 27, 2019, Atrium Health's Levine Cancer Institute celebrated the grand opening of a new family center at Levine Cancer Institute. The Carolina Panthers, long-time supporters of Atrium Health, have committed $1 million to support cancer research at the Institute through the Keep Pounding Fund. In recognition of their generous gift, the Keep Pounding Family Center in the newly expanded Institute is being named in honor of the team's signature mantra, Keep Pounding.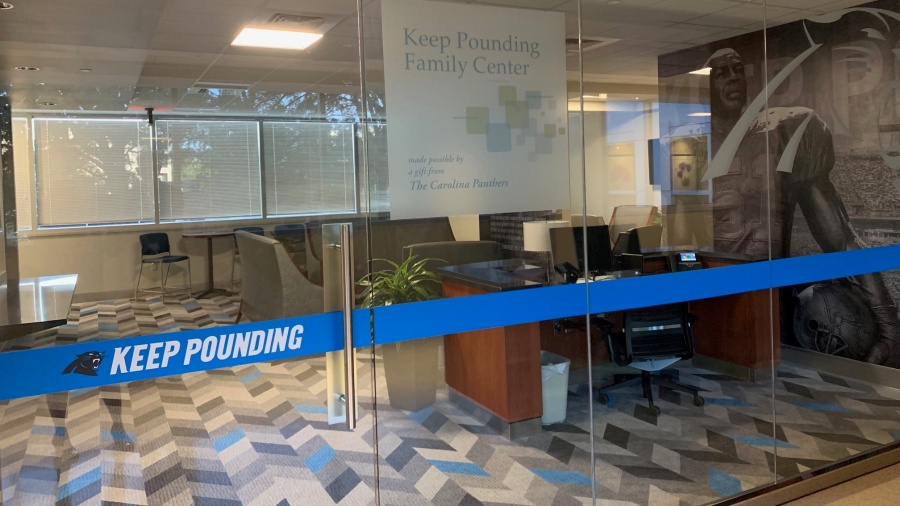 "Community support from organizations like the Panthers continues to enable Atrium Health to offer the best care, and access to the latest research, close to home," said Derek Raghavan, MD, PhD, president of Levine Cancer Institute. "Thanks to their generosity, we will now have a signature space to offer patient families and visitors a place of respite while their loved ones are receiving treatment. A real challenge for family members and supporters of our patients is to deal with the stress of what they must do while also managing life away from the hospital. The Carolina Panthers have enabled the development of a pleasant environment in which they can relax, use computers, and even maintain some of their business and other responsibilities. Two 'quiet rooms' add an extra level of privacy for phone calls or even naps."
The spacious family and visitor center is located along the 3rd Floor of the Institute within the Skybridge, which connects the original Institute to the new building. The center includes four computer bays, a bistro area, TV viewing space, and a full-time guest services representative. Exterior windows and natural light create a calming environment in the center, which features a Keep Pounding theme throughout, including a mural that pays tribute to former Panthers player and coach Sam Mills, who originated the Keep Pounding mantra while enduring his own battle with cancer.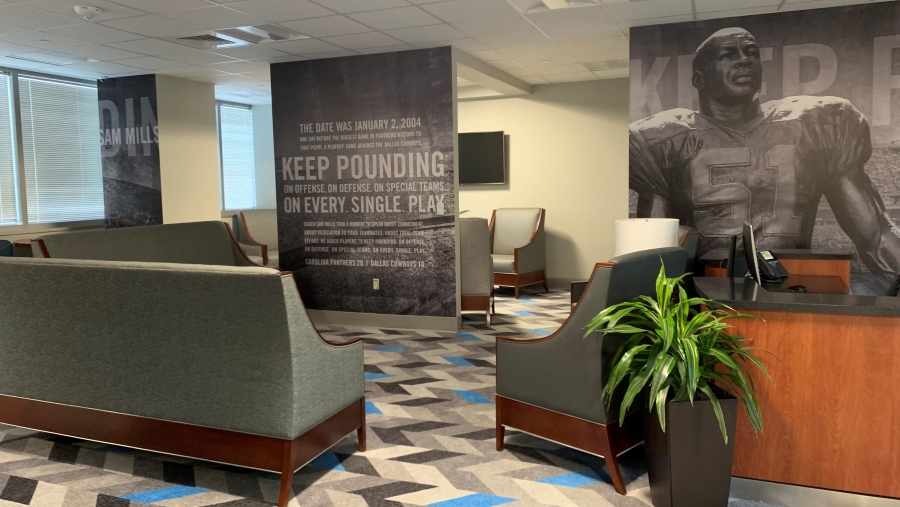 "The Carolina Panthers are honored to support such a meaningful space for patients and families," said team president Tom Glick. "Cancer has touched many of us – including our own teammates – and we are proud to carry on their legacies through this new family-oriented center."
Coach Mills, who lost his battle with cancer, coined the original mantra, "Keep Pounding," during the Panthers' first journey to the Super Bowl. His words resonated with not only the team, but the fans – and today, Keep Pounding continues as an integral part of the Carolina Panthers' community initiatives.
Atrium Health Foundation has benefited from a longstanding partnership with the Carolina Panthers since first establishing the Keep Pounding fund in 2003, to benefit adult and pediatric cancer programs at Atrium Health. Since that time, the Panthers have helped raise nearly $3 million for the fund through the sale of wristbands, keychains, hats, Panthers vanity license plates, the Keep Pounding online auction, and hosting the annual Keep Pounding 5K at Bank of America Stadium.
About Atrium Health
Atrium Health (formerly Carolinas HealthCare System), one of the nation's leading and most innovative healthcare organizations, provides a full spectrum of healthcare and wellness programs throughout North and South Carolina. Its diverse network of care locations includes academic medical centers, hospitals, freestanding emergency departments, physician practices, surgical and rehabilitation centers, home health agencies, nursing homes and behavioral health centers, as well as hospice and palliative care services. Atrium Health works to enhance the overall health and wellbeing of its communities through high quality patient care, education and research programs, and numerous collaborative partnerships and initiatives. www.atriumhealth.org