For most people, staying home while COVID-19 spreads is the best way to stay safe. For victims of domestic violence and child abuse, however, it can mean isolation with an abuser. And as the medical crisis increasingly becomes an economic one, too, the problem worsens.
"As we see more sources of increased stress and anxiety, more unemployment and economic crisis, we know that those have high correlations with increased rates of child maltreatment, as well as domestic violence," says Shivani Mehta, MD, MHA, a pediatrician at Atrium Health Levine Children's.
Atrium Health has long offered programs to help victims of domestic violence and child abuse, but this spring, the COVID-19 crisis has necessitated new approaches.
Supporting domestic violence victims in new ways
For more than 15 years, Atrium Health's Domestic Violence Healthcare Project has trained providers – nurses, doctors and staff, across all hospitals and facilities – to recognize signs of domestic violence. They refer patients to advocates, who connect victims and their families to the support services they need. Each year, these advocates meet with about 900 patients in the Charlotte metropolitan area.
This help has become harder to offer during COVID-19, as facilities reduce in-person appointments, but it must persist. Providers look for signs of domestic violence, even during virtual appointments, and advocates counsel patients over the phone or computer.
Jessica Salzman, MD, who directs the Domestic Violence Healthcare Project, now leads Atrium Health's Vulnerable Population Task Force as well. The task force finds new ways to care for vulnerable populations during COVID-19, including those experiencing domestic violence, homelessness, sexual assault and mental illness. This group has introduced domestic violence screenings at COVID-19 mobile testing units, and it's connected people in homeless shelters to virtual care platforms. In addition, Dr. Salzman collaborates with the Governor's Crime Commission in a local effort to help victims of strangulation that occurs amid intimate partner violence.
"We needed to serve people as much as possible during this crisis … especially as we started getting information from Charlotte-Mecklenburg Police Department that intimate partner violence was increasing," Dr. Salzman says. "Our taskforce is engaged with multiple partners within the entire Atrium Health system, as well as community partners throughout Charlotte."
Protecting the smallest victims
While domestic violence calls have increased to local police by 18 percent during the stay-at-home orders, reports of child abuse have gone down. Providers don't expect that the decrease in calls corresponds with a decrease in incidents, however.
"We know that abuse is still happening, even if we're not hearing about it," says Kendra Ham, MD, a child protection pediatrician at Atrium Health Levine Children's. "The scary part about this is that we get most of our referrals from schools, daycare centers, churches and childcare providers, and all of those places are closed right now. We don't have a lot of watchful eyes on these children."
Dr. Ham and Dr. Mehta expect a rapid increase in child abuse calls as schools and public spaces re-open. In the meantime, they hope families and neighbors will check on each other, and if needed, call Mecklenburg County Youth and Family Services Helpline for assistance (980-31-HELPS). North Carolina law requires all adults to report suspected child abuse.
"Stay connected, ask questions and make sure that people are okay," says Dr. Mehta. "If you hear something, say something. If you hear something suspicious through the walls or see something from far away, please call and make those reports because the community will respond appropriately."
Once Atrium Health learns of a need, they can connect families to resources. Dr. Ham says that it's important for children to begin outpatient or inpatient mental health therapy. Children who suffer from abuse are likely to experience mental and physical effects as they grow older, but early intervention can help them a great deal.
"We hold multi-disciplinary team meetings in our child advocacy centers with the Department of Social Services, law enforcement, therapists, medical providers and the forensic interviewer who talked with the child," Dr. Ham says. "We talk about every aspect of that child's life, and we come up with a plan for them to provide a successful move forward, and that includes a plan for the parent."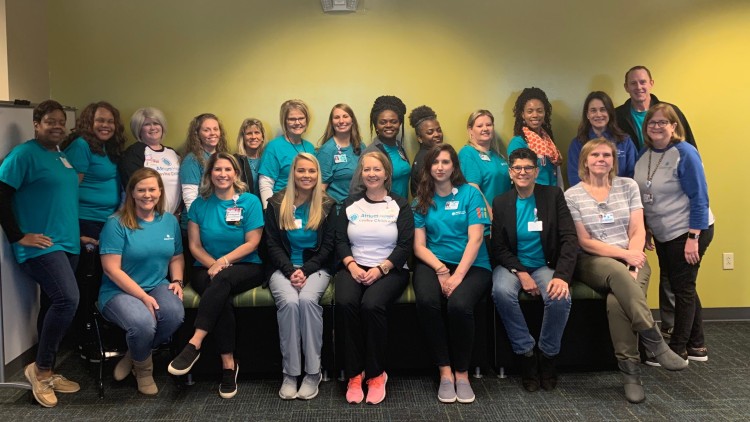 Providers hope that parents access the help they need, too. The Greater Charlotte Hope Line (980-773-4673) offers help to any parent in the area who's struggling.
"It's an early response system that allows parents to say, 'Hey, I'm really struggling. I'm about to do something that's negative toward my child, and I need a better response,'" Dr. Mehta says. "It implements a lot of positive parenting techniques and can coach families through safe and healthy responses for their child and for themselves."
Overlapping challenges require multipronged responses
For doctors like Dr. Mehta, the impact of the COVID-19 pandemic on domestic violence and child maltreatment resembles the one that occurred during the last recession. This shows how national and international crises can filter down to become a crisis in the home.
"In 2008, when we experienced an economic recession, child abuse rates went up," Dr. Mehta says. "Oftentimes, the cases occurred in families who were new to struggles of poverty, who were recently unemployed or underemployed, and who were unaware of the resources that are out there."
Atrium Health's Community Resource Hub connects patients with available and relevant resources, including help related to food, work, education, transit and legal assistance. If a patient doesn't have online access, a provider can offer this information the phone.
Domestic violence correlates with more than economics, though. It's connected to substance abuse and addiction, mental illness and stress. Many people may not think of domestic violence and child abuse as topics to discuss with their primary care providers, but it's a vital part of the work that we do at Atrium Health. Domestic violence and child abuse are, of course, matters of health, and we offer a wide range of help and care.
"We're here and we want to talk to you," Dr. Mehta says. "You may not think about Atrium Health for this reason, but if you are struggling because of recent economic hardship, we have resources we can connect you to. If you're struggling at home because your kid's behavior is too challenging, we can come through with resources for that. We can advise and counsel on concerns about mental health, stress, or basic needs not being able to be met. We want to be part of your support network and care about your whole family."
---
Resources for Domestic Violence and Child Abuse
If you are in danger, call 911.
If you are suffering from domestic abuse, call the National Domestic Violence Hotline at 1-800-799-7233. If you're unable to speak safely, you can text LOVEIS to 2522 or go to thehotline.org to connect with a counselor. If you'd like to speak with an advocate of Atrium Health's Domestic Violence Healthcare Project, please call 704-446-3999.
If you suspect an incident of child abuse, call the Mecklenburg County Youth and Family Services Helpline for assistance: 980-31-HELPS (43577). North Carolina requires all adults to report suspected child abuse.
If you are a parent in the Charlotte area who would like support with positive parenting techniques, please call the Greater Charlotte Hope Line at 980-773-4673.