For most of us, the year 2020 has been a blur with all the twists and turns that COVID-19 has thrown our way. But as we've continued to learn more about the pandemic over the course of the past several months, there's one preventative measure that health experts and scientists all agree on: face masks work.
Wearing a face mask is something simple everyone can do to keep our loved ones and communities healthy and safe. And while there are many kinds of mask available, medical science shows that face masks can help slow the spread of COVID-19, and even save lives.
In recognition of this key learning, Atrium Health has led a Million Mask Initiative to supply face masks to our communities, launching the first distribution event in early July, to keep everyone safe during Independence Day festivities. Shortly following the initial announcement, our commitment quickly grew to over 2 million masks with Mecklenburg County adding an addition million masks.
This private-public partnership with Mecklenburg County and several of the largest companies and organizations in the state has become a national example of how business leaders, health professionals, and government officials can work together to help boost our economy during a pandemic.
Today – less than two months later – we've passed a major milestone at another one of our Atrium Health community events as we celebrate over 1 million masks that have been distributed across the Charlotte region. To commemorate this achievement and our partnership with the County, Atrium Health was proud to award Gibbie Harris, the public health director for Mecklenburg County, with a framed, commemorative millionth mask to mark this significant landmark.
Serving

vulnerable and

underserved

communities
While free face masks are available to anyone who is able to visit our pick-up locations, we have launched several initiatives and have been strategic in where to host our distribution sites to ensure that the most vulnerable and underserved communities have access to masks to help protect their families. Collecting data from these community events, we've been able to track the following statistics (current as of August 28, 2020):
700,000+ masks

have been

distributed to

the

most vulnerable populations, including

LatinX

, African American, elderly, and at-risk youth groups.
Of those, 200,000 masks have been designated to high-vulnerability zip codes.
Another 200,000

masks

have gone to support local small businesses.
Results speak for themselves
With N.C. Governor Roy Cooper's statewide face covering order in effect and improved access to masks through our Million Mask Initiative, we're seeing incredible results as far as flattening – and even diminishing – the curve:
Throughout

North Carolina

in general

,

we've seen

total COVID-19 cases drop 21%

and the

percent positive rate drop 10% (from

7.7% to 6.9%)

starting 2 weeks after the

state mask mandate was declared.
In Mecklenburg County

specifically

,

where the Million Mask Initiative has been a primary focus,

we have seen total daily

positive test rates drop by over 60%

and

percent positive rates drop by over 50%.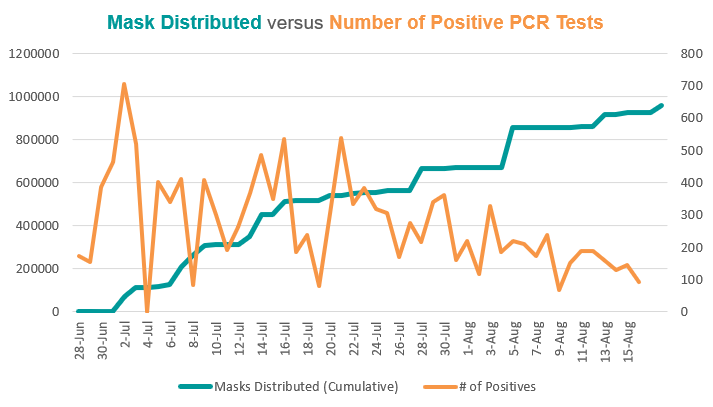 These numbers indicate that we're well on our way to reining in this virus, but we must remember – we're not out of the woods yet. As long as we await a vaccine, we must continue to remain vigilant in wearing a mask, social distancing, practicing hand hygiene, avoiding large groups and following other CDC-recommended guidelines. We've made it this far, and we're finally seeing results thanks to those who have been diligent in wearing their masks.
So, as we enter this next phase of the Million Mask Initiative, with our ultimate goal of distributing more than 2 million masks, we will continue to uphold our promise to you to improve access to free face masks so that you can do your part to protect yourself and others while you help slow the spread of COVID-19 and save lives.
---
Atrium Health is committed to help slow the spread of COVID-19 and has partnered with many of the state's largest employers and other local businesses to donate 2 million "2-ply" cloth face masks to the community. To receive a free mask, visit AtriumHealth.org/freemasks to find a pickup location near you.