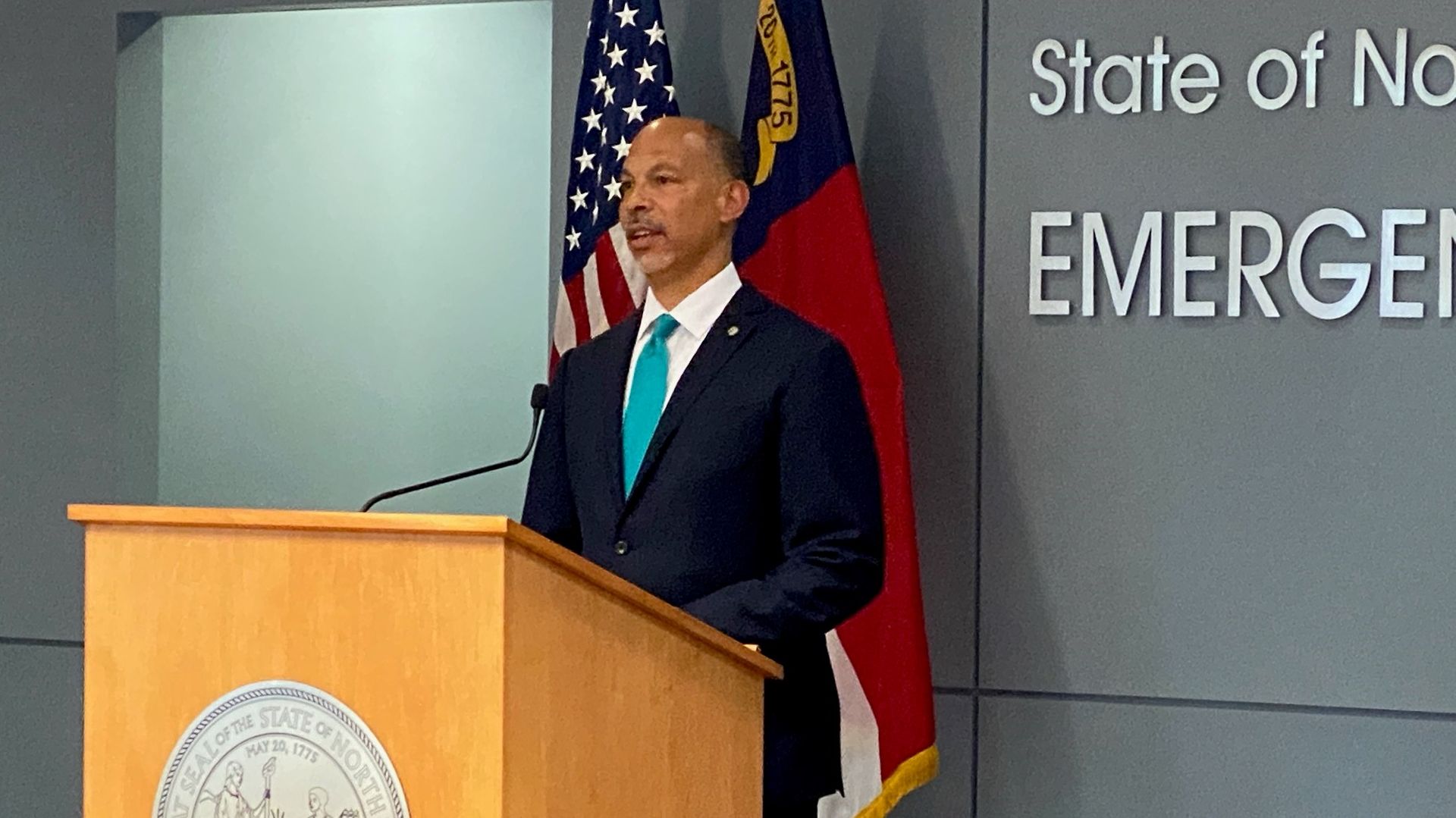 Atrium Health and Business Leaders Across North Carolina Commit to 1 Million Masks
06.24.2020
Atrium Health News
CHARLOTTE, N.C., June 24, 2020 – As the state of North Carolina announced a new statewide requirement for people to wear masks while in public to help slow the spread of COVID-19 thatwill go into effect on Friday, several of the state's largest businesses are working to make sure it's effective. At a news conference in Raleigh today, hosted by North Carolina Governor Roy Cooper, Atrium Health President and CEO Eugene A. Woods noted the importance of masking as cases in the state continue to spike. Woods also announced a consortium of business leaders have committed to collectively donating 1 million masks, with an emphasis on getting them into the hands of underserved communities.
"Today I am extremely excited to announce that Atrium Health, together with the CEOs of Bank of America, Blue Cross and Blue Shield of North Carolina, the Carolina Panthers, Honeywell, Lowe's, Red Ventures and Wells Fargo, along with others that will be joining us in the coming weeks, have committed, collectively, to donate 1 million masks, which will be distributed to those most in need, and as an investment in health and economic recovery," said Woods. "I couldn't be more proud of the commitment shown by my business colleagues and leaders who have stepped up in such a large and meaningful way."
According to the Centers for Disease Control, people who are asymptomatic or pre-symptomatic for COVID-19 are capable of transmittingthe virus. As a respiratory virus, it spreads through coughing, sneezing – even speaking, so masks are recommended for people in public, especially in areas where appropriate social distancing isn't feasible or in areas with significant community-based transmission. Data from Mecklenburg County indicates roughly 100 new cases are being diagnosed daily and hospitalizations are increasing.
"It's essential that businesses work in concert with health professionals so people can get back to work," added Woods. "In fact, it is the key pathway to recovery. I had the chance to talk with other CEOs from some of the largest employers in this state this week about how we could work together to support masking, especially among our most vulnerable citizens - including communities of color who are being disproportionately affected by this disease. They said simply: 'count us in.'
"As the leader of the state's largest health system, I am pro-health and also 100 percent pro-business. In fact, the two are inextricably connected," said Woods. "I'm very proud of the way business leaders and health experts are working together to keep our economy strong. Medical science says to reduce the spread of COVID-19, masking works, and my sincere hope is that all the people of North Carolina can join forces to make wearing a mask not something we feel we have to do – but something that we want to do to keep each other, our neighbors, our children and our loved ones healthy and safe"
Addressing healthcare disparities is a continuous objective for Atrium Health, as part of its non-profit, "for all" mission. During the COVID pandemic, it has focused multiple resources towards ensuring access to testing and care in underserved areas and communities of color, with considerable success. Positive test rates at Atrium Health's roving testing centers, which are staged based on geographical hotspot data in underserved areas, typically run two times the rate or higher than positive test rates at its other testing centers, based on percentages.
---
About Atrium Health
Atrium Health is a nationally recognized leader in shaping health outcomes through innovative research, education and compassionate patient care. Headquartered in Charlotte, North Carolina, Atrium Health is an integrated not-for-profit healthcare system with over 70,000 teammates at nearly 40 hospitals and 900 care locations. With locations throughout the Carolinas as well as Georgia, Atrium Health is a leading-edge innovator in virtual care and mobile medicine. It provides top-ranked pediatric, cancer and heart care to patients, as well as specialized musculoskeletal programs and organ transplants. Ranked among U.S. News & World Report's Best Hospitals in eight different specialties, it has also received the American Hospital Association's Quest for Quality Prize. Its flagship hospital, Atrium Health's Carolinas Medical Center, is the region's only Level I trauma center and is consistently rated among the nation's best. With a commitment to every community it serves, Atrium Health seeks to improve health, elevate hope and advance healing – for all. Last year alone, Atrium Health provided more than $2.07 billion in free and uncompensated care and other community benefits.